Top 7 Best photo collage app for Android
Mobile phone users are obsessed with two types of images – selfies and collages. A selfie is a single picture that may have one or more objects or people. A collage is a photo created from two or more images.
Creating a photo collage manually with image editing tools such as Photoshop, GIMP, CorelDraw is not an easy task. Even if you create a collage by referring to online tutorials, you'll have to add borders and effects to individual images to make it look good.
If you want to avoid the headache of creating photo collages, consider using one of the below apps on Android. These apps take a bunch of images as input and generate a beautiful collage within a few seconds.
Best photo collage apps
Zentertain Photo Collage Editor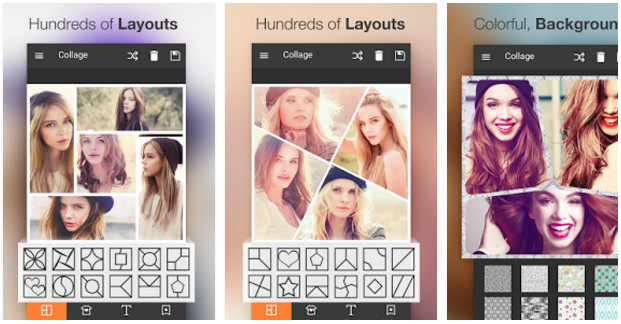 PCE provides 200+ grid unique styles and has a great interface. The grid styles are displayed on the main interface. After choosing a preferred collage layout, users must select the grid where they want to insert a photo.
Once you add a picture, you can edit it with one of the 20 photo editing tools provided by the Zentertain Collage maker. The app is dead simple and has 50 million users. It has an annoying feature called smart lock. The feature is enabled by default. You can disable it from the settings interface. PCE requires 35 MB of storage memory. It displays advertisements at random intervals.
Download PCE
LyreBird Studio Photo Editor Collage Maker Pro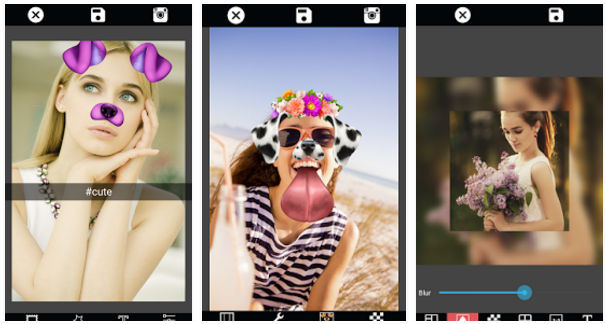 LyreBird is a popular Android app for creating collages on phones and tablets. It supports emojis, clipart, and background images. LB consumes 38 MB ROM and a few megabytes of RAM.
LyreBird offers a gallery layout module. It lets you edit photos. It also allows you to apply various effects to the pictures. LB lets you create collages from up to 15 pictures. The latest version of LyreBird Studio Photo Editor Collage Maker Pro packs HD stickers of animals. It supports 100+ collage layouts.
Download PECM
Also read: Best Gallery Apps for Android with latest features
Moldiv by JellyBus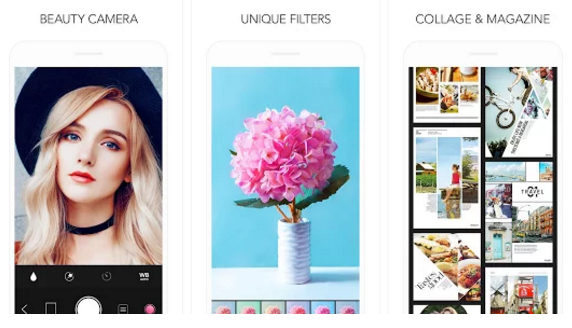 Moldiv is a powerful app. It provides 450+ stickers and over 50 background patterns for collages. It detects the maximum supported resolution of the phone and saves images in the highest quality. Hence, photo collages created with Moldiv are stunning.
Moldiv provides a special feature called beauty camera through which you can capture great selfies. You can create a collage with up to 9 images with this app.
Moldiv supports three collage layouts – magazine, album, and poster. It packs 175+ filters, 40+ frames and supports text customization. It lets users share their collages and selfies on social networks.
Download Moldiv
Photo Grid by Cheetah Mobiles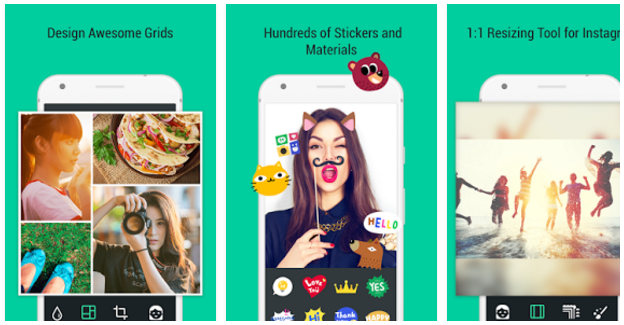 Developed by CMCM, Photo Grid has about 100 million active users. It is probably the best photo collage maker app for Android.
Photo Grid is one of the few applications that support Instagram's 1:1 frame. It provides over 299 photo collage templates which you can customize as per your requirements. PG offers stickers for every occasion. It has face beautifier feature that brings life to dull selfies.
Photo Grid from Cheetah mobiles lets you create flip strips, albums, and scrapbooks from the images. It supports text customization and gives you access to an online community where people share the pictures they've edited with the app.
Download Photo Grid
Collage Maker – Photo Editor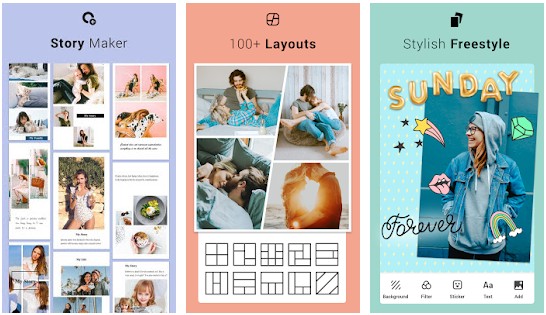 The above Android photo collage apps are large. If you're searching for a lightweight collage maker, then install the free CMPE app.
CMPE allows users to drag and drop photos on the grids. It enables you to save the image you're currently editing. The app packs 15+ collage templates and it supports 20 aspect ratios. It supports square grids and provides an option to add border effects to the pictures. You can also add a background picture and apply background blur/gradient/texture effect to the collages in CMPE.
CMPE lets you create photo collages with rounded corners. It allows you to insert text, emojis, and stickers on images.
Download CMPE
Layout from Instagram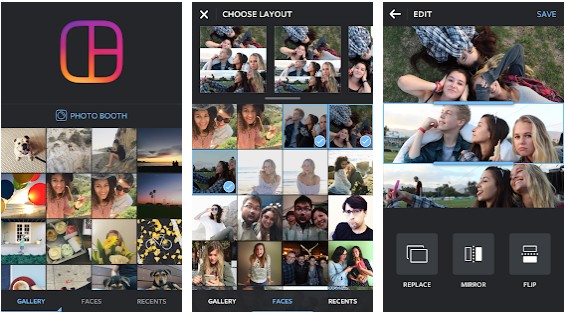 Want to create stylish collages from pictures? Try out the free Layout application. Layout is a 5MB app that provides 9 grids and supports flip/mirror effects. You can create as many layouts as you want as this app lets you adjust the height and width of individual grids. This application enables users to create photo collages with several images of various sizes and resolutions.
Layout doesn't have photo editing utilities nor does it support emojis, stickers, etc. It is still a great app and a perfect tool for users who are looking for a simple utility to build collages.
Download Layout
Also Read: Best Android Drawing Apps
Photo Collage Layout Editor by Asus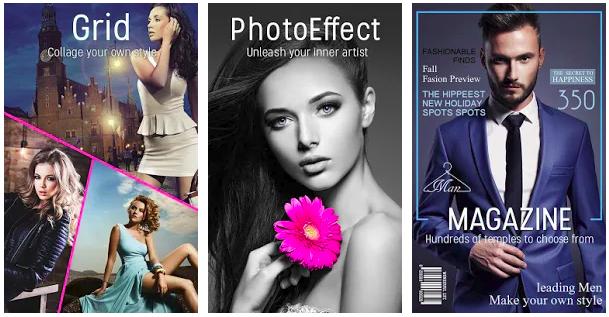 Asus is one of the top Android application development companies. It has launched a plethora of apps on the Google Play Store. The Photo Collage Layout Editor is one of the most downloaded applications of the firm.
PCLE is easy to use. To create a photo collage with it, install the application from the play store and run it. Now, you'll see a list of options. Tap the grid option and select the images you want to see in the collage.
Once you're done with selecting the pictures, tap the next button. Now, select a grid style. PCLE for Android will now load a toolbar that flaunts various image editing utilities. Once you've finished customizing the image, tap the done option. PCLE will now save your photo collage.
Download PCLE
Conclusion:  The apps mentioned above are easy to use. They offer several amazing filters, frames, and effects. They work in offline mode. If you're searching for best photo collage maker apps for Android, download and use PCLE, Lipix, InstaMag, CMCM PG, Moldiv, or Zentertain PCE.