Yoga has been practiced for 1000s of years in India. It is an Indian invention, and over 20 million people worldwide practice it every day. Many people have stopped visiting gyms and dance classes because they have started practicing yoga. Believe it or not, these people have benefited from this move. Various renowned yoga gurus claim that exercising yoga poses every day for 10 to 20 minutes is enough to keep the body in good shape.
Practicing yoga is one of the best and cheapest ways to keep oneself fit. It helps in keeping the blood pressure and sugar at an average level. People who regularly perform yoga exercises (asanas) are less prone to life-threatening diseases and common viral infections. According to studies, yoga is a perfect natural solution for many health disorders. Because of smartphones and free apps, it is possible to learn yoga without spending a dime or hiring a coach. Open YouTube.com on the PC and search for yoga videos from Baba Ramdev or install one of the applications I've covered below and use it daily.
Best yoga apps for Android
Daily Yoga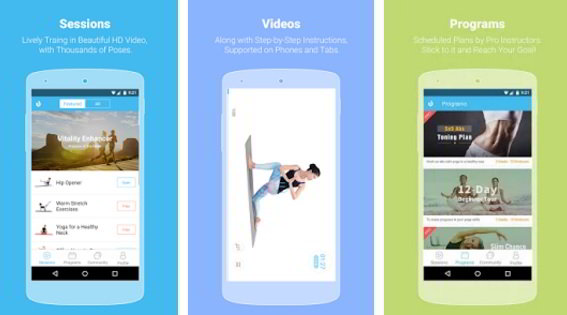 With a vast user base of 1+ million and a superb rating of 4.4, DY is one of the best yoga apps for Android. DY allows you to watch high-quality HD videos of a person demonstrating various yoga asanas. The coach explains the steps as if they were in front of you. As the app provides a good explanation of the exercises, beginners can learn new postures quickly. This free Android app covers 450+ asanas. It gives you access to over 50 powerful activities that help in improving fitness, balance, health, and reducing weight. Daily Yoga has a search video option. It categorizes videos into three categories i.e. intense, casual, and moderate. The length of the videos ranges from 5 minutes to 45 minutes.
DY has special background music to keep a person calm and composed during a yoga session. It ships with a health rating system. When you have completed an exercise, your health score will increase. You can share the score with other users. The DY app supports social networking. You can follow or unfollow other users of this app. You can also chat with them. This is a helpful feature. If you find an experienced yogi, you can get tips from them via messages. DY supports data syncing with Google fit service. It packs a live voice guide module. Its APK size on the Google Play Store is 14 megabytes. Daily Yoga runs on devices powered by Android 3.0 to Android 6.1 operating systems.
Must read: Best sleeping apps for Android
Keep Yoga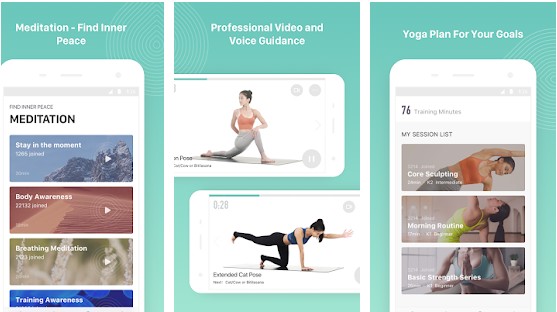 Keep Yoga is a social network for yoga enthusiasts that gives you access to hundreds of asanas. According to its Google Play Store page, this application has 1+ million users. KY allows you to find and join workout programs, see what asanas the other users are practicing, etc. It lets you follow other enthusiasts and see the number of minutes they've exercised. The workouts in this application are divided into several categories. KY shows the duration of the activity and the number of users that have completed it. When you tap the "Start your workout" button, KY will download a video slideshow on your phone. Once KY finishes downloading the file, it will display the "Get Ready" button. Tap this button to start the exercise. This app is suitable for newbies that have started practicing yoga recently. It is also helpful for users aware of common asanas and are willing to learn some new exercises. KY doesn't have a timer utility, and it allows you to favorite exercises.
Simply Yoga Free – Home Vinyasa Workouts & Classes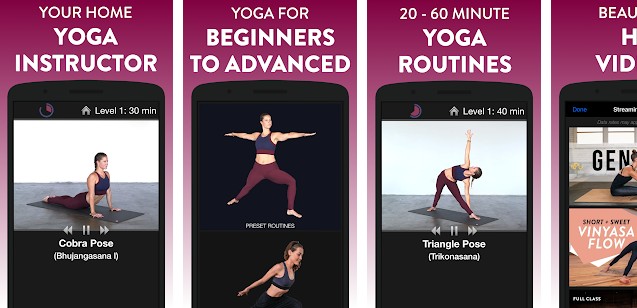 Simply Yoga shows three options on its interface – classic routines, latest routines, and streaming videos. If you tap the 3rd option, the application will display yoga videos. If you tap the remaining two options, SY will show options to select the exercise duration and an option to start the exercise. When you tap the start button, SY will show an animation demonstrating the pose/exercise. It will also play an audio file. The audio features the instructor's voice, ocean wave sound, etc. You can disable these sounds in this application. You can configure this application to show a notification on days of your choice at a time you specify.
7Pranayama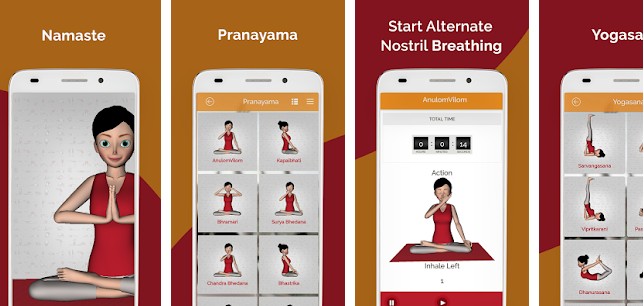 Pranayam is a breathing exercise that according to Healthline, reduces blood pressure, improves the functionality of the lungs, decreases stress, etc. 7Pranayama teaches you Pranayam, AnulomVilom, Kapalbhati, etc with the help of animation. It features voice instructions and lets you set the exercise duration.
Must see: Best running apps
5 minutes Yoga Tools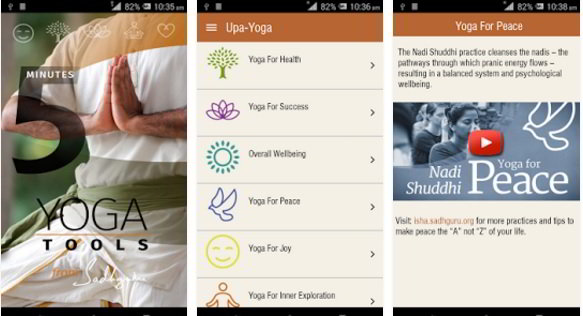 In this app, you'll find small but helpful exercises of 5 minutes explained by none other than famous Indian yogi and saint Jaggi Vasudev. Before you begin watching the exercise video, the app will make you aware of the benefits of the exercise. According to the Isha Foundation, the publisher of this Android app, the exercises are short, but they'll have a positive impact on your life. You'll become more focused, less emotional, and your confidence level will increase if you practice yoga regularly.
Also see: Best medical apps
Daily Mudras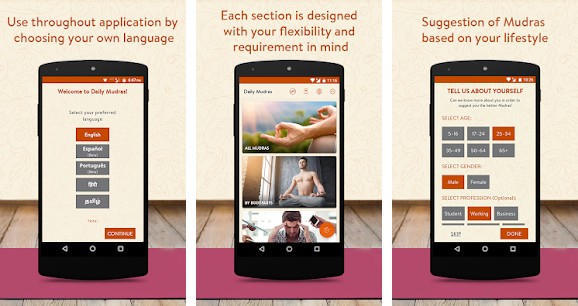 Daily Mudras features asanas for all age groups. It also has special exercises for professionals and females. You'll be prompted to select your age and your preferred language when you run it. Daily Mudras supports five languages. Once you choose your gender, age, and tap the "Done" button, DM will show a list of exercises. You should tap the asana you want to practice. Daily Mudras will show instructions and a timer button floating at the bottom right corner of the screen when you do so. Once you're ready, tap the timer icon and select the duration you want to practice yoga. DM can play meditation music when you're exercising. It enables you to set reminders, bookmark the exercises, and increase the text font size. It also allows you to share the activity with friends.
Other top-rated free yoga apps for Android:
Final thoughts: Millions of people practice yoga every day. If you are planning to get started with it, download one of the above yoga apps and follow the instructions they display.