Unfortunately, customizing the lock screen is not possible with the stock or custom Android ROM. When you press the phone's power button, the interface displays only two shortcuts. It doesn't even allow users to change the position of the clock.
To make the most out of the lock screen function of Android, you should replace the default lock screen with a smarter one. Below we've shared the most powerful lock screen replacement apps for your mobile device. The applications will make your Android phone look good and add new and useful functions to the lock screen.
Top 6 best lock screen app for Android
Solo Locker (DIY)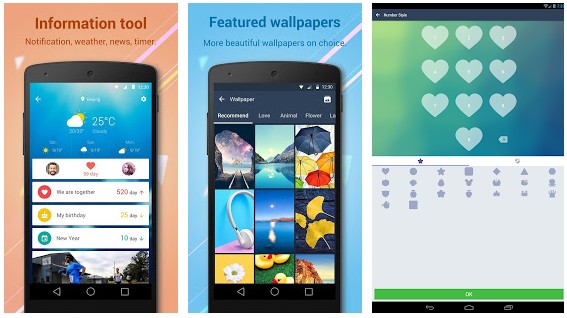 Solo is a lightweight lock screen app that provides several customization options. It has 10+ Million users and an excellent rating of 4.3 on the Play Store. It requires the following permissions on Android devices:
Activate popup windows/draw over other apps.
Launch automatically.
Turn on notifications.
Disable the system lock.
Solo gives you access to several themes. You should download and customize the theme that you want to use. Solo can display notifications triggered by Android apps. It lets you select the apps for which you want to see the notifications.
Solo can automatically wake the phone's display when there is a new notification. It offers hundreds of free HD wallpapers and enables you to apply a blur effect to the wallpapers. The app lets you change the style, color, and alignment of the time displayed on the interface that appears when your mobile device is locked. It supports the 24-hour time format.
KLCK Kustom Lockcreen Maker
Want to design your lock screen or pattern lock for free? Try out the KLCK app. KLCK is a powerful Android DIY app with unique features. It allows you to design a simple or complex lock screen from scratch.
How to use this application?
KLCK offers a WYSIWG tool. It supports undo/redo actions. To create a lock screen with KLCK, you must select a picture saved on the phone's storage memory. If you don't want to use an image, you can use a solid color as the background. KLCK supports unlimited colors as it ships with a color picker tool. Once the app loads the image, you can decorate it with stylish and customizable clock widgets, cool animated sprites, text messages, etc. KLCK supports 3d effects and various shapes. It lets you customize the touch actions for the elements you add to the lock screen.
Once you're done with the customizations, give a final touch to the lock screen by applying a cool animation effect. Then, save the project.
Also see: Top 6 Best Android News App
X Locker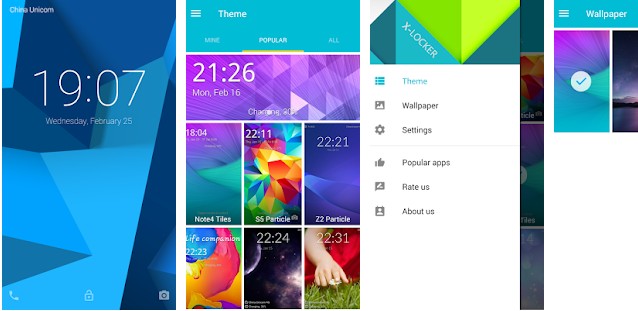 X Locker has 500000+ users. It offers 20+ free customizable themes and the same number of wallpapers. Users can configure XL to hide the status bar on the lock screen and ignore the swipe gestures when the phone is locked.
Users can also make the application play sound when the phone gets locked/unlocked. The application lets you set a screen lock time. It supports the "double-tap to wake" feature and can disable lock/unlock sounds. It can show notifications on the phone's lock screen interface.
Hi Locker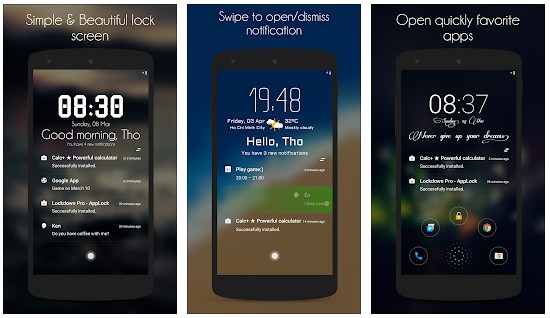 HiL was published on the Google Play Store last year by The LockDown Team. It is similar to the Microsoft Next lock screen app that was removed from the Google Play Store last year.
HiL doesn't have many features, but it makes your phone's screen look good by replacing the dull background image, gradient, or color with new wallpapers every day. The app changes wallpapers automatically. If you don't like the current wallpaper, you can easily change it by placing your finger on the screen and swiping it to the right.
Hi Locker detects your phone model. Then, it displays instructions to enable the following permissions for the app:
Draw over other apps.
Access notification systems.
Hi Locker checks the current time and greets you with a special message when you press the phone's power button. For example, if the time is 14:00 hours, HiL will display a "Good Afternoon" message. In addition to this, you can also configure Hi Locker to show a custom text message. The app can display weather information and upcoming events on the lock screen. It offers 10+ clock styles.
Also see: Best Android calendar apps
Super Locker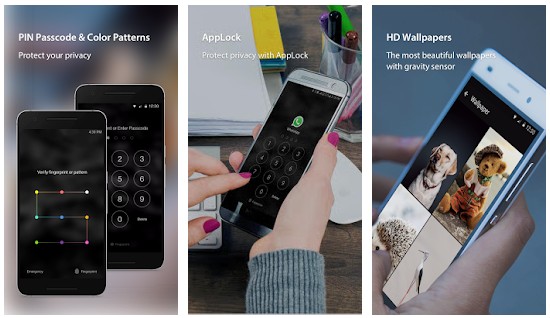 SL has 1 Mn users, and it is one of the smallest apps on our list. It supports live as well as static wallpapers. It also allows you to download 100s of cool nature wallpapers, etc.
The application has a special feature called "Message Box", where you'll find your important notifications. Super Lock detects and discards junk notifications when you use its "Message Box" feature. It has a weather utility that detects your location automatically and displays its current temperature on the lock screen. SL allows you to set a password or pattern lock for unlocking the screen. Hence, you can safely replace the system lock screen with it. SL ships with a private vault module and a phone booster utility.
Download from Google Play Store
Start Lock screen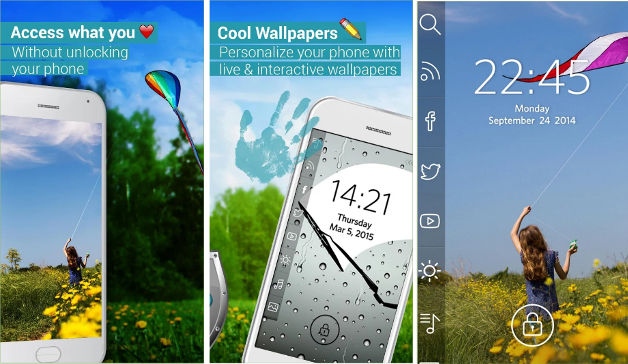 Start Lockscreen lets you subscribe to RSS feeds of top news websites in your country. It can display the latest Facebook updates on the lock screen. The app has a powerful notification manager interface that displays a list of unread messages, unattended calls, etc. It has a quick settings section where you'll find shortcuts to the phone's important utilities i.e. WiFi, flashlight, Bluetooth, front camera, etc.
Start LS is integrated with the Yahoo Weather service. Hence, to get information on the weather in your area, you don't have to install and use a third-party weather app. Start LS ships with a music player/manager utility. It lets you create shortcuts for the apps on the lock screen. It allows you to disable or hide features you don't want to use. Although Start LS doesn't support customizations, it has many useful functions. Hence, SLS is an excellent alternative to other apps we've covered here.
Also read: Best Android ROMS for old and new phones
Your phone's lock screen will look great, and it will be more powerful than ever if you replace it with the apps we've mentioned above.