A new social networking app called Vero has hit the App Store. Vero claims to provide a true social networking experience by focusing on user-generated content. Unlike Facebook, Instagram, and Twitter, it doesn't display advertisements.
Ads are one of the significant sources of revenue for the world's most popular websites. Vero won't display ads to its users. How will Vero survive? Recently, the company had announced that the first 1000k users of the Vero app would get free access to all its features. This indicates that the company might introduce subscription plans in the future. Vero has a dark-themed interface. It is easy to use. Here's my review of the latest social media app.
Vero review
Vero is a very large application. It consumes 91 MB of storage memory. Vero doesn't let users sign in with their Google or Microsoft accounts. The app asks users to enter their full name, email address, phone number, and password during the account registration process. Once users enter the requested details, the app will send a four-digit verification code to their mobile device. Users must verify their identity/account by entering this number.
Once your account is ready, the app will display an option to upload a profile picture, enter a bio, add connections, and follow people. You can skip these options or complete your profile to access the Vero app's main interface.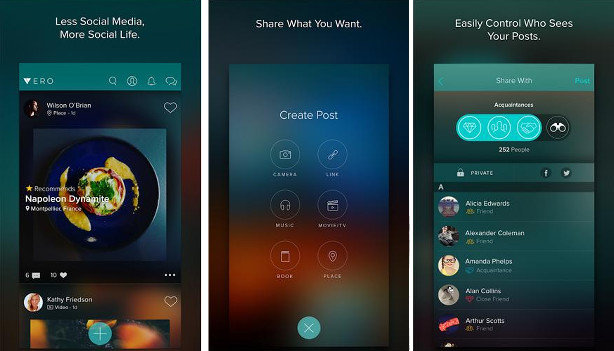 Vero app features
Search: Vero provides a search utility to find people, posts, photos, videos, links, videos, music, books, places, etc. The app lets you find posts by hashtags. When you enter the hashtag name and tap the search button, Vero displays a list of posts.
Also check: Best RSS Reader apps
Sharing: The app allows you to share photos, videos, music, and places with other users. You can share pictures and videos of any resolution in this application. To create or share new posts, tap the plus sign button.
Collections: A user may share different stuff with their followers and friends. The collections tool of Vero categorizes the posts so that the users don't have to waste time in finding specific posts.
Notifications: Apart from displaying push notifications on the phone, Vero has a built-in notification panel where you'll find the list of friend requests, messages, etc.
Avatars: Vero supports three profile pictures. You can configure it to show a different profile picture to friends, acquaintances, and close friends.
Messaging: As on Facebook, you can send text messages to friends in Vero. You can add smileys to the chat messages, but you cannot add pictures or videos to the conversations.
Comment/Like: Vero lets users like posts. It also enables users to comment on posts shared by other users. You can add emojis to the comments in the Vero application.
Must see: Best photo editing apps
Privacy and settings
Block users: If you get too many requests from a profile, you can block the profile in the Vero application. Once the user is blocked, they won't be able to send messages or friend requests to you.
Report content: If you find a post inappropriate, you can report it to the developers by selecting this option.
Hide Posts: Vero provides an option to hide posts from the feed. If you don't want Vero to ban/disable the user's account that's sharing objectionable things on Vero, use this option. To unhide the posts, open the settings interface of the app. Scroll down and select the "Hidden Posts" option.
Delete: You can delete profiles manually on Vero. To delete your account, navigate to the settings panel and select the delete option.
Pros
Collection feature.
Easy to use.
Cons
Also read: Best apps like Flipagram
Final thoughts
Vero has many features. It lets you manage your privacy. It has a feed section where you'll find posts shared by friends and people you follow. The app doesn't have advertisements. If you're looking for an alternative to Snapchat, Facebook, or Instagram, try Vero.