Android OS running mobile phones with a quad-core or an octa-core processor and 1+ GB RAM are as powerful as computers. You can use the phone for professional tasks like creating new office documents or editing the existing ones, composing emails, etc.
Office apps allow you to create powerful spreadsheets, documents, presentations on a smartphone. They enable you to edit documents that you have created on the computer. If you're traveling and you don't own a laptop, the office app will allow you to complete the uncompleted office work on your mobile device.
There are many web applications that allow users to edit office documents online on a PC or a mobile device. These apps provide a great experience only when you are using them on a computer. You won't be able to make changes to documents or save them to the cloud unless the firm that owns the service has launched an app that supports offline editing
To create or edit documents on your smartphone, you must use an office app which will save your work on the storage memory or the cloud. The disadvantage of using cloud apps is that you won't be able to use them if you don't turn on the WiFi or mobile data connection. Offline office apps are as powerful as cloud applications. They save your documents on the ROM or MicroSD card.
Below we've shared the list of best online and offline Android Office apps for Android devices.
Top 5 Best android office app
Microsoft Office Mobile apps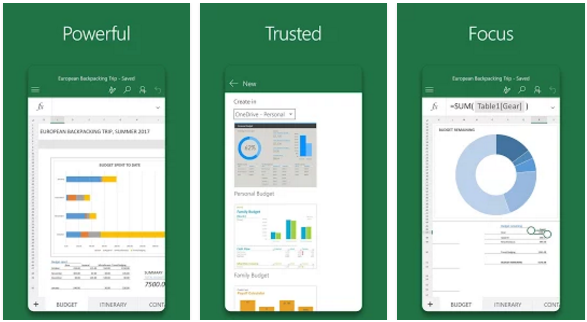 Microsoft Corporation brought its 3 office apps on the Google Play Store in 2015. The apps have registered 50 million downloads within 3 years. MS Office applications are suitable for making changes to documents in email attachments or MS Excel, Word or PowerPoint documents you've created on the PC. They allow you to format documents.
MS PowerPoint enables you to create, share and view presentations. It has an option to sync presentations to other devices. MS Word app enables you to read or edit PDF files, letters, text notes, etc. It has resume reading feature through which you can resume reading the document from the position where you left off.
MS Excel is a powerful app for creating complex spreadsheets. It enables you to apply and use complex formulas in the spreadsheet. It has a tool to highlight a specific part of the excel sheet. The Office app works on Android 4.4+ devices and they are free.
Must read: Best email client for Android
WPS Office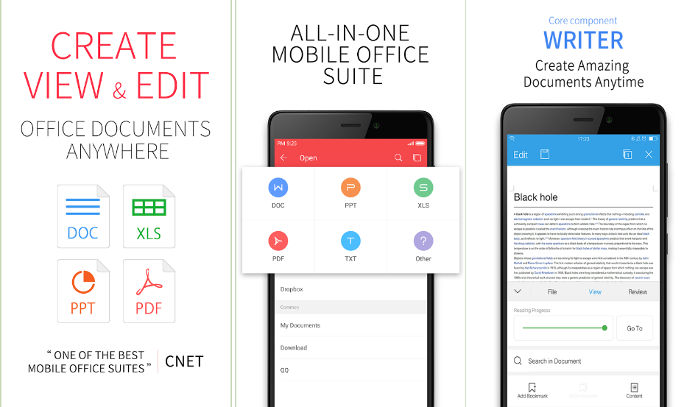 WPS is the most popular office app for Android. It has over 100 million users and a nice rating of 4.4 on the Google Play Store. WPS runs on Android 4.0+ OS powered mobile devices. Its size on the Play Store is 35 megabytes.
Unlike MS office apps, you don't have to install individual apps to create and edit documents. When you install WPS, you can create Presentations, Excel sheets, PDFs or complex MS Word-like documents from a single interface.
The app supports DOC, XLS, PPT format files you have created with the MS Office suite. It allows you to work with PDFs designed with Adobe app. It lets users edit multiple documents at a time in multi-window mode.
WPS Office encrypts your data before saving it to the phone's storage memory. It supports Cloud platforms, Miracast, DLNA, WiFi, Miracast technologies.
Download WPS Office
Also see: Best Android navigation app
Polaris Office + Editor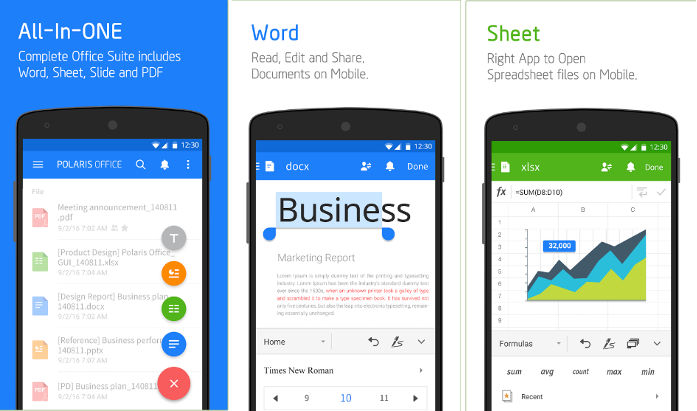 Polaris is a lightweight office app that packs inside a 50 MB APK file. It comes with a function that converts handwriting to text. To use this feature, you must write words on the screen with your finger.
Polaris allows users to open documents in a compressed zip file without opening the archive. It features a powerful search tool and includes an option to share documents with friends or co-workers. The app can read various types of office files and it supports over 15 languages.
Polaris ships with 20+ templates and offers 200+ formulas that you can use in the spreadsheet. It supports files created with other Android office apps. The app lets you upload documents to the cloud storage services.
Download Polaris Office
Must read: Best Android Note Taking app
OfficeSuite Pro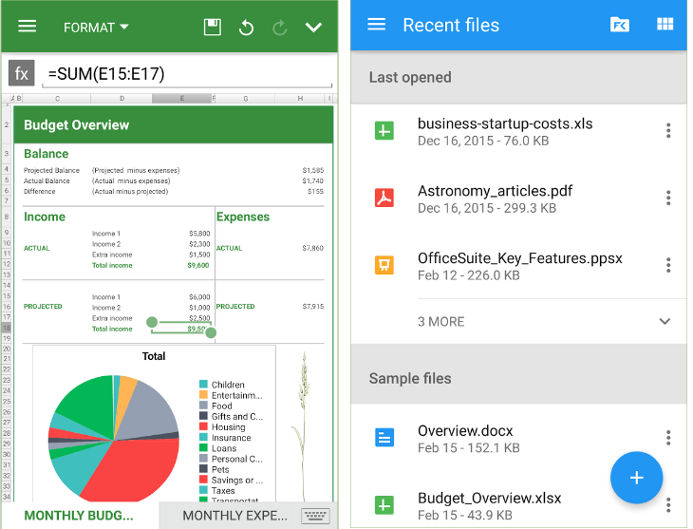 OSP is an Android office app with a refreshing design. It comes pre-installed in mobiles devices manufactured by leading phone brands.
OfficeSuite Pro offers advanced sorting options for spreadsheets. It enables users to annotate PDF files with images. It can read aloud text content in PDF files. If you're using this application, you can change the order of slides in a presentation, scan documents, change date format in spreadsheets, etc.
OfficeSuite Pro lets you copy objects from one document and paste it into another document. It supports MS office file formats and file sharing. The office app supports 50+ languages.
Download OfficeSuite Pro
Also check: Best Android budget app
Docs To Go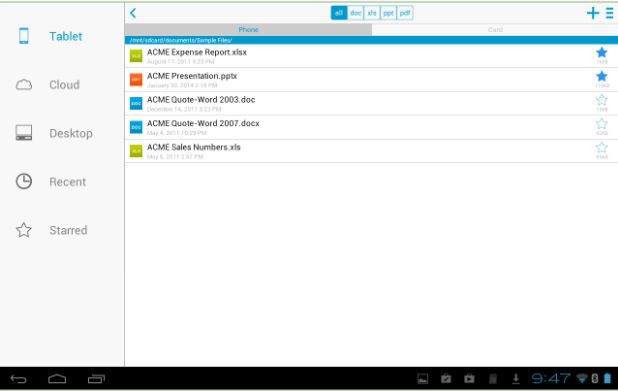 Docs2Go is the smallest Android Office app on our list. Its APK size is below 6 megabytes. Despite consuming a low amount of storage memory, DTG offers many features.
Docs2Go comes with a file explorer interface so that you can easily locate and open your documents. The app lets you create presentations, PDF, and XLS documents. It supports cloud and desktop syncing. It has the option to bookmark files and see the list of recently edited files.
The application lets you upload or import files to DropBox, Google Drive, OneDrive, and Box cloud platforms. It provides a goto function to open a specific slide of the presentation. It offers several tools for creating complex spreadsheets. To use Docs To Go, you don't have to register an account.
Download Docs To Go
Google apps
Google had launched the Google Docs, Slides, and Spreadsheet web applications in 2005. It had launched a dedicated Android app for these three services in 2011.
The search engine giant's dedicated Google Docs, Slidesdes, and Sheets application has over 10 million users. Although the applications save your files to the Google Drive, they provide an option to make the file available for offline use.
GD enables you to share documents with other users. It saves the file you're editing to make sure that you don't lose the work when the phone shuts down unexpectedly.
Download Google apps
Conclusion: MS Word, Excel, PowerPoint, Docs To Go, OfficeSuite Pro, Polaris, WPS, and Google Slides, Docs, and Sheets are the best office apps for smartphones and tablets. If you're searching for an app to edit or create documents, make sure you download one of the apps we've mentioned above.