Sharechat is social networking category application on the Play Store and iTunes that lets users share interesting photos and videos online. It shows the trending topics in your country and enables you to share the post you find on ShareChat on other applications. The app can also download the post on your phone when you tap its "download" button. In ShareChat, you can comment on the media files shared by people.
ShareChat is not only a photo/video discovery platform. It has a chatroom function and an option to add the person as a friend. The application also features a feed section where you'll find posts shared by other people. It creates and refreshes/updates the feed automatically.
As users don't have control over the feed, some notorious users may post inappropriate photos/videos, and the same gets viral on ShareChat quickly. This photo might appear in the newsfeed of ShareChat. Imagine that your kid is attending an online class, and suddenly an inappropriate image/video appears in the phone's notification pane. You may not want this to happen. What to do to avoid this situation? You can use one of the following ShareChat alternative applications on your Android or iOS phone.
Pinterest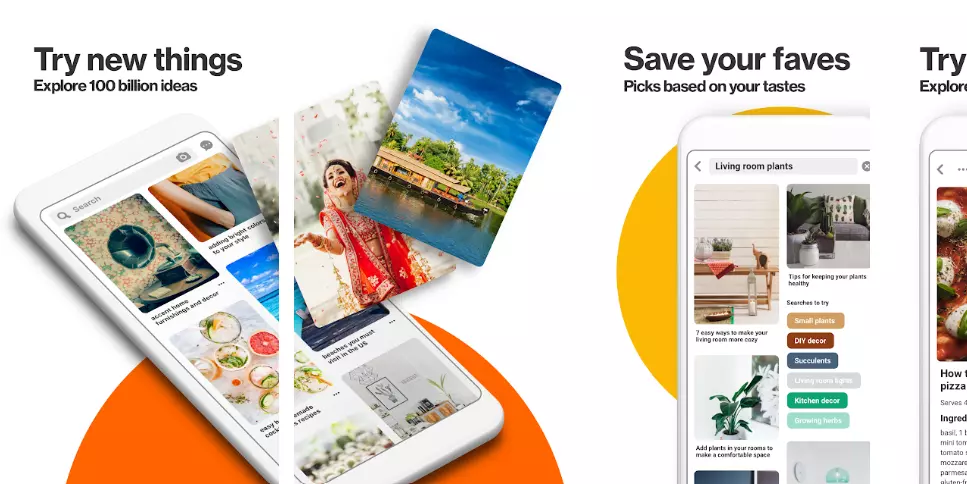 If you're looking for an app to download photos for sharing on WhatsApp, Facebook, or Telegram then Pinterest is a great option. Pinterest's search option is powerful. When you enter one or multiple terms, the application will show images on the screen. Pinterest search results can have hundreds or even thousands of pictures. At the top of the picture, you'll find a three-dot icon. To see the download option, you should click this option. The application also supports videos, but it doesn't let you download videos. Why use Pinterest? Unlike ShareChat, Pinterest doesn't have a feed like ShareChat. You'll have to find content manually by either subscribing to the topics or using the search utility of the application.
DailyHunt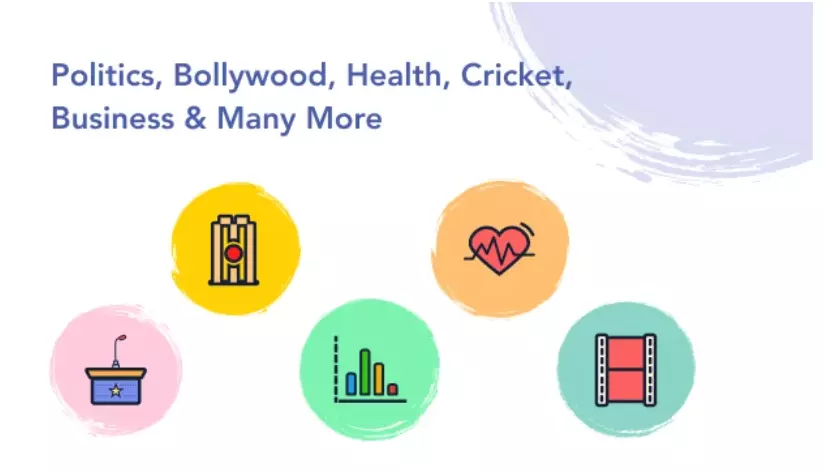 While using ShareChat, you'll often come across interesting news. If you're using the application just for discovering or reading such news and you're annoyed with other posts appearing in the feed, you can switch to DailyHunt. DailyHunt can show news stories in its interface in various languages. You can choose the type of stories you want to read in DH. The application presents stories in its own format instead of opening the story in the browser's interface on the news publisher's website. It also lets users share their opinions on the story and read the views of other users. DailyHunt supports 14 local languages and has news from over 540 districts.
Moj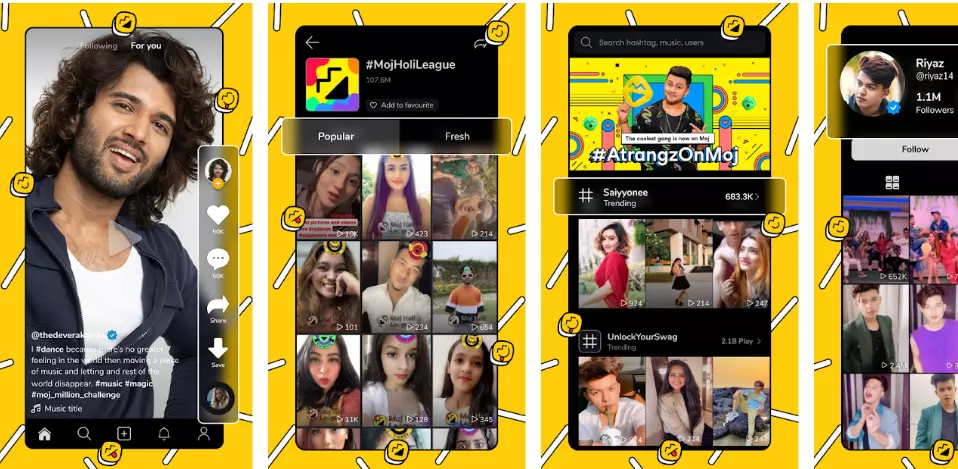 Moj is a short video creator app introduced by ShareChat. It is similar to TikTok and is a great app for people looking for an app to watch videos similar to the ones shared on ShareChat. Moj has interesting filters you can apply to videos. It ships with nice music effects and supports 16 languages. If you've enjoyed the video shared/uploaded by any user on Moj, you can follow this user. As in ShareChat, you can also like, download or share the video. If you have a website, you can embed the video on any page of your site by copy-pasting the embed code displayed by Moj when you click its "Embed" option. Registration isn't required to watch videos. To create or upload videos, you must create a Moj account and log in to your account.
Koo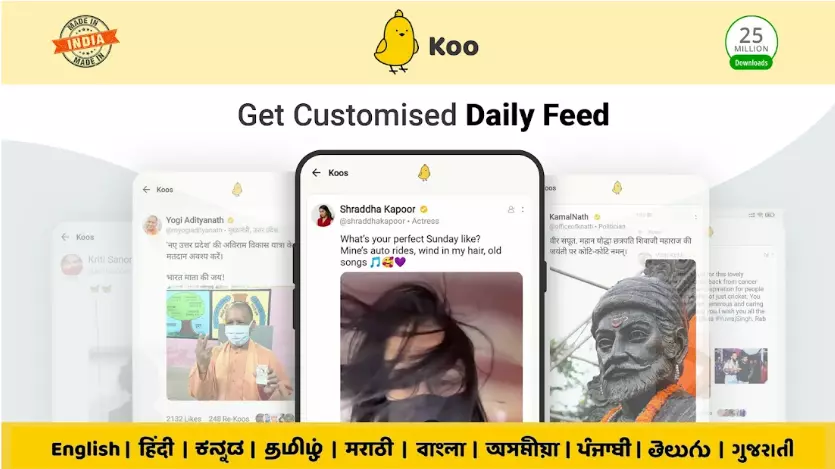 Koo is an app like Twitter that lets you share videos, photos, and text content. Like ShareChat, Koo has a feed that will get populated once you follow celebrities, politicians, or profiles of other users. What will you find in the feed? Anything that people you follow share will appear in the feed. For instance, if you're following the profile of an entertainment news website, you'll find entertainment videos or stories in the feed. The feed posts appear in ascending order of the date the post was published. Like Twitter, Koo lets you follow topics. It has a dedicated button to share the post on WhatsApp. Users of the Koo app can also post comments on the posts shared by users. They can send messages to other users.
Status apps
The WhatsApp status apps let users download and share various types of status updates for free. The owner of the application takes care of the database of the application. Hence, you don't have to waste time finding status messages for sharing on social media sites.
Quotes apps
Quotes apps have hundreds of thousands of quotes. You can take a screenshot of the quote, crop it according to your requirements, and share it with people. If the application provides a "save" option, tap this option to save the quote to your phone in a supported format by social media applications.
Instagram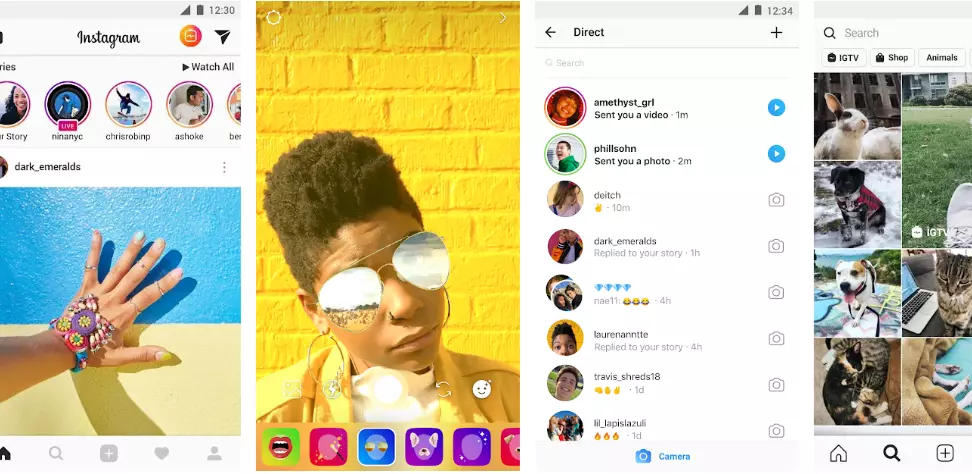 Various social media platforms may have inspired ShareChat. One of the platforms might be Instagram. Instagram is the world's most popular photo-sharing application. You'll find 1000s of types of pictures on this app. The Facebook-owned social media site supports hashtags and includes a search bar to make finding posts/pictures/videos easier for the user.
Closing words: Instead of using ShareChat, which tries to do everything in bits and pieces i.e. entertaining people, inspiring them, showing the latest news, etc, you can use the applications I've covered above.