People think of replacing their mobile device with another one when they are not happy with the performance of its battery or apps. Let's talk about the battery, one of the most critical components of a phone/tablet. No matter what the mobile OS is, the low capacity or a defective battery is a frustrating problem. The battery starts draining when you switch on your mobile device. Display, games, and apps are the top three power-wasting modules in an Android device. Games require more GPU and SoC processing power than regular apps to deliver a good user experience. They also consume a massive amount of RAM. Apps running in the background may execute some tasks (Ex. Cleaning junk, syncing files, etc). Hence, they're also responsible for the poor performance of the battery. You cannot use apps or play games on a smartphone without a display. Thus, you can't fix the "display draining battery" problem on Android. Apart from Android OS features, games, and apps, people are also liable for the "battery draining problem".
While using a browser, some people open multiple tabs and forget to close the tab after using the website. They also fail to turn off the mobile data/WiFi connection before bed. These two things can completely drain a fully charged battery of a phone/tablet within 5 to 6 hours. I've shared just a few reasons. Several other factors may cause a battery to drain fast. Software/configuration-related issues can be fixed with a good Android battery saver application. Below, I have shared the list of the best battery saver apps for Android. These applications will make your mobile device last longer on a single charge by killing idle processes, reducing CPU usage, and fixing many other issues automatically.
Best battery saver apps for Android
Lux Lite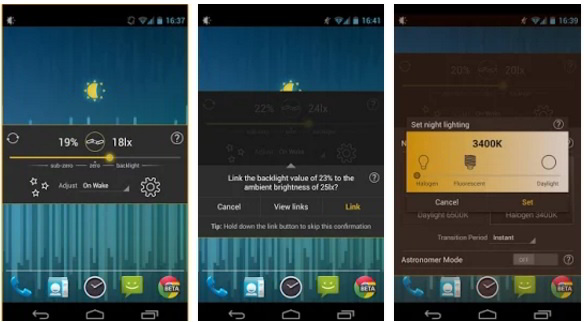 Lux is an app that makes the phone's display eye-friendly. It automatically adjusts the temperature and brightness of the screen by detecting the intensity of sunlight. It uses the ambient light sensor of the phone. Suppose you set the screen brightness to 75 and keep it unchanged. The screen content is easily readable in the daytime if you set the brightness to 40 to 50. The battery's power will drain fast because of the unnecessarily high brightness level. Once you enable Lux Lite, the app will keep the screen's brightness at an optimal level. It will thus save battery power. I have used the Lux Lite battery saver app on an old Android phone. The application works like a charm. Lux runs in the background. It consumes a low amount of RAM. Also, it doesn't waste processor cycles.
AccuBattery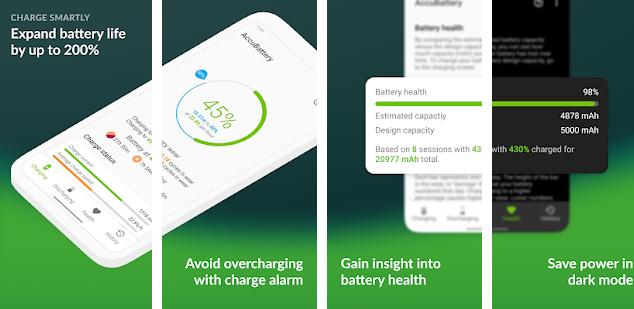 AccuBattery is the undisputed king of all Android battery saver apps. It has over 10 million users. AccuBattery is feature-rich and has a beautiful UI. It analyzes your handset or tablet to find issues. Once the application identifies the problems, it will show options to fix them. Make sure that you go through the list of services/apps that AccuBattery is about to kill. If you fail to do so, you may lose unsaved work. The free version of AccuBattery provides a smart charging/charge alarm feature. It has a phone cooler function which reduces the mobile's temperature by killing active apps of your choice. AccuBattery records the battery usage of all functional apps in the device and makes you aware of the same.
Recommended Reading: Best Android 3D launchers
Kaspersky battery saver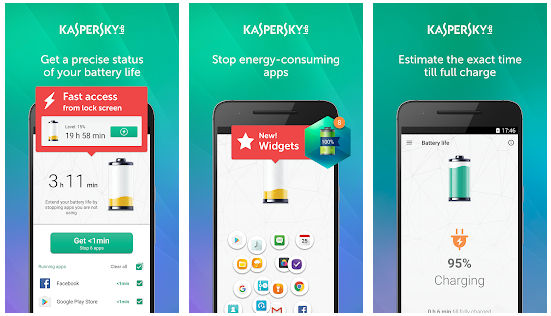 Kaspersky Battery Saver for Android is a tiny app that increases battery life and boosts RAM by killing inactive processes. It can improve the standby time of an Android tablet or phone by 20 to 30%. KBS estimates the battery life and displays the same on its main interface. It makes users aware of Android apps aggressively consuming the phone's resources. You can configure KBS to ignore certain apps. KBS can automatically adjust the screen brightness when the phone is running out of power. It lets users set alerts. Kaspersky's app can prevent phone overcharging issues by displaying a notification when the battery is fully charged. It provides a widget that displays the number of hours/minutes the battery will last and an option to boost the battery life.
You may like: Best Android task killer apps
Greenify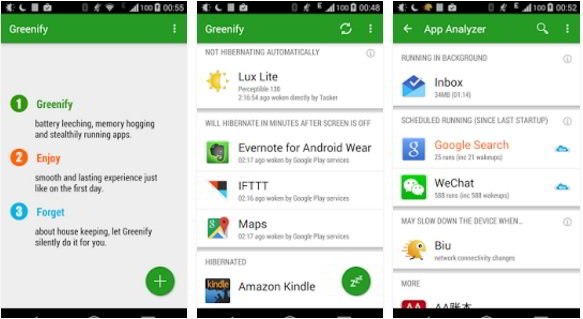 Greenify is a lightweight and effective battery saver app for Android devices. It works on rooted and non-rooted Android handsets and tablets. Greenify ships with a system analyzer tool that automatically identifies apps that may slow down the system during critical events. Once you run Greenify, you will see a list of applications on the screen. You should select apps you want Greenify to hibernate when the phone gets locked. The hibernated processes will resume their tasks when you unlock the device.
Android Battery saver apps like AccuBattery, Kaspersky BS, Greenify, and Lux Lite:
Must Read: Best Android QR Code Reader apps
Final thoughts: Android is a superb operating system. Google releases Android updates often, but unfortunately, none of the updates have helped users fix the battery problem in old phones. Users have to rely on battery-saver applications for the same. If you want to improve your phone's battery backup free of cost, install one of the applications I've shared above. What if you own a new smartphone? New phones have 3000+ mAh battery which lasts long. If your new phone's battery discharges quickly, the above applications will come in handy.
Note: Batteries wear out over time. If the phone is old and none of the above applications work for you, replace the battery or flash a new Android ROM.