Smart televisions powered by the Android OS have changed our lives. They support WiFi connectivity and have many features. Traditional box-type televisions have an ugly GUI-based menu and vintage games. You are likely to ignore the games because of their dull graphics. As modern smart TVs have 1+ GB of RAM and a powerful processor, you can install your favorite apps or games and enjoy them. If you don't have a smart TV, you can easily make it smart by connecting an Android OS powered TV box to it. If you've bought an Android TV or a set-top box recently, you should install the following apps to get the most out of the TV/Box.
Best Android TV and Android Box apps
Netflix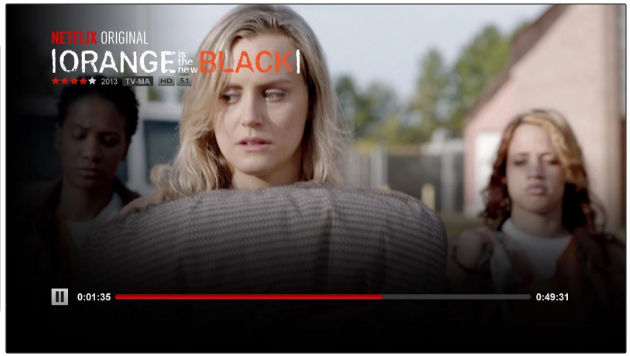 Netflix is the world's most popular online media streaming service. It is a subscription-based service that gives you access to movies and TV shows of all genres. Netflix features a search tool that you can use to find films, episodes, videos, etc. It allows you to rate content. Likewise, you can find top-rated shows, movies, etc on Netflix. The great thing about Netflix is that the video streaming service is available across the globe. Hence, if you're traveling with your Android Box, you won't miss your favorite content. This Android TV app comes pre-installed on all popular Android televisions and set-top boxes. Install it from the Play Store if your device doesn't have the Netflix application.
Google Chrome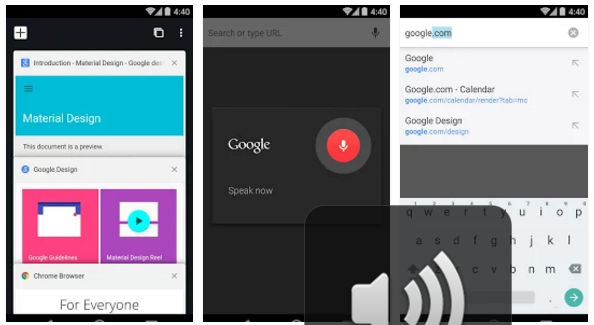 Like smartphones, the Android OS-powered smart TVs and set-top boxes are incomplete without a fast browser app. Google Chrome is the world's most popular browser. It is also one of the most secure and fastest browsers. Chrome has over 1 billion users. If you install it on your TV, you'll be able to browse the web, watch live videos on Facebook, Twitch, etc. Chrome supports private browsing and Chromecast. It is a must-have app for Android TV users.
Spotify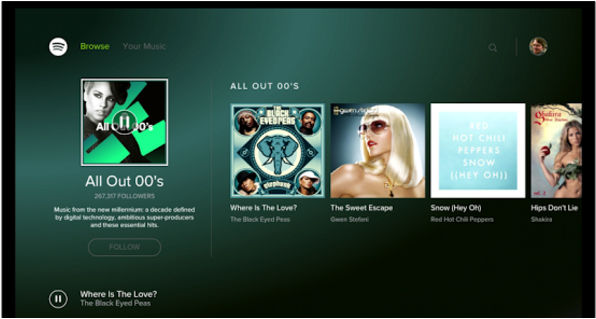 Spotify is the best music streaming app for Android TV and set-top boxes. It has an excellent interface and cheap subscription plans. It gives users access to over 3 million tracks. If you don't want to subscribe to Spotify premium plans, you can continue using the free edition of the app, which provides access to limited songs. Spotify free edition will play an audio ad once it finishes playing the selected track. Several smart TV manufacturers install Spotify on their TVs. Install it right now if your device doesn't come pre-installed with this app.
Twitch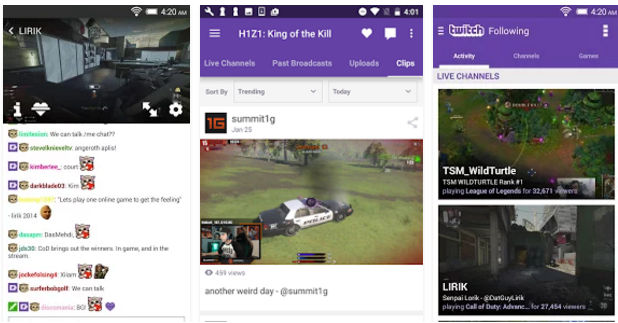 If you're a hardcore gamer, download and install Twitch – an online service that lets you watch live broadcasts of games you like. Twitch has a large user base. Hence, 100s of videos are streamed every second. Apart from the live videos, you can watch shows aired by top game developers and gaming console manufacturers. The Twitch app for Android TV lets you chat with the channel owners. It is compatible with Google Chromecast. It provides an option to subscribe to live broadcasting channels.
YouTube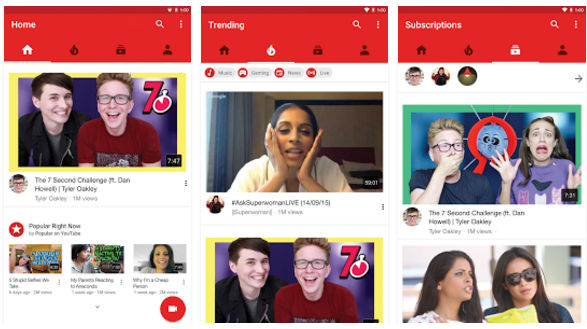 YouTube is the largest video hosting site in the world. You'll find videos of all types on YouTube. Whether you're a student, professional, or retired from professional life, YouTube will satisfy your entertainment needs. YT is the best Android TV app for watching movie trailers, funny videos, prank videos, random clips, etc. It allows you to watch videos in 240p, 360p, 720p, 1080, and 4K resolution. Although you can access YouTube on your Android Tv through the Google Chrome browser, you should install the official app for a better experience.
Must Read: Best apps like YouTube
Kodi Media Center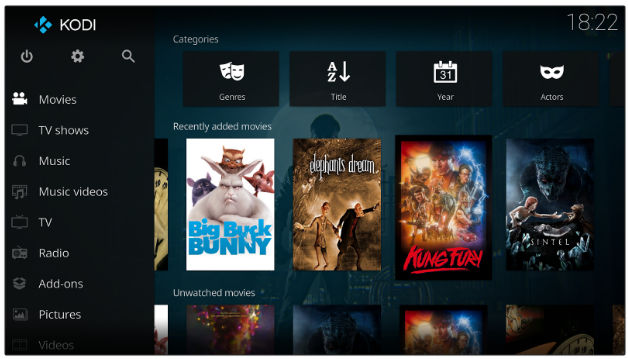 If you have stored plenty of media files on the storage memory of your smart TV or set-top box, you should download and install the Kodi. This Android TV app enables you to manage media files saved on the ROM of an Android device. It has a stunning interface. The media center app provides a search option to find video and audio files. In addition to providing a search tool, Kodi groups media files it finds on your device in one of the following categories:
TV Shows, music videos, Radio.
Pictures, Movies, etc.
You can enrich Kodi with more features by installing third-party Kodi plugins.
Plex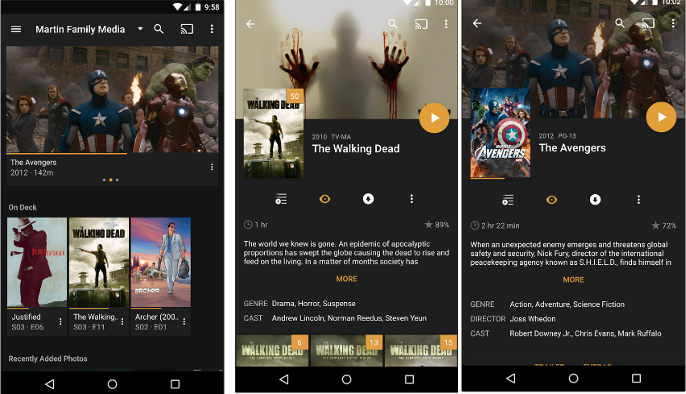 Plex allows users to stream movies and other media files to their TV. It is available in two versions – free and premium. To use Plex, you must install its media server application on the Android TV and the official Plex app on any phone powered by the Android OS. Once you do so, connect the mobile device to your TV or SetTop box with a WiFi connection and run Plex. Plex free edition features:
Search utility.
Organizer module.
Sharing remote/access.
SD card support, and more.
Features of the Plex paid app:
Access to movie trailers and HD videos provided by Vevo.
Automatic file conversion, etc
VPN Client
Some of the apps mentioned above may not be available in your region. To bypass restrictions, you must install the best VPN for Android. VPNs are easy to use. They provide a one-touch option to encrypt your internet connection. Once they secure the connection, your handset will be connected to a remote computer. Then, you will be able to install apps available for download only in certain countries.
Amazon Prime Video
Yet another top video streaming service, Prime Video, is a premium service that allows you to watch TV shows produced by Amazon. It also lets users watch popular movies at full-high-definition resolution. The Amazon Prime video monthly subscription cost is $10. Once you become a prime member, you'll get unlimited access to all shows and movies. You can also stream or download songs for free with the Prime Music app. If you buy products from Amazon, you'll enjoy the same-day delivery service.
Also read: Best online shopping apps
VLC media player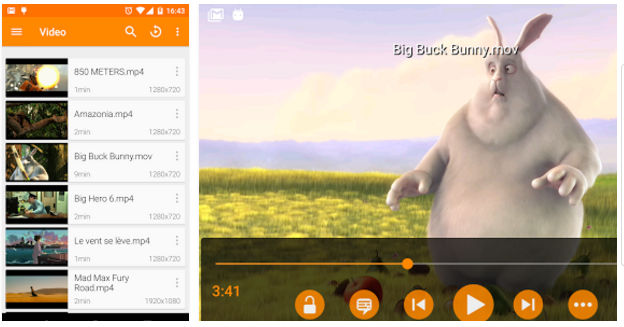 VLC is a special video player software because it can play media files of all types. The Android version of VLC is as powerful as its desktop variant. VLC media player features an equalizer tool that allows you to adjust the bass, treble, etc. It doesn't have ads. It provides a file explorer tool through which you can locate your media file. VLC lets you rotate videos. It can also display subtitles. VLC is one of the best apps for Android TV and Box.
In addition to the above Android TV apps, install one of these weather apps to see climate details on your TV and a news app if you like to read the news instead of watching news channels.
Final thoughts: The above top Android TV apps are free. If you're not using them, download the applications because your smart television is incomplete without them.