Pinterest is a popular information discovery platform used by people to share their designs or creative work. It is similar to blogging apps, but unlike the blogging services that support lengthy text and several images in a post, you can see only a single picture at a time on Pinterest. A short description accompanies each photo on Pinterest. Although it wouldn't be challenging to identify the thing in the picture, a description allows users to share their thoughts on the image. Pinterest currently hosts over 100 million photos. Posts in this application are called Pins. You can create a board and add as many Pins as you want to it.
Pinterest lets you link an image to a web page. It has a built-in analytics tool that enables you to see how many impressions your Pins have got and the number of times the Pins were clicked. Pinterest is not the only site/app that allows users to share their creativity. Below, I've shared the Pinterest alternative apps and sites. If you're a creator or a person who loves to explore designs and creativity, use the following web and mobile apps like Pinterest.
Best apps like Pinterest for Android, iPhone (IOS), PC
We Heart It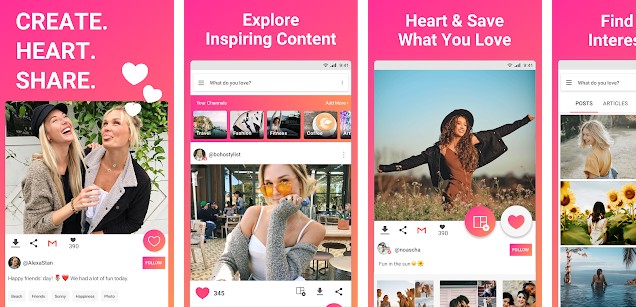 As in Pinterest, you must log in to use We Heart It. Although WHI has options to sign in with Twitter, Google, and Facebook, you must create a We Heart Account using the email address you had used to register an account with one of these 3 social media apps. Once users log in, We Heart It prompts users to choose their interests from a massive list of topics. Some of the topics are as follows:
The minimum number of topics you must select is 3. When you choose the topics, WHI will activate its content recommendation platform and show a list of posts. You can save the posts you find interesting or download the image in the post. We Heart It has a feature called "Trending Influencers". People whose work gets popular quickly are known as Trending Influencers. You can follow these people to see their future work.
We Heart It lets users create an article containing text and share video/images. The "write article" feature is available only to the We Heart It website users. WHI has a "Discover" section that features a list of popular posts.
Dribbble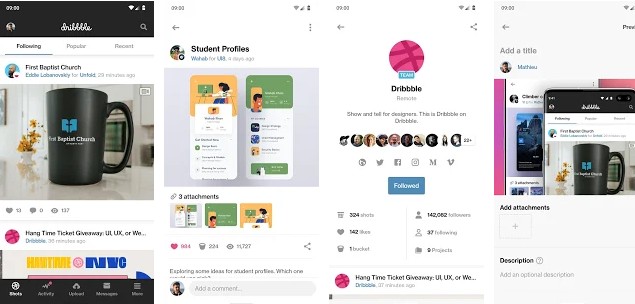 Dribble is a Pinterest alternative visual content platform that has been designed especially for designers. Dribble has a Pin like feature called "Shots". You can create a "Shot" containing a PNG or a JPG format image. Dribble also supports animated GIF images i.e. your shot can have a GIF file. While creating a "Shot", you will be asked to enter a title, description, and tags.
The app enables you to filter designs by the tool used to create them. It also lets users filter designs by their image color. Dribble lets creators sell their work. It has a job board section where you can find design jobs. If you want to hire a designer, you can post a job on Dribble. Although Dribble is not as popular as Pinterest, this application offers more useful features than Pinterest.
Mix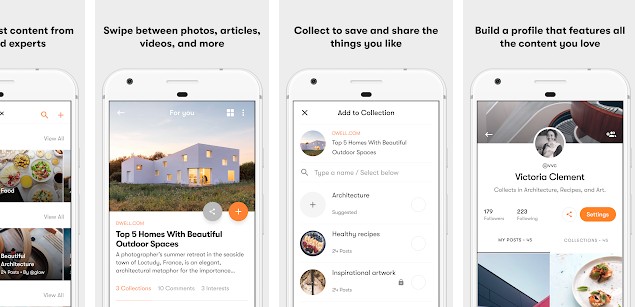 Like Pinterest, Mix is a cross-platform app. It finds the best content on the internet and recommends the same to the users. Mix also lets users share their findings with other people. Mix is powered by machine learning technology. Mix also has people working at the backend curating the things on the platform. It allows you to upvote, downvote, and bookmark articles. You can also create a "Collection" containing the posts you've found interesting.
Pearltrees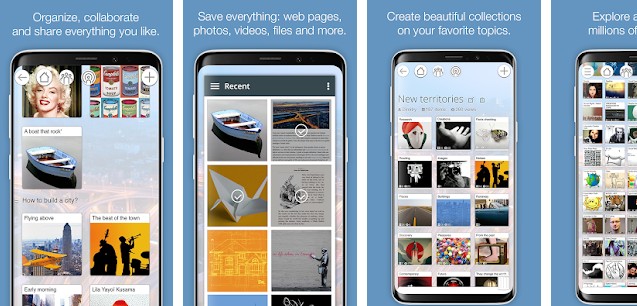 Pearltrees lets users save interesting files, pages, videos, etc they find on the web. Unlike Pinterest, which shows everything that users upload, Pearltrees shows only the posts of users that you follow and the posts you discover after using the search tool.
Pearltrees, the Pinterest like app can automatically add the email attachments and URLs in the mail to your collection if you send the mail from the email ID you've used to create a Pearltrees account to the email ID shared by the application. The application lets you comment on the collection of other users. It supports web page annotations and illustrations. As Pearltrees is a cross-platform service, you can access your collections anytime.
Houzz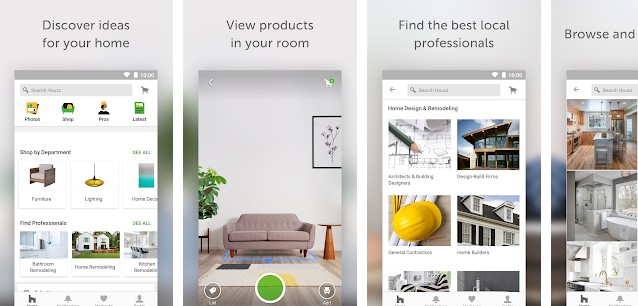 Houzz is an excellent app like Pinterest to discover and save home decor ideas/designs and buy products that look exactly like the one that you find in the picture. It also allows you to remodel the existing design. People from the US may not like the interiors of a home situated in India. To ensure this doesn't happen, Houzz detects your location and shows designs shared by people belonging to your country. The application also lets you find good interior designers and hire them. It enables users to rate designers. Collections in Houzz are known as Ideabooks. You can add the posts/images you like to your IdeaBook.
Similar Pinterest like apps:
In addition to the above 5 Pinterest alternative apps I've shared above, you can use Facebook to discover new ideas. FB has 1000s of groups where designers, decorators, architects, creators, etc share their work. You should use Facebook's search tool to find and join such groups.