Bible is a sacred book for Christians and one of the must-read books for the people interested in getting information about life, God, humanity, or wanting to know the reason for their existence, etc. According to some researchers, 39 to 40 experts have written the scripts of the Bible for over 1000 years. Every script in the Bible is meaningful. Hence, reading the Bible once a day or week is a good practice. If we do so, we come closer to God and become better human beings. Bible motivates a person and keeps them interested in religion. Many people have become successful after getting inspiration and knowledge from the Holy Bible. Bible keeps us calm, focused, and motivated at times of depression, angriness, anxiousness, fear, etc. The book gives numerous life messages. It is the ultimate guide for leading a better life.
Unfortunately, as the book is holy, we cannot carry it everywhere we go. The best mobile operating systems i.e. Android and iOS, are user-friendly. Smartphones that run these two operating systems have 8+ GB storage memory. Hence, you can store as many books as you want on your Android device or iPhone. As Bible is one of the most-read books to date, it is apparent that many developers have published Bible apps for Android and iPhone on iTunes and the Google Play Store. Below, I have shared a list of the best iPad/iPhone/Android bible apps that read aloud to you, work offline, support multiple languages or give you access to different versions of the Bible. Hence, you don't have to explore the Play Store or iTunes to find the best bible applications.
Best free Bible apps for Android and iOS
YouVersion Bible by LifeChurch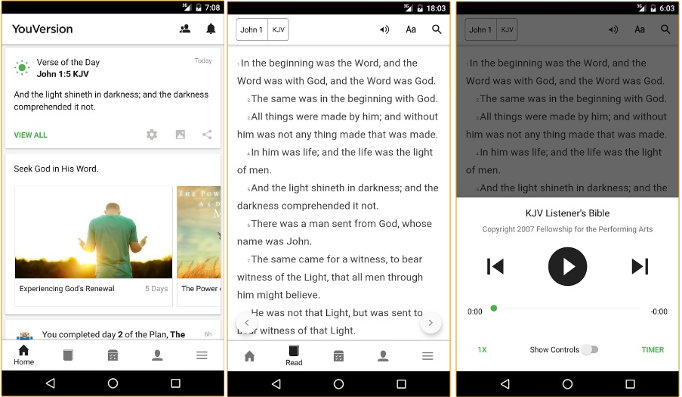 With over 50 million downloads on Android and iOS devices, YouVersion is the best bible app on this list. Once you install YouVersion from the iTunes or Google Play Store and run it, the app will display an option to select a language, signup for a new account, or log into the existing YouVersion profile. If you haven't used YouVersion before, make sure that you select your preferred language before creating a new account. LifeChurch YouVersion supports over 60 languages. It lets users sign up with their social network profiles i.e. Google and FB profiles. Registering a new account is easy. Once the application confirms your email address, it will ask you to select a profile picture. You can skip this option if you want. LifeChurch YouVersion then prompts you to use its friend finder module to search for friends using the app.
Once you log into YouVersion, you'll see the option to download the offline version of YouVersion. If you don't want to log in to the app for reading verses, download and use the app's offline variant. LifeChurch displays the verse of the day on its main interface. It lets you translate the verse into regional languages. It ships with a read mode feature that works great. The app displays a Bible verse in a full-screen view and presents options to read the verse aloud, change text size/font, search for a specific stanza.
LifeChurch features a bookmarker, highlighter, badges, notes, images, events module. It lets you discover new religious content published by experts. You can listen to the Holy Bible on your phone or tablet with it. The application is user-friendly and lightweight. It adds two new beautiful Bible widgets to your phone. It is the most downloaded app on our list.
Must check: Best audiobook apps
King James Bible (KJV)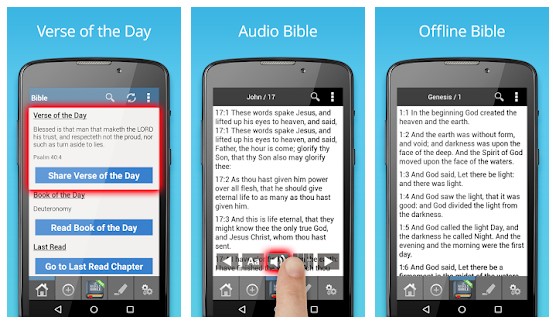 KJV will show new verses daily on your phone if you enable the "Allow display over other apps" permission for it. If you don't want to see the verses, you can tap the "Skip" button. KJV has a website like interface. The verses and prayers are displayed on a web page in KJV. To scroll down the page, you should place your finger on the phone's screen and swipe down. The daily verse is displayed in the "Verse" tab of the application, and the lesson of the day is shown in the "Devotion" tab.
To go through the entire Bible or find your favorite chapter, tap the "Bible" option displayed on the KJB's bottom menu. KJV has dedicated buttons to change chapters. The button to open the previous chapter is present on the left side, and the button to open the next chapter is displayed on the right side. In addition to these two buttons, you'll also find a button to make the app read aloud the Bible's chapter for you. The KJV app for Android and iPhone/iPad provides advanced filters and a Bible index. To see the filters/index, you should tap the downwards pointing arrow displayed on KJV's menubar. KJV lets you change the size of the text. It enables you to see the meaning of words, highlight texts, create notes, bookmark chapters, etc.
Also read: Best Android dictionary apps
Bible for Kids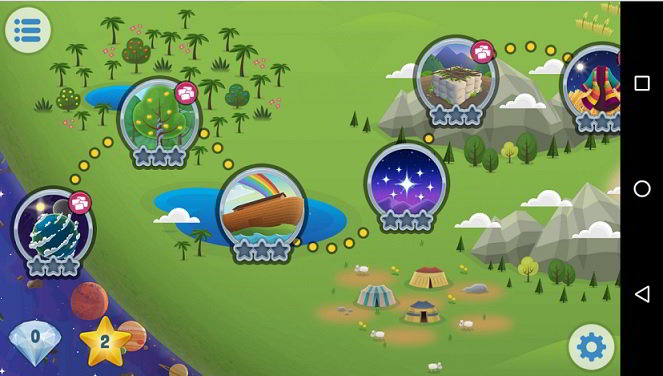 No matter how long or short the paragraph/story is, kids don't like to read. LifeChurch, the developer of the YouVersion app, has designed the BFK app keeping this thing in mind. Unlike the above application, BFK offers beautiful animations that demonstrate various verses of the Bible. The animation is interactive. Kids can touch the screen to pause/play it. The app is kid-friendly. Its interface is immaculate. Hence, navigating to chapters/verses in BFK is easy. Apart from religious stories, this app allows kids to learn new activities and discover new facts. BFK has a rewards module. If your kids complete a particular task put forward to them, the app will reward them with points.
Once your kid runs BFK, he'll/she'll see an animated map that features clouds, trees, animals, huts, mountains, fields, pyramids, along with several large circles. The kid must tap on the circle to start the animation. Each circle gives kids access to a different story. Parents must download these stories before the kids can play them. YouVersion/LifeChruch Bible for Kids is five times larger than the application mentioned above. It has a settings panel where you'll find an option to turn off the narration, background, music, change the default language, and manage stories.
Top-rated bible apps like YouVersion, KJV, and BFK:
Also see: Best learning apps
Final thoughts: The Play Store and iTunes give you access to several bible apps, but the best ones are the apps released by YouVersion/LifeChurch. It is better to keep a complete app instead of installing two or three apps for getting information on a particular subject. If you want to study Bible stories/verses on a mobile device, download YouVersion. If you want your kids to get Bible knowledge interactively, app #3 is perfect for them.