Holy Quran is a magical and divine book. Reading it every day ensures that the mind is fresh and free of negative thoughts. You can get rid of depression, loneliness, sadness by reading this book. The Holy Quran can make us a better person. People read it to understand the reason for their permanence. The book educates a person about religion, the importance of humanity, brotherhood, etc. It is a must-have book for spiritual people and one of the most important books for the Muslim community. Millions of Muslims read the verses of the Holy Quran every day. They visit the Mosque for the same. People who cannot visit the Mosque go through the Quran at their home or listen to it on television, radio, etc. If you want to come closer to God, you must read the Quran every day.
As the Quran is a holy book, you should keep it in a clean place. You must not carry the book everywhere. Sometimes, you may have to travel to another city for office or business-related work. For example, an IT company in Hyderabad offered a high-profile job to Muhammad. Muhamad will move to the new town to pursue his career. His father inherited the Holy Quran from his grandfather. The family has only one copy of the Quran.
Muhammad can't carry the book along with him because other family members read scripts from it every day. MHD is smart. Being a smartphone user, he knows that the Google Play Store and iTunes have many Quran apps. Instead of buying or borrowing the Quran, MHD downloads the best Quran app on his Android device or iPhone. If you are in a similar situation, you don't have to spend time searching for the top iPhone or Android Quran app because I have shortlisted them for you.
Benefits of using an app:
You can go through your favorite verses at any time.
You can carry your phone/tablet everywhere without worrying about the book.
Best Quran apps for Android and iPhone
Holy Quran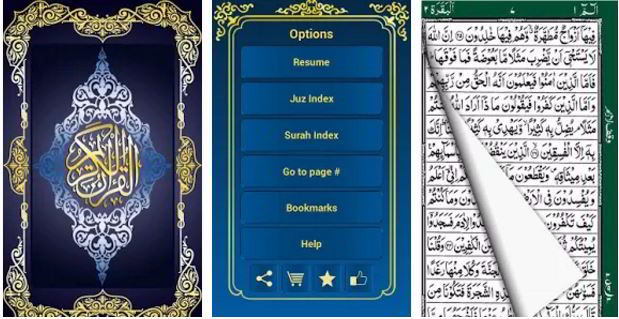 FanzTech's Quran app for iOS and Android provides excellent features and user experience free of cost. It supports full-screen mode. The app uses a special Nastaliq font to make readability easier when the user enables this mode. This application lets users bookmark their favorite verses. It gives you access to 30 sections of the Juz index and 114 chapters of the Surah index.
Sometimes, you may switch to other work while reading the Holy Quran. To ensure that you don't have to search for the line you had read before switching to another app/work, the app offers the "continue reading" feature. This free app includes special effects to make reading the Quran on mobile devices a joyful experience. It doesn't make users download new chapters. Once you download the app, you can go through the chapters unlimited times in an offline mode. The app's size is around 59 megabytes, and it has 1+ Million users.
Must Read: Best Bible Apps
Quran for Android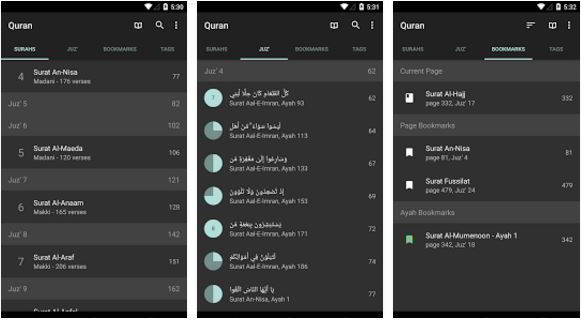 Launched by one of the most widely visited sites, this Quran app for iPhone and Android provides the night mode feature. When you turn on this mode after the sunset, reading verses becomes easier. The application has an intuitive UI. It makes use of powerful Android functions to make navigation easier.
The app includes a search utility to find a verse containing specific text. It lets you listen to the Quran for free. Hence, if your eyes or head is hurting, you can activate the listen mode. This application supports translation to 20 different languages. It is continuously in development. Hence, don't be surprised if you find new features in this beautiful Android Quran app after an update.
Recommended article: Best video player apps
iQuran Lite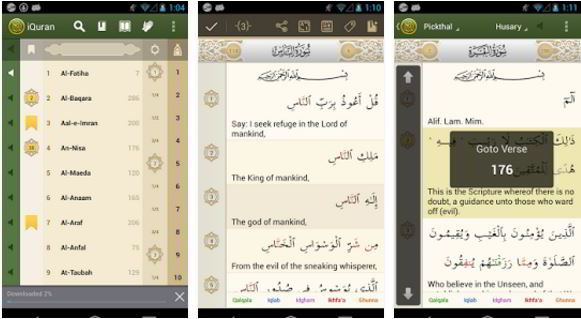 iQuran displays Arabic scripts of the Quran along with its English Translation. It lets users listen to the recordings of the Holy Quran. To provide a great listening experience, iQuran provides various sound controls. The app offers the following utilities:
Tags.
Bookmarks.
Search, and many other useful controls.
iQruan Lite supports landscape mode for better readability. Its size is 16 megabytes. It supports the following versions of the Android operating system:
Android Froyo, GingerBread.
Jelly Bean, Lollipop, Marshmallow, etc.
Also see: Best apps to download music
Al-Quran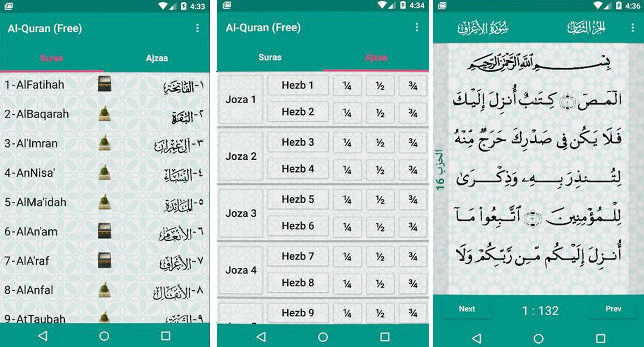 Al-Quran has the same number of users as the above applications. It is lightweight and doesn't have ads. The app occupies 5 to 7 megabytes of storage memory. It features an index so that you can quickly go through your favorite chapters. ALQ lets you bookmark verses. If you're not in a mood to strain your eyes, you can hear the holy scripts in Al-Quran. The app provides a search utility and has navigation buttons to open the next/previous verse. It allows you to adjust the font size.
The app supports offline reading. Hence, it will work even when your phone is not connected to the internet. Al-Quran enables you to remove its background wallpaper. It allows users to set up alarms and ships with 10+ color themes. ALQ is fast and easy to use. It is one of the top Quran apps for Android and iOS.
If you're a frequent traveler who loves to recite Quran, install the apps I've covered above and use them.