Bikes are the man's best friend. A person who owns a bike can go out to his favorite location to kill loneliness, boredom, depression, etc. Apart from experiencing the thrill and excitement of driving a two-wheeler in real life, millions of people love to play bike racing games on their Android devices because of only one reason i.e. speed.
Some motorbikes reach up to 300 KM/hour within a few minutes. Driving a bike at such breathtaking speeds on the roads is life-threatening. You are risking your life and endangering the lives of people who are driving their vehicles at an average speed.
The Android games allow you to control a powerful 500+ cc engine bike that you can't afford to buy or ride on the streets. You don't have to worry about accidents, costs, or speed. Just concentrate on the controls and make sure that you drive the bike at maximum speed and earn as many points as you can to beat your opponent. Below, I've shared the list of the top bike racing games available for the Android operating system.
Best bike racing games for Android
Traffic Rider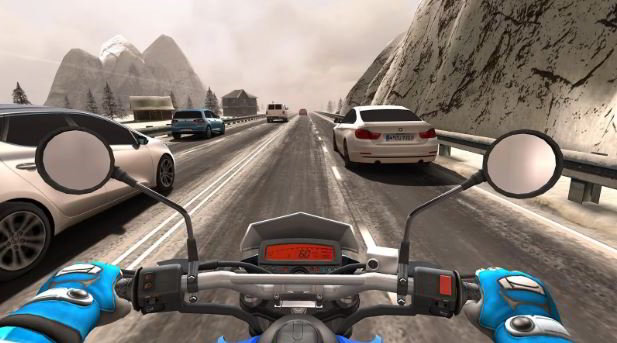 Soner Kara, the developer of the Traffic Racer app, is the top developer on the Google Play Store. Hence, its bike racing game is undoubtedly magnificent and entertaining.
Once you run TR, you'll see a bike along with four options i.e. settings, more games, game center, garage. Tap on the bike to enter the game mode menu, which has the following options:
Career, endless, Time trial.
Free ride, one way, two way.
Choose your preferred game mode and select one of the following stages:
Highway, desert.
Winter, city.
Now, select the time i.e. Moon, evening, and night. Once you choose the above options, you'll see a virtual 3D environment. You are the rider. Unlike other Android bike racing games, Traffic Rider provides a first-person view of the world to the player. The current driving speed, total distance covered, and time left are displayed on the right side of the screen.
The game lets you change touchscreen sensitivity, invert controls, enable or disable background music/sound during the gameplay. It allows you to perform stunts too.
Traffic Rider game for Android and iPhone doesn't have any road rules. You can drive past other vehicles on the roads at high speeds.
TR is an endless bike racing game for mobile devices. It offers over 20 stunning bikes and an exhilarating audio experience. The game ships with a leaderboard for the users who want to share the points they've earned during the gameplay. It supports over 15 languages.
Must Read: Best cricket games for Android
Bike Race Free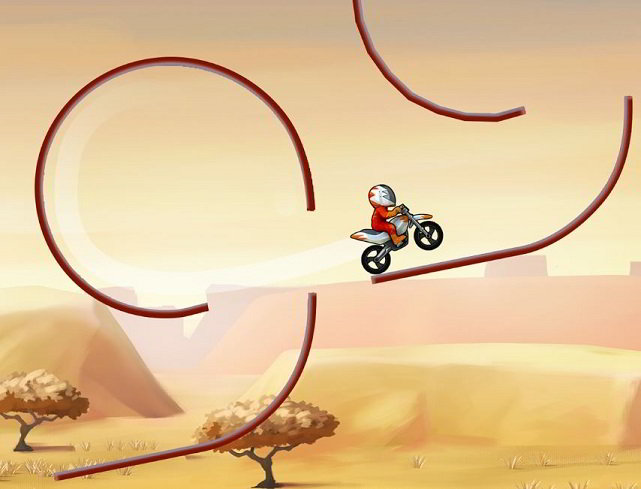 This game has several levels. Once you finish one level, BRF shows the time you've taken to complete the level. The difficulty increases each time you complete one level. The game has obstacles in the form of terrain, valleys, loops, etc. It doesn't have background music. The only thing you hear while playing BRF is the sound of the vehicle.
The Bike Race Free game supports the multiplayer mode wherein millions of people compete. It has decent graphics and entertaining gameplay. It has over 50 tracks and a tournament mode with predefined tasks to accomplish. You'll earn a trophy or reward if you finish at 1st, 2nd, or 3rd place in the tournament.
It is easy to play BRF. Tap on the screen to accelerate the bike. As the game has 2D graphics, you don't have to tilt the bike left or right. Bike Race Free has over 50 million users worldwide. It is lightweight and runs on Android 4.0+ devices.
Must check: Best soccer Games for Android and iPhone
Moto X Mayhem Bike Racing game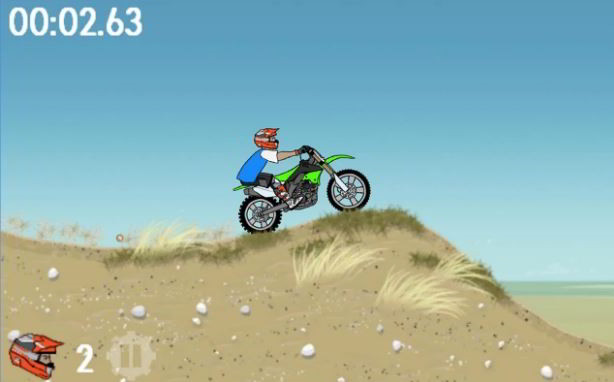 MXM is a challenging game with several levels. It provides ragdoll physics for the character and a realistic shock absorber system for the BMX bike. The terrain in the game is stunning. Character and bike physics are fantastic. Moto X offers a leaderboard system for users who want to compete with other players online by sharing scores.
MXM employs 2D graphics and parallax scrolling effects. It is addictive and one of the best bike racing games ever.
Racing Moto game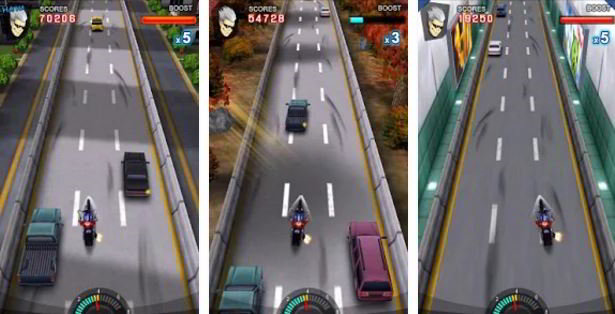 A free game that you can play on Android 2.3 and above devices, Racing Moto, lets you choose your favorite bike and rider. Once you do so, the gameplay starts. Your motorcycle is deployed on a three-lane track. You have to control the bike to prevent it from hitting other vehicles on the track. Your score will increase each time you drive past a car.
RM's gameplay is similar to that of Road Rash. The game makes clever use of lightweight graphics components. It is easy and fun to play.
Recommended reading: Best entertaining games like GTA
Bike Racing 3D for Android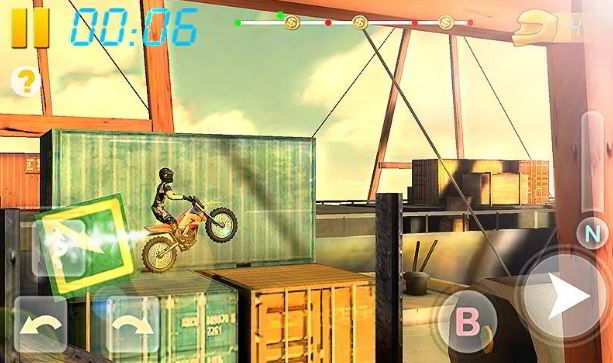 BR3D from Words Mobile claims to be the #1 BMX game on the Google Play Store. It is a free bike racing game with stunning 3D graphics. It provides over 55 challenging tracks and excellent object physics. The game ships with five beautiful BMX bikes. Its size is 15 megabytes. It supports Android 6.0 and preceding operating systems up to v 2.1.
Final thoughts: If you're searching for a free bike racing game for your Android tablet or phone, make sure that you install the apps I've listed in this article. I have suggested games for high-end as well as low-end mobile devices.