In 2017, Bitcoin's rate had grown by 50000% to around $12000. Its value was in single digits in 2012. Believe it or not, guys, the current price of 1 Bitcoin is $30000+. People who trusted Bitcoin and bought 1000s of BTCs in 2013 are millionaires right now. Bitcoin trading has become a serious business since 2017. If you want to swim with the Bitcoin tide and you're ready to take a risk for making some quick bucks, you can invest your money in BTC. Bitcoin is an open-source cryptocurrency that you can buy or sell online with wallet apps. The only way to profit is to keep an eye on the Bitcoin price. When the price increases, you can sell the Bitcoin. If the price dips, you can wait for a few days before selling BTC. The price of Bitcoin is not aired on the radio nor displayed on news channels.
6 Best Bitcoin wallet for Android and iOS
BlockFolio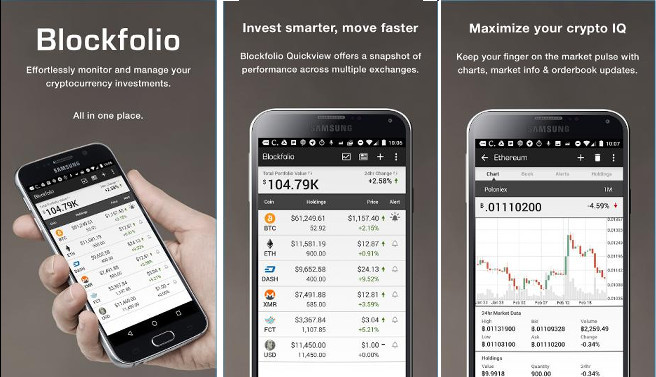 BlockFolio is a Bitcoin app for Android and iOS that allows users to track their various cryptocurrency investments in one place. The app lets users set price alerts. It displays a notification when the currency value has reached the user-specified threshold. BlockFolio supports 1600+ cryptocurrencies. It features a newsreader module where you'll find cryptocurrency news from various online magazines. Hence, you don't have to download and install news apps to keep yourself up to date with the latest happenings in the world of digital currency. Users can get detailed information on their favorite currency and markets with BlockFolio. They can also see the historical data of the top cryptocurrencies.
BlockChain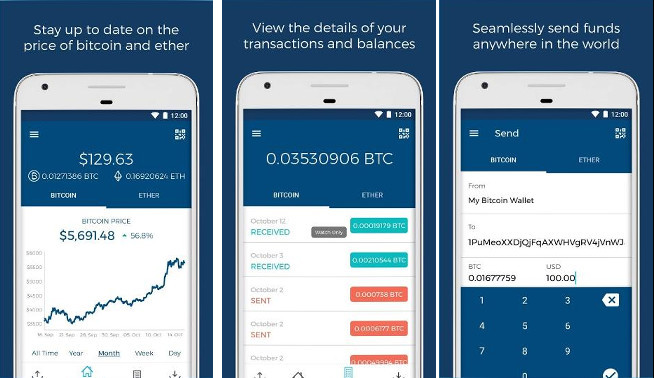 BlockChain is the only Bitcoin wallet that supports two-factor authentication. It lets users prevent unauthorized access to their wallets by providing an option to set a PIN code. World-renowned security experts have given the app a clean chit. Hence, you can use it without worrying about security. BlockChain has an intuitive interface. It allows you to transfer or receive funds online. It supports QR codes and 22+ languages. The app ships with a currency converter utility. As BlockChain is a popular app, 1000s of merchants accept payment with the BlockChain wallet. You can find nearby merchants that support BTC payment with this application.
Must see: Best VPN apps for Android
Coinbase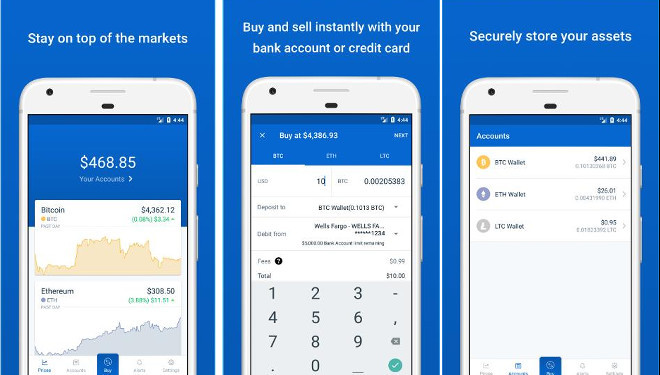 Coinbase is a free app with which you can buy and save LiteCoin, Bitcoin, and Etherium. You can also transfer funds to the wallet of other Coinbase users with it. Users can see the real-time price of their favorite cryptocurrencies in Coinbase. They can also check out on popular sites like Dell, Expedia, and 20000+ other sites with this application. Coinbase lets you set a passcode. If you've lost your phone, you can prevent unauthorized users from accessing your Coinbase wallet. Users can link their bank or PayPal account with Coinbase to make transactions faster. Coinbase is the most popular bitcoin app on the Play Store and iTunes. It is available for download in 32 countries.
If the Play Store or iTunes doesn't permit you to download Coinbase, install one of the following three applications:
Best apps like Coinbase:
AirBitz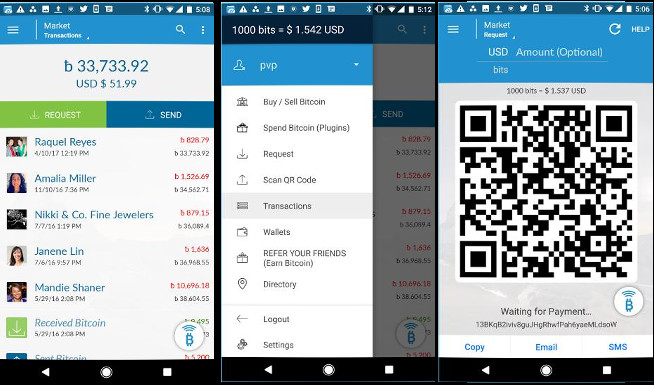 AirBitz is an open-source app through which you can buy and sell Bitcoins from a mobile phone. Creating an AirBitz account is easy. To register an account with AirBitz, you must enter your email address and password. Airbitz remembers the user's bank accounts. Hence, you don't have to enter debit or credit details while buying Bitcoins. AirBitz lets you see your previous transactions. It can scan Bitcoin QR codes. If you're using AirtBitz, you can generate a QR code and share it with the payer. The payer must scan the code with a Bitcoin app to make a payment. The app provides a search utility to find transactions. It is lightweight and easy to use.
Also see: Best apps like PayPal
MyCelium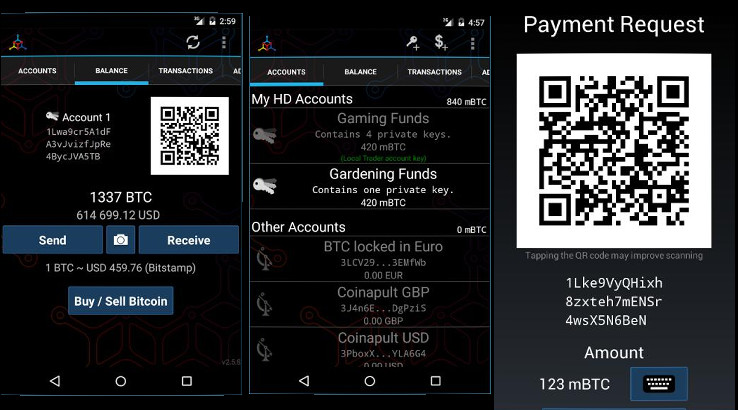 According to its developer, MyCelium is the most straightforward and secure Bitcoin app for iPhone and Android OS. MyCelium doesn't ask users to download Blockchain, nor does it asks them to enter a phone number, email address, or upload documents. When you run MyCelium, you'll see two options – restore a backup, create a new wallet. New users should tap the 2nd button. The app will generate and store a private key to your phone's storage memory.
MC generates your bitcoin address automatically. It also generates a QR code that you can share with other people. The QR code contains your Bitcoin address. Your friend must scan it with MC or any other wallet app to transfer money. MyCelium allows users to see the list of their previous transactions. In the US or Canada, you can buy bitcoins with MyCelium. MC supports KeepKey, Trezor, and Ledger hardware wallets. Hence, you can save your bitcoins offline with this app.
Also check: Best Android budget apps
Zebpay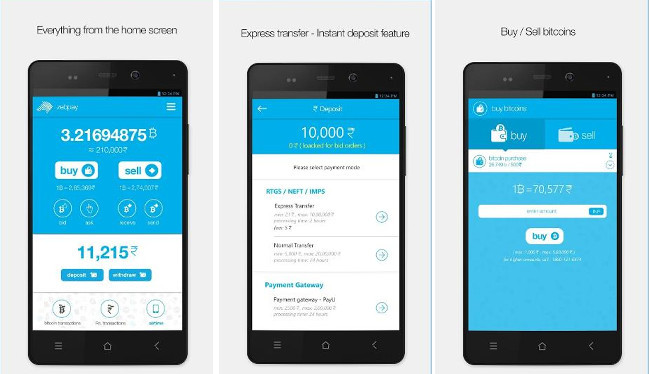 Zebpay is an app like Coinbase for buying and selling Bitcoins in India. It lets you buy BTC with a credit or debit card. Once you earn a profit, you can withdraw the money to your bank account with Zebpay. To use Zebpay, you must verify your phone number. You must also upload a copy of the Aadhar Card and Pan Card. ZP supports NEFT, IMPS, and RTGS services. It allows you to add a Bitcoin rate widget to the home screen. To make sure that no one gets access to your wallet, Zebpay lets you set a four-digit security pin. This Bitcoin app for iOS and Android allows you to see the account statement and transaction history. It has the option to select a preferred currency unit.
Other top rated Bitcoin apps:
Must Read: Best Android email apps
Mining vs Buying Bitcoin: BTC mining is like finding a needle in a haystack and asking a noob to solve a complex puzzle. Well, you don't have to be a geek to mine bitcoins. All you need is a powerful computer and mining software.
Can you mine BTC online? Yes, you can do so, but there's a significant risk involved in mining Bitcoins online. Nice Hash was a popular platform for mining BTCs, but it was hacked a few years back. The hack resulted in people losing over 60 million USD.