The police officials work day and night to keep criminals at bay. When a major crime occurs in your vicinity, they share information on the same with the local TV channels, newspapers, or radio stations. TV channels don't cover local news unless it is important or assures high TRP for the channel. Newspapers publish news the day after the incident takes place. If you want to keep yourself updated with the latest crime, accident, fire news in your area, you should use the best police scanner apps I've shared below. The apps give you access to publicly available police radio frequencies. They are better than Android news apps that don't disclose the complete information on crime incidents or accidents. Why should you use the police scanner apps?
To keep yourself abreast of the latest incidents that happened in your region.
To avoid visiting the place where the crime occurred.
Learn how the police department functions.
To be one of the first persons to learn about the newest crime/incident in your city/county.
Best Android police scanner apps
Scanner Radio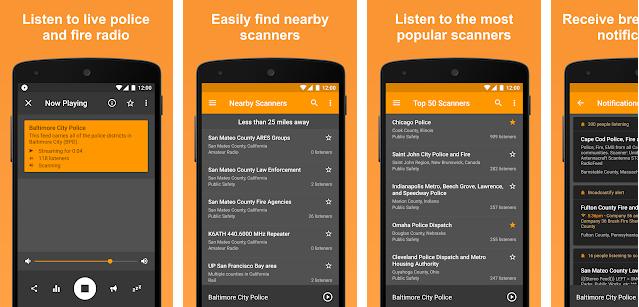 Scanner Radio is an application that gives you an idea of how the police department in your area operates. It is the most popular police and fire radio scanner app on the Play Store. It gives you access to fire/police scanners that are nearby you. The quality of the audio is great in this application. You can hear the conversation between the victim and the police department or between two or more police officers. If you're not satisfied with the audio quality, you can use the built-in equalizer tool of this app to fix it. Scanner Radio makes users aware of the 50 most popular police radio channels. Besides police radio feeds, SR lets users listen to weather/air/marine, etc radios. This application supports notifications. Thus, when something happens nearby you, you'll be one of the first persons to know about the incident.
Also read: Best apps like Kik messenger
Police Scanner X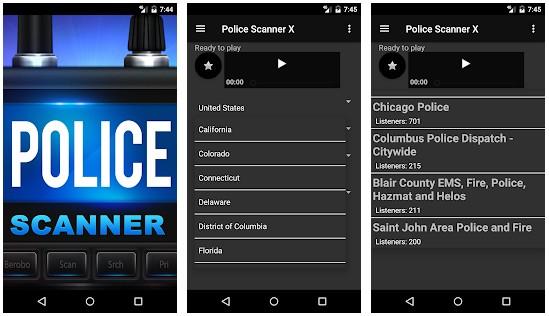 PCX is another excellent app for getting real-time news on major or minor incidents in your city. It has:
A menu bar with the option to open top news, bookmarked/favorite stories, and alert feeds.
An option to filter scanners by location and popularity.
An option to bookmark a radio scanner or refresh it.
Neat user interface.
PCX also provides information on various police radio codes.
Police Scanner 5-0 Free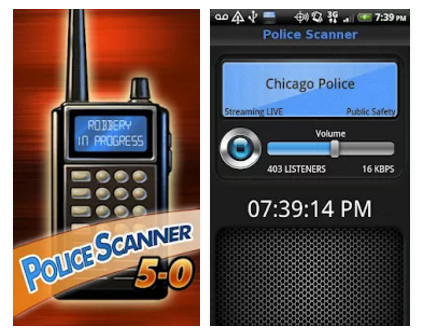 PS 5-0 offers the following important features:
Over 4999 radio stations aka feeds offered by fire, police, rescue officials.
Option to access favorite channels of users.
Identifies the location on WiFi, 3G, or GPS connection.
Bookmarking option.
Beautiful user interface.
PS 5-0 allows you to see the police scanners available in your region. It has a nice UI.
Police Scanner FREE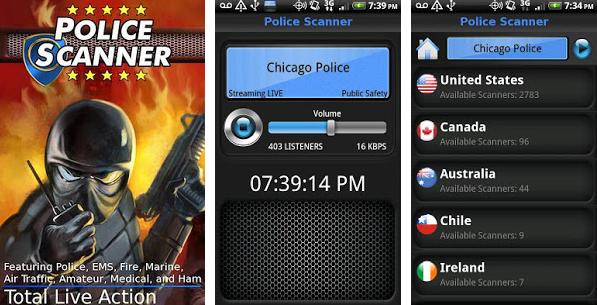 Police Scanner FREE makes you aware of the police radio scanners available for your city/state. To listen to the police scanner, you must select a country, state, area, etc. Once users select the location, they must tap on the play button to hear the live stream. Scanner FREE ships with a search tool and a bookmark utility. It gives you access to 5K feeds from about 10 countries. Its size is below 7 megabytes. The app supports Android 4.1+ operating systems.
See: Best business card scanner apps
Broadcastify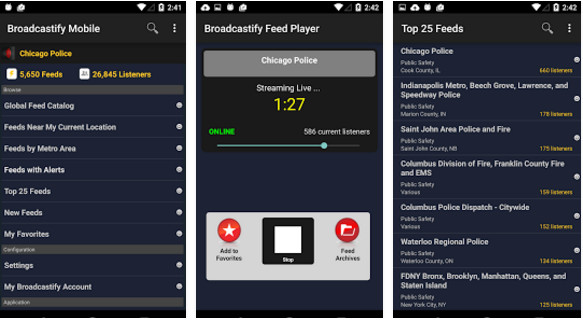 Broadcastify is an all-in-one app that lets you hear the live police, rail, fire, EMS, etc radio scanners in your proximity. The app identifies your location and displays a list of police scanners available for your current location. It provides over 6000 feeds and has several thousand listeners at a time. Broadcastify features a favorites section where you'll find the top 25 police radio channels. The app provides a search utility to find a scanner by its name or location. Broadcastify shows notifications when a major incident occurs in your state/city. The application also shares information on the incident with its users in real-time. It is one of the best police scanner apps for Android phones.
Must check: Best radio apps for Android
Police Scanner Live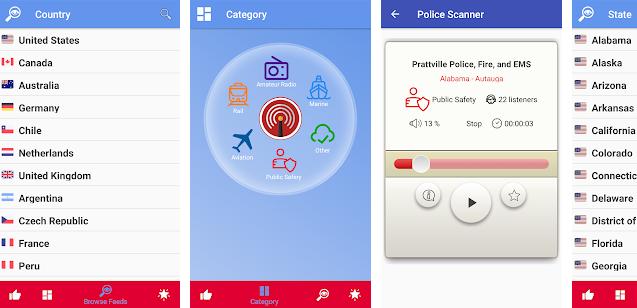 Police Scanner Live displays a list of countries on its interface. You should select a country from the list by tapping its name. Once you do so, PSL will display a list of states/counties. You must choose a state to see the available police scanners in the selected region. When you tap a scanner, PSL will display start streaming it. The application displays the time for which you've been listening to the radio channel. It lets you bookmark the channel and can show various codes police personnel use when they are talking with each other. The application displays the number of users currently listening to the radio channel.
PoliceStreamFree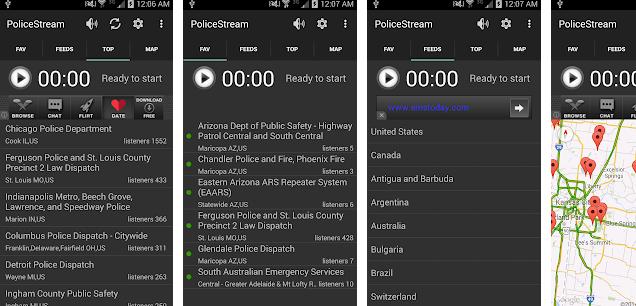 PSF is a free police scanner app for Android that shows the following four tabs on its interface:
To get started with PSF, tap one of the names displayed on the screen. Once you do so, the application will start playing the scanner. The "Feeds" interface of PSF shows a list of countries. Tap on the country name, select the county or state if you want to browse police scanners by the country. Once the app starts streaming the scanner, you'll see a timer on the screen. The application's map interface highlights the location of the scanners on a Google Map. PSF lets users listen to the police radio scanners available in the following countries:
United States, Canada, Australia.
Chile, Netherlands, United Kingdom.
Peru, Germany, Ireland.
Sweden, Czech Republic, Spain.
Finland, Brazil, Germany.
And more.
Police Scanner Multi-Channel Player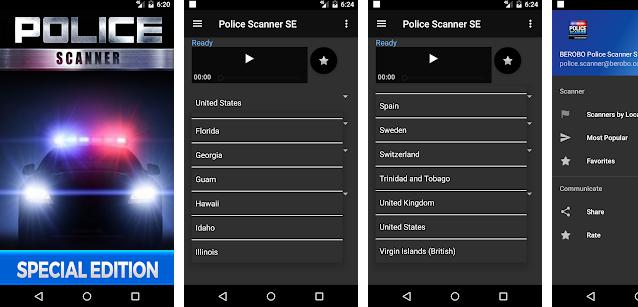 This special edition police scanner radio app for Android phones from Berobo shows a list of these countries on its interface – United States, Canada, Australia, Germany, Netherlands, Czech Republic, Peru, Chile, Spain, Switzerland, South Africa, Russia, Ireland, Austria, Philippines, Slovenia, United Kingdom, Ukraine, Brazil, Norway, France, Poland. When you choose a country, you will be prompted to select a state, county. The application will now show a list of scanners and an option to mark them as favorite. To stream the scanner, tap on its name. PSMCP can play 5 channels at a time.
Final thoughts: The above 8 best police scanner apps are free. They have advertisements and a simple interface. Scanners you'll find in them are not provided by any private organization. Hence, they are trustworthy.