The police officials work day and night to keep criminals at bay. When a major crime takes place in your vicinity, they share information on the same to local TV channels, newspapers, or radio stations.
TV channels don't cover local news unless it is important or assures high TRP for the channel. Newspapers publish news after the day of the incident taking place.
If you want to keep yourself updated with the latest crime, accident, fire news in your area, you should use the best Radio scanner apps we've covered in this article. The apps give you access to genuine internet radio feeds provided by police officials. They are better than Android news apps that don't disclose full information on crime incidents or accidents.
Why should you download the police scanner apps?
To keep yourself abreast of the latest incidents that happened in your region.
To avoid visiting the place where the crime occurred.
Learn how the police department functions.
Police Scanner Radio Scanner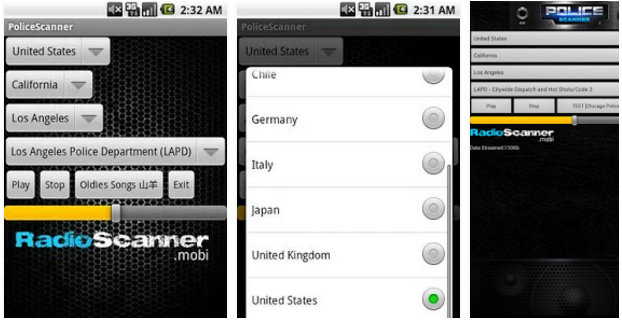 PSRS is a free application that gives you an idea of how the police department in your area operates. It lets you listen to the police scanner feeds available in your city/state.
The app prompts users to select a country, state, area, and department when they run it. Once users select the location, they must tap on the play button to hear the live stream. The application provides high-quality radio feeds. You can clearly hear that takes place between the victim and police department or between two or more policemen.
The Police Scanner app gives you access to 3K feeds from about 10 countries. The app displays the amount of data it has used during a live stream. It has a dedicated button to hear the radio broadcasted by the Chicago police. PSRS has stop and exit buttons.
PSRS doesn't provide a great UI but it works great. Its size is below 3 megabytes. It supports all versions of Android OS.
See: Best business card scanner apps
Broadcastify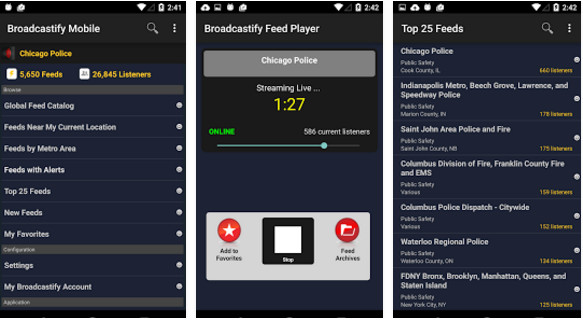 Broadcastify is an all-in-one app that lets you hear the live radio streams of police, rail, fire, EMS department in your proximity. The app identifies your location and enables you to hear the police scanner available for your current location. It provides over 6000 feeds and has several thousand listeners at a time.
Broadcastify features a favorites section where you'll find the top 25 feeds. Unlike other applications we've mentioned in this article, Broadcastify provides a search option through which you can find feed by its name or location.
BC has a great UI. It shows push notifications when a major incident occurs. BC also provides real-time information on the same. It is the best police scanner app for Android devices.
Also read: Best apps like Kik messenger
Police Scanner X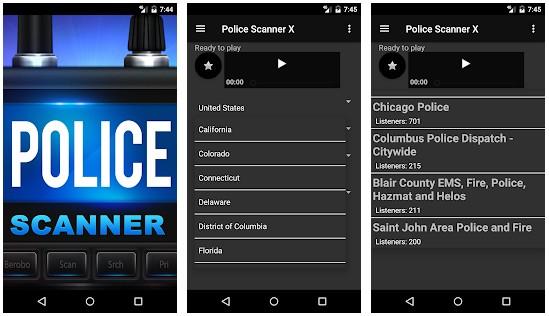 PCX is yet another excellent app for getting real-time news on major or minor incidents in your city. It has:
A menu bar with the option to open top news, bookmarked (favorite), and alert feeds.
An option to filter scanners by location and popularity.
An option to bookmark a Radio scanner or refresh it.
Neat user interface.
PCX also provides information on various police codes.
Police Scanner 5-0 Free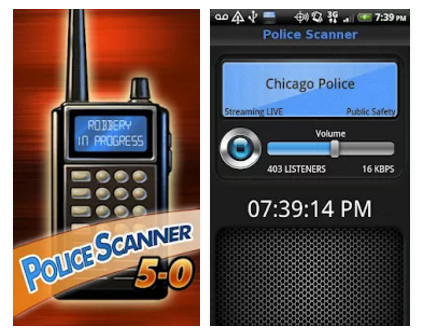 PS 5-0 offers the following important features:
Over 4999 radio stations aka feeds offered by fire, police, rescue officials.
Option to access favorite channels of users.
Identifies the location on WiFi, 3G, or GPS connection.
Bookmarking option.
Beautiful user interface.
PS 5-0 lets you find police scanners available in your region. It has a nice UI.
Must check: Best radio apps for Android
Police Scanner And Radio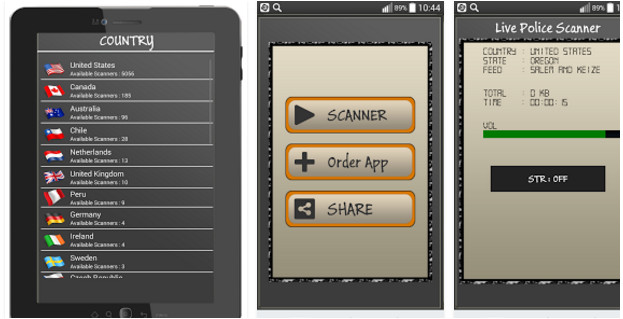 PSAR is a free application that shows the following two options when you run it:
To get started with PSAR, tap the 1st option to find a police scanner available for your neighborhood. Once you do so, the application shows a list of countries along with their official flags and the number of stations you can access. Tap on your country name and select the radio scanner available in your state or county. Now, select the station you want to hear.
PSAR is available for all users. It lets users hear radio stations aired in the following countries:
United States, Canada, Australia.
Chile, Netherlands, United Kingdom.
Peru, Germany, Ireland.
Sweden, Czech, Spain.
Indonesia, Brazil, Germany.
And more.
Once the app starts streaming the station, it shows the feed name and state. The Police Scanner And Radio app is user-friendly.
Conclusion: The above top five best Police scanner apps are free. They have advertisements. They offer a simple interface. Stations you'll find in them are not provided by any private organization. Hence, they are trustworthy.