SMSes don't support emojis, but instant messaging and social networking applications support them. You won't find any messaging application on the iTunes or Play Store that doesn't support smileys. Although WhatsApp, Facebook, Viber, etc ship with smiley packs of their own, you can use one of the following applications if you don't like the emojis shipped with them.
Best emoji apps for Android and iOS
Elite Emoji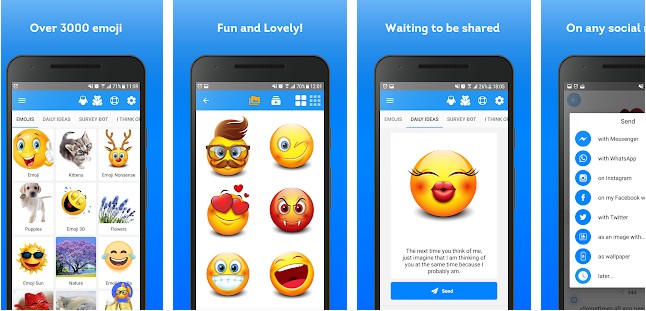 EE is one of the most popular emoji apps. It lets users choose one of these three languages during startup – English, French, or Spanish. The English language is preselected. Once you choose a language and tap the start button, you must select a gender. EE has different emoji for men and women. After selecting the gender, you must go through the personality test. The test result won't be displayed, but EE will compile a list of emojis based on your personality.
Emoticons in this application are grouped into 30+ categories. Once you select a category, you'll find several emojis on the screen. You can send an emoticon or emoticon + message/quote in the Elite Emoji application. EE has messages/quotes for various types of people i.e. relatives, friends, siblings, etc. It enables you to create an emoticon video from up to 6 emoticons. You can add text to this video with it. This application features a bot that helps users in finding emojis. In addition to smileys, you'll find GIFs, stickers, etc in this app.
Bitmoji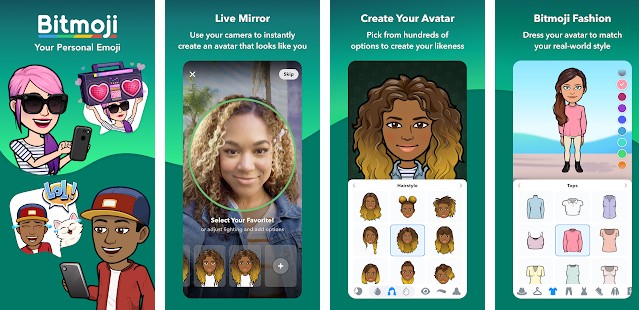 Bitmoji is a free emoji app for iPhone and Android that enables users to create smileys from their photos. To use Bitmoji, you should log in with your Snapchat or email account. As in the above application, you should choose your gender to get started with Bitmoji. Once you do so, you must capture a selfie with the app.
When you've captured the selfie, Bitmoji will show an avatar on its interface and options to change skin tone, add mustache/beard, change hairstyle, change eye style/size/color. Once you've customized the avatar, you must choose an outfit for the avatar. When you do so, Bitmoji will generate 70+ emojis from your avatar and add them to the keyboard application.
Emoji Keyboard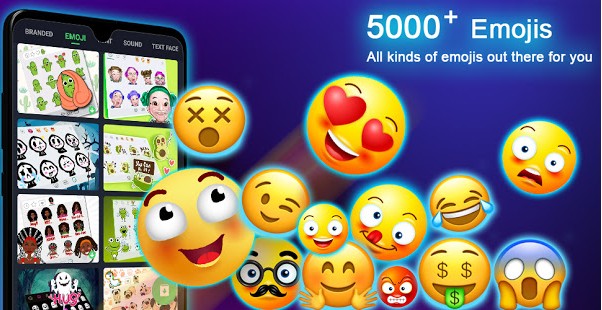 Gboard ships with hundreds of emojis. If you don't use it for some reason, you can use the Emoji Keyboard. EK is an intelligent and customizable keyboard app with 100+ million users. It enables users to change the key style and font of the keys. It lets you download new themes and add new sticker packs. The default emoji you'll find on this keyboard is similar to Gboard. EK ships with three emoji styles, 30+ smiley packs, and has several text emoticons built by combining multiple letters or special characters. These emoticons are divided into the following categories:
Animals, sad, kiss.
Angry, face, etc.
Emoji Maker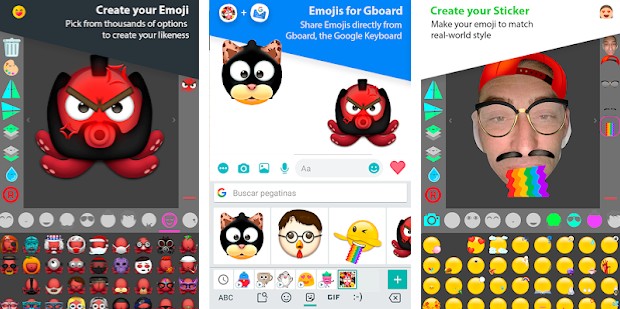 With this application, you can design and build smileys. EM shows a canvas with a dark grey background, a set of tools, and various styles. When you tap the style, the canvas will be populated with the style you've chosen. EM offers different styles of eyebrows, eyes, lips, expressions, mustaches, shades/glasses, masks, shapes, etc. It lets you change the color of the smiley parts and has the option to save the emojis to the phone's storage memory. You can create up to 30 emoticons with 13 different styles with the free version of this application. EM lets you use photos saved on your phone as a background or face of an emoji.
Big Emoji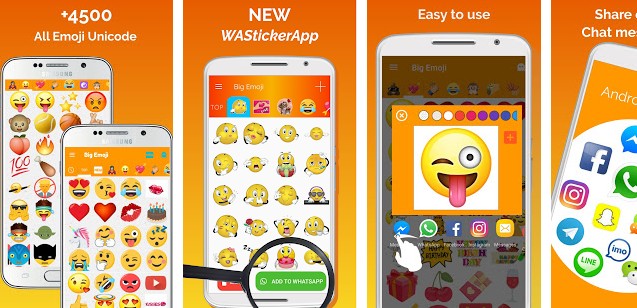 The only difference between the above applications and Big Emoji is the size of the smileys. In this application, you'll find large size emojis. BE lets users download 20+ emoji packs for free. Once you choose a pack, BE will display the pack's size, the number of smileys it has, and the number of times the users have liked it. BE has many interesting smileys that you won't find in other iPhone, iPad, or Android emojis apps.
Also see: Best WhatsApp status apps
Mirror Emoji Maker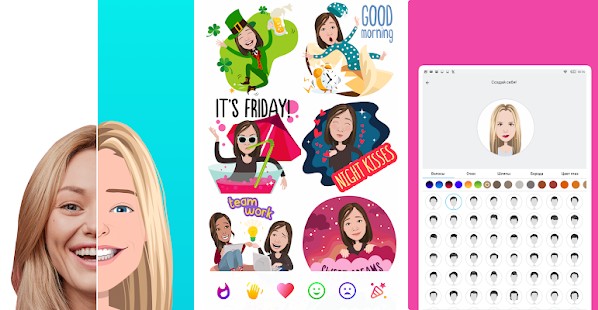 Mirror is yet another great app to create emojis. To use Mirror, you should take a selfie with it. The app detects your face in the image. You can't use it if you don't capture a selfie. Mirror will process your selfie and will generate two different avatars from it. You should choose one of the avatar styles to see the avatar customization options. Mirror lets you change the avatar's hairstyle, glasses, eyes, lips, clothes, skin tone, etc. It enables you to equip the avatar with a hat, glasses, etc. Once you've customized the avatar, Mirror will create several emojis from your avatar.
If you use emojis in your messages often and you don't like the smileys shipped with your favorite instant messaging or social media apps, use one of the applications I've shared above.