For some reason, human beings pay great attention to their hairstyles. Whether we are traveling in the day or night to a friend's house, relative's place, or a theater, we want our hair to be perfectly combed. You may want your hairstyle to be different from others during a party. Instead of wasting time on the internet finding hairstyles, you can try out the applications I've shared below. The apps have a nice collection of the latest and cool haircuts. They provide an option to print the hairstyle so that you can visit the local hair salon and get your hair cut, as shown in the picture. Note: It doesn't matter if you're bald, try out the following applications to see which haircut will suit you so that you can buy a wig of that type.
Best hairstyle apps for Android
Hairstyles step by step for girls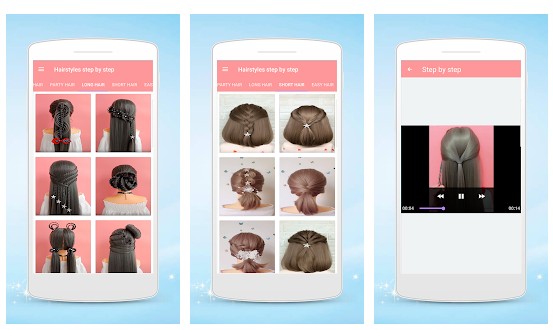 This app from Luckystar Studios features images of unique hairstyles for women. Some of the haircuts you'll find in it are as follows:
Bun, Braids, PonyTails.
Vintage, Chignon, Curl.
Bob, HeadBand, Twist.
When you tap on the picture, the application will display a step-by-step guide on combing your hair (as shown in the image). The photos are loaded from the phone. Thus, you don't have to enable the internet connection to use HSSBS. Hairstyles Step By Step lets you share a hairstyle picture with another user. You're not allowed to save the image, but you can take its screenshot. HSSBS's APK file size is 60 MB, and its rating on the Play Store is 4.8/5. The app supports Android 4.1 OS and has 1+ million users.
Hairstyles Step by Step alternatives
Man Hair Mustache Style Pro: Boy Photo Editor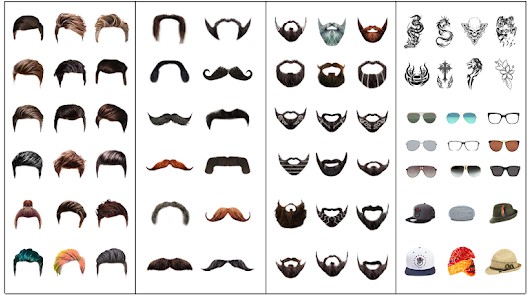 If you're a man who pays careful attention to the hairstyle, then this application is for you. MHMSP is a simple application that lets you try various hair/beard styles, mustaches, glasses, tattoos, caps, suits, etc. MHMSP prompts you to take your picture or choose a photo from the gallery. Once you do so, the app will display your image and a list of supported customizations. You should tap the "Hair" option/icon to edit your hairstyle.
The styles are displayed in a horizontally scrollable list. The users must tap the style they like and use the rotator/width increaser tool to fit the selected hairstyle on their heads. MHMS supports 30+ hairstyles and enables you to change the color of the hair. It is the highest-rated app on this list. It has also registered the most number of downloads.
MHMSP alternatives
Also read: Best face swap apps
Face Hair Changer for Men and Women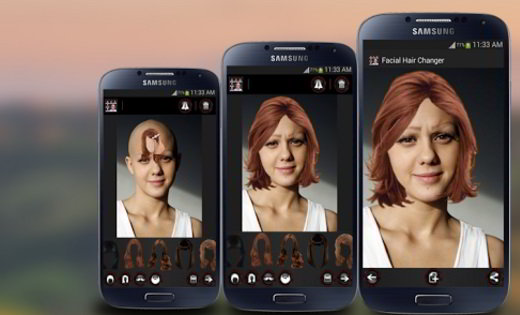 FHC shows the below three options when you run it:
Take Photo: This function will open the phone's camera so that you can capture a picture that you want to edit. Once a photo has been captured, you can crop it to make the image smaller.
From Gallery: You can ignore the 1st option if you have stored your images on the phone's storage memory.
My Work: The Face Hair Changer will save your edited pictures in a separate folder. Head over to the app's My Work section to see the images.
To get started, the user must choose a photo on which he wants to try out different hairstyles. When the Face Hair changer opens your photo, you have to tap on the hairstyle icons shown below the image.
This app has 10+ different styles of beard, mustache, and hairstyles. Choose a style that you like and tap on the save icon. To share the picture on social networks, tap on the share icon. FHC works in offline mode. It will show advertisements whenever your phone is connected to the internet.
Also check: Best photo editing apps
HairStyle Mirror: try on live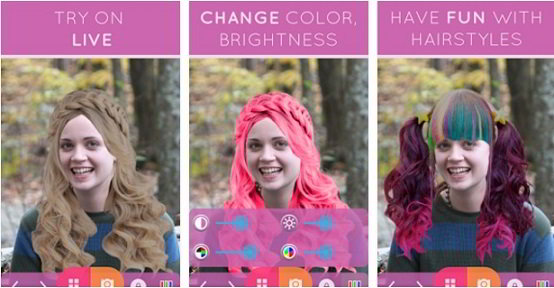 HSM is a free hairstyle app for Android that supports real-time mode. HSM will open your phone's selfie camera in an attractive interface when you open it. You have to move your head until the app recognizes your hair. HSM automatically resizes the hairstyle picture to suit your head's dimensions. It lets you change the brightness, color, saturation of the hairstyle. To try out a different haircut, tap on the next icon. Don't worry if your phone doesn't have a front camera. HSM supports the rear camera as well.
This app lets users try out more than 100 haircuts from 5 categories – special, medium, short, long, and crazy. It allows you to change the camera's resolution and check the most popular hairstyles country-wise. It has the option to print out a hairstyle.
Also see: Best cut and paste photo app for Android
Hairstyle Changer app, virtual makeover women, men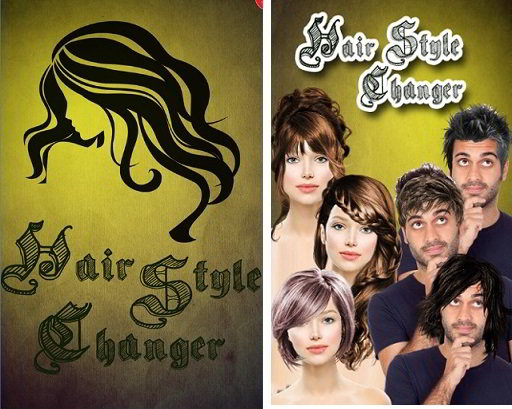 HSC is one of the largest and best hairstyling apps on our list. The size of its APK file is 20 MB. HSC features a quick help utility through which you can learn about various features of this app. On the main interface of the free HSM application, the user will find two options – open the camera and open the gallery.
Tap on the 1st option if you haven't stored your picture on the phone, or select option two to choose the image. Once you do so, HSC will open a popup that requests you to pick a hairstyle. Haircuts are categorized into two sections – women's hairstyles and men's hairstyles. Select a style you like and add it to your picture. This app lets you change your hair colors. It is free and fast.
Final thoughts: Because of the above 7 best free hairstyle apps for Android, you can try out different haircuts in your bedroom, and no one will be watching you. When you're ready with the new style, surprise your friends and relatives with your new look.