Whether it is a smartphone or tablet, the most widely used feature on any touchscreen device is its keyboard. We use the keyboard for exploring the web with web browsers, taking notes, or typing text messages. Although virtual keyboard apps tend to offer us many benefits, we cannot deny the fact that they often cause problems. Below, I've shared some of the major disadvantages of using a keyboard app:
Typing Errors: If you switch from a physical keyboard device to a touchscreen one, you might face speed and accuracy issues. We face problems because of the following two reasons:
Keyboard apps come with smaller key sizes.
Accidentally touching nearby keys while trying to type something else.
Lack of Physical Sensation: Devices that contain physical keys can give us a sense of what we are typing. Furthermore, the keyboards have large keys. Hence, the chances of typos are very less. When it comes to using a virtual keyboard app, you do not get any natural feeling of pressing a button. Furthermore, a shorter space between keys results in typos.
Works best on bigger displays: I have tried many small touchscreen smartphones for typing lengthy text messages and e-mails. Although the phones are pocket-friendly and cheap, the typing experience with them is horrible. To get a clean touch-type experience, your smartphone should have a big size screen (4.7 to 5 inches). Well, it does not sound a good idea for me to buy an upscale device only for getting one good typing experience. If you are an Android, or iOS user, you can replace your pre-installed keyboard with a third-party one by exploring the Google Play Store.
While browsing the Google Play Store, you may come across many similar keyboard applications. Users are confused because the apps claim to offer features that you find in paid Android apps. To help you out, I have shared the list of 5 great keyboard applications for Android devices below:
Best Android keyboard apps
Google Gboard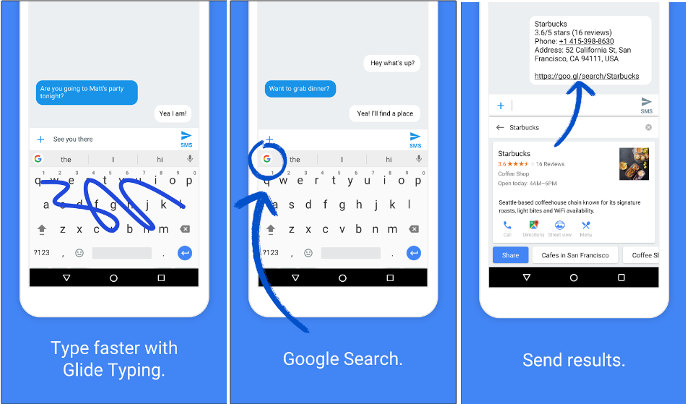 Six months later, after making a debut on iOS, Google finally made the Gboard keyboard app available for Android. It was worth the wait as the rebranded version of Google Keyboard now comes with some significant improvements and changes that will help in improving your writing speed and accuracy. The best features of Gboard are as follows:
Integrated Google Search: Wouldn't it be great if users were able to search the web, without having to leave the keyboard? If you too share the same thought, Google has made this possible with Gboard. Google integrated its web search service with Gboard to make it super simple for users to explore and share information with their phones. Gboard enables you to find stock quotes, YouTube videos, and get weather details. You can also get flight details from the app's interface.
To use the search feature of Gboard, tap on the "G" button. The button is located at the top-left corner of the keyboard. When the search box appears on the screen, enter your query in the text field and tap on the find button. Google will instantly load the most relevant result for you. The app allows you to share the search results with just a single tap.
Glide Typing: The Glide Typing feature on Gboard allows users to type or enter words in a text field by sliding their fingers on the keyboard. To use this feature, tap on the Gboard icon from your device's home screen or app drawer. Now, you'll see the Gboard keyboard settings interface. From the menu, select Glide typing. Here you will find four sub-options. From these four options, tap on the slider called Enable Glide Typing (On devices running a stock version of Android, you can enable this feature from the Language & input option in the Settings interface of the OS).
Gesture Cursor Control: Moving the cursor on a touchscreen smartphone has never been easier. To solve this annoying problem, Google has come up with a simple but convenient solution. While using Gboard, if you slide your finger across the space bar, the keyboard app will move the cursor for you.
Themes: We all love to tweak the UI (User Interface) of our device using Android launchers. You'll love Gboard because it supports customization. The keyboard comes with a fair amount of color themes, which users can change as per their taste or style.
Multilingual Typing: In the past, when a user had to type or communicate in multiple languages with a keyboard, they had to switch from one language to another manually. Doing so was quite frustrating sometimes as the user had to leave an ongoing conversation. It shouldn't be that hard for any multilingual user to type in multiple languages on a keyboard. And with Gboard, it isn't.
Google's step to add the "multilingual typing" feature to Gboard has made switching between languages easier than ever. To switch from English to some other language, head over to the app's settings interface, and tap on the 'Languages' option. Gboard supports over 120 languages. Select your preferred language and start typing. Gboard is powered by machine learning. Hence, it will understand the language in which you're typing. The application will autocorrect your spelling mistakes.
Speech-to-text: Like its previous version, Gboard comes with Google's very own speech-to-text output function. This feature makes it easier for users with certain disabilities to enter text using their voice. Gboard is the best keyboard app for any Android device. It is free and offers every single feature that you want to use. For example, you can type faster, switch between languages on the fly, change the appearance with themes, use Google Search, and share its search results, find GIF images, etc with Gboard. GBoard learns from the words you've typed in various Google apps and services to keep improving suggestions.
SwiftKey – Best at Predicting words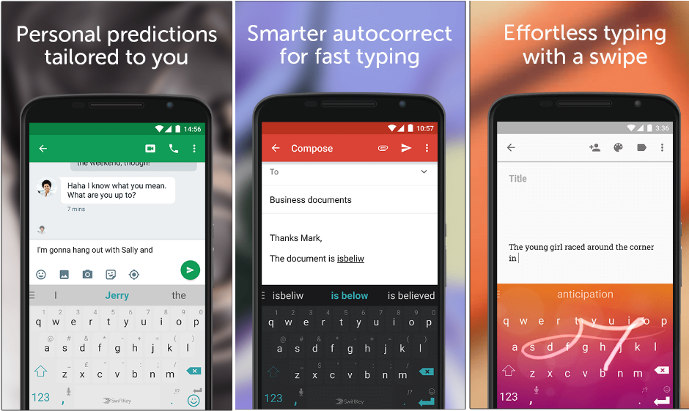 The Microsoft-owned keyboard app is still one of my absolute favorites when it comes to typing. Gboard might be the best keyboard app for Android, but there are a lot of Android users who still like and prefer to use SwiftKey. SwiftKey has every single feature that makes it a premium keyboard app. You can customize it by switching themes. SwiftKey lets you swipe from letter to letter to enter words, adjust layout/size, type in multiple languages, and much more. But what sets SwiftKey apart is its prediction engine, which is way powerful than any keyboard app on the market.
SwiftKey uses the power of neural network technology for learning and understanding languages at a deeper level. When a user is typing using SwiftKey, the keyboard's prediction engine, instead of looking at the two previous words in the text, starts analyzing the entire sentence to understand the greater context of what you have typed to offer you the most appropriate next-word predictions. If you are an Android user who is looking for a Gboard alternative, the SwiftKey keyboard is the best option for you. SwiftKey is one of the best Android keyboard apps. It supports Android devices that run on 4.0 (Ice Cream Sandwich) and later versions.
Fleksy GIF Keyboard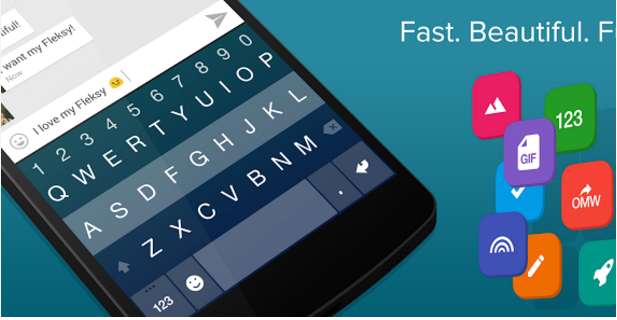 Fleksy is an innovative keyboard that enables you to find GIFs through its interface. According to its developer, Fleksy is the fastest virtual keyboard in the world. This keyboard app for Android offers a powerful autocorrect feature. You can add new features to it by installing Fleksy extensions available on the Google Play Store. Fleksy lets users customize the UI. It provides 39+ color themes and gives you access to 750+ emojis. The app lets you define shortcuts to launch your favorite apps. It enables you to switch to 40+ languages. It has an excellent rating of 4.4 on the Android marketplace.
Grammarly Keyboard

Grammarly is one of the top extensions for Chrome and Firefox browsers. It is also available as a standalone app for Windows OS. If you use Grammarly on your PC, make sure that you install the Grammarly keyboard. The Grammarly Android keyword app flaunts a round button that boasts a "G" icon and a light green background. When you're editing a document or creating a note, the button will display the number of grammatical errors Grammarly has found. The keyboard will also display an option to correct the mistake. In addition to grammar correction, GRK also suggests words that you can use in the document. It supports swipe-to-type technology.
Cheetah Keyboard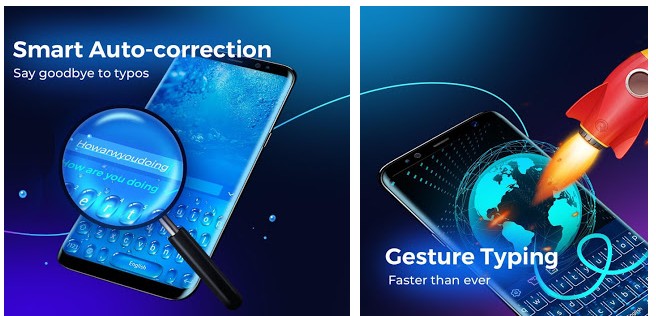 CMCM's keyboard app is one of the most downloaded applications on the Play Store. It has over 100 million users and an excellent rating of 4.4. The keyboard can automatically correct mistyped words and has several customizable themes. Cheetah Keyboard provides a smart reply feature. It ships several cool and funny emojis and has a huge collection of animated images (GIFs). CK lets you create your own keyboard theme. It lets you change the font, background image, change touch effects, etc.
Other popular Android keyboard apps
Final thoughts: As a keyboard is an app that we use often, you must consider using an Android Keyboard that provides a brilliant experience. The 5 apps I've shared above are perfect. They are intelligent and support customization.