The status is an excellent feature of WhatsApp. WA lets you post video or image status, but it doesn't let you download the status of other users. The status can be a message to a person you like or hate, an image of a new car or bike you've bought recently, a photo or video of a trip, etc. WhatsApp lets you set a GIF or a JPG/PNG format file as your status message. Most of us would look for status pictures on Google, Bing, etc. As billions of users use search engines, most of the photos you'll find with them might have already have been shared by someone. To find cool or unique statuses or create a new one, use one of the applications I've shared below.
Best status apps for WhatsApp
Status Saver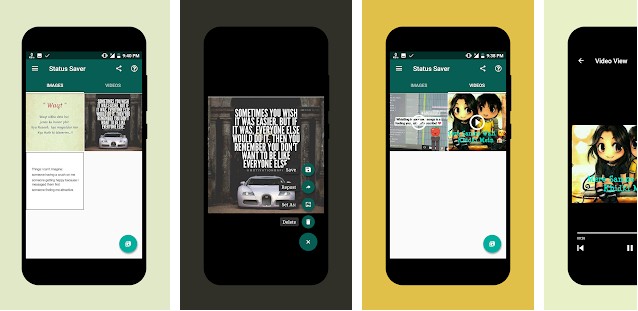 If you find the WhatsApp status interesting and would like to share it on other social media platforms, use this application. SS supports custom download locations. It can also show a notification when your friend, wife, or someone in your contact list shares a new status.
SS can erase the data it has saved to your smartphone. It also allows you to discover cool new video statuses. Status Saver enables you to filter videos by their language. It also lets you find videos by their name. SS allows you to set the downloaded status video or photo as your WhatsApp status. The application shows the downloaded files in its built-in gallery.

Helo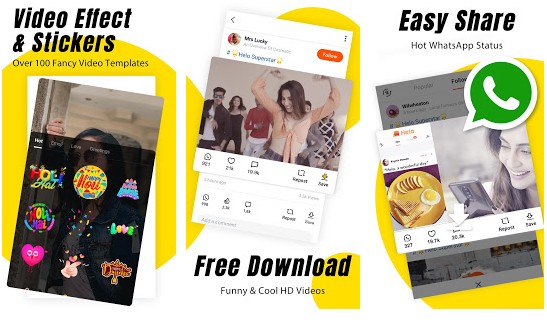 Helo has a massive collection of lovely quotes and videos that you can like, save or download on your Android device. Hence, it is one of the best WhatsApp status apps. If you like a depressing post, Helo will display similar photos in its feed. Likewise, Helo will show funny videos/pictures in its feed if you like a funny post. The application enables you to edit photos before you can share them on WhatsApp or Helo. The media files you find in it are shared by other users. Helo lets users comment on these files. As in TikTok, you can follow other users in Helo. Registering an account is optional in Helo.

Also read: Best meme generator apps
Latest Whats Status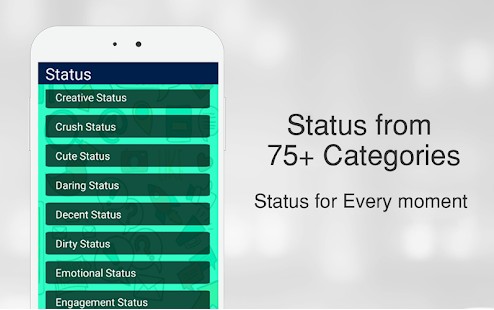 In LWS, WhatsApp statuses are divided into the following categories:
Attitude, April fool, break up.
Broken heart, anniversary, etc.
You should select a category to see the list of shareable messages. Each category gives you access to 50+ messages. LWS shows the message and an option to copy it to the clipboard and share it with friends.

Video Splitter for WhatsApp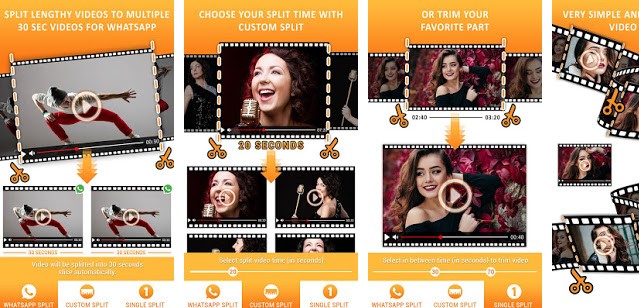 Use this application if you've saved a cool video on your phone and want to share a part of it on WhatsApp. VSW enables you to create a 20 to 30 seconds clip from a lengthy video. When you select a video, you must choose a start and end time. Once you do so, VSW will extract the clip and display it on your screen. VSW is a large application (37MB APK).

GIF Maker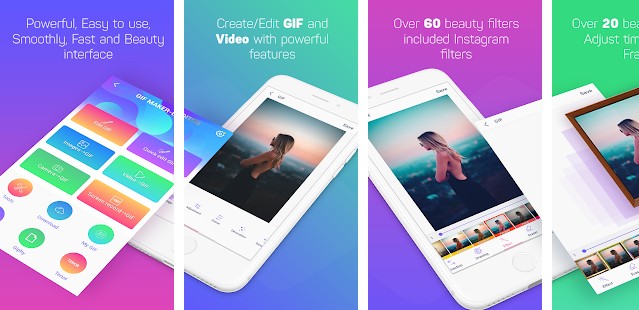 With this application, you can create animated GIF images from the photos or videos saved on your phone. GIFM enables you to edit or compress GIFs. Editing a GIF is nothing but editing an image. This is because a GIF image is made of several pictures. When you create a GIF, the application that displays the GIF will open the images one after another after a specific time interval.
GIFM lets you crop or trim the picture. It allows you to apply a filter or add a frame to a photo. It also enables you to draw doodles on images and erase the part of a drawing that you don't like. The app lets you undo/redo the changes you've made to an image. GIFs are good alternatives to short videos. They don't have audio. As WhatsApp supports GIF statuses, you can set a GIF you've created with this application as a status.

Boomerang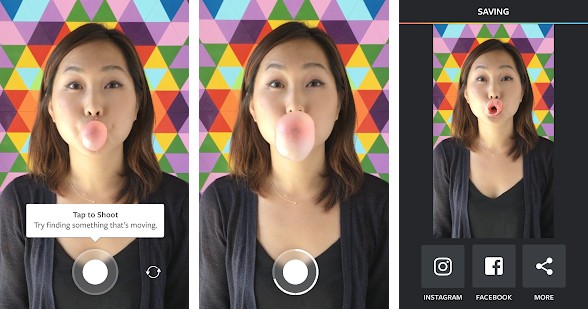 Boomerang was launched by Instagram. It allows you to create short 5 to 10 seconds videos with either the smartphone's front or the rear camera. It doesn't support locally stored video files. Boomerang is easy to use. It opens your phone's camera and displays two buttons – a circular button that will start/stop the video recording and a button to switch to the front/rear camera. When you tap the circular button twice, Boomerang will play the recorded clip repeatedly and display an option to save the clip on the smartphone or share it on other applications (WhatsApp, Facebook, etc).

Also read: Best apps like TikTok
VidStatus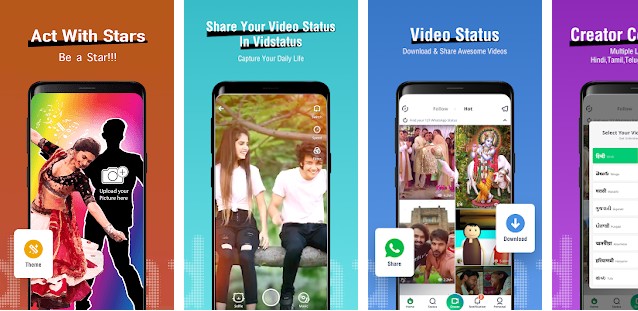 VS has a massive collection of interesting videos that you can download and share on WhatsApp. It supports multiple languages and has a built-in video editor tool. VidStatus enables you to find clips that people nearby you have shared. It lets you create lyrical videos.

Final thoughts: If you post WhatsApp status updates frequently, use one or all of the applications mentioned above. The above tools will allow you to:
Find text messages you can share.
Create videos/GIFs.
Save the updates shared by other users, and more.