Walkie Talkies are electronic communication devices that were once used only by soldiers. They were introduced during World War II. They can transmit as well as receive radio signals. Older PTT devices were not as secure as they were touted as the enemy easily intercepted the radio waves signal. Modern Walkie Talkies are reliable as the communication between the caller and the callee takes place over a secure channel. Walkie Talkies are not only used by teenagers and kids but they're also used as a telephone alternative by professionals. Unlike military walkie-talkies, commercial and kids WTs are cheap. You can buy them on Amazon or eBay for a price starting at $10.
Do you know? You can convert your phone into a walkie-talkie by installing apps that support the Push-To-Talk protocol. The apps won't place direct calls. They will use the phone's Bluetooth, mobile data, or WiFi connection to send and receive voice data. Here's the list of the best push to talk apps for mobile phones powered by the iOS or Android OS:
6 best walkie talkie app for Android and iPhone/iPad
Zello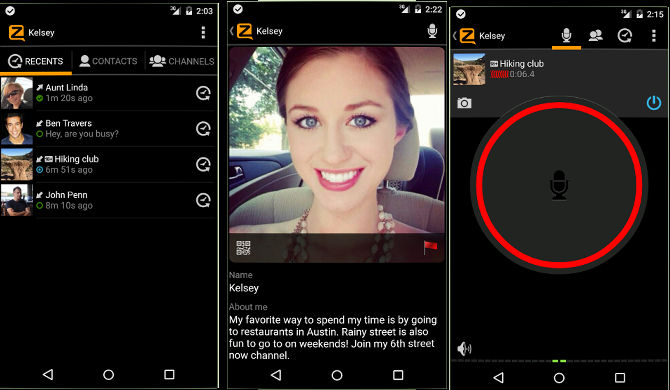 With 45+ million users, Zello is the most popular walkie-talkie app on the Google Play Store. Zello requires account registration and has numerous features. Once you register an account, Zello will prompt you to enter basic details for your profile. It also asks you to set a profile photo. Zello ships with two color themes. To change the theme, the user must open the settings interface. The main interface of this app boasts three tabs – recent, contacts, and channels. If your friends use Zello, you'll find their names on the contact list. The recent tab displays a list of calls you've made recently.
The last tab i.e. Channels, flaunts a list of channels dedicated to various issues and topics. Once you follow a channel, you can listen to the voice messages shared by other users. Channels you follow will appear in the Contacts tab. Zello provides an option to find a channel by name. It enables you to see the list of trending channels. You can mute a channel or delete it. Zello supports the Push-To-Talk protocol. Once you've configured the PTT button, you can start talking with your friend by simply tapping the button. Voice data transmission in this application is automatic. The sound clarity and quality depend on the quality of the microphone in the user's device.
Zello allows users to set their text and availability status. You can see whether a contact is online or offline in it. If your friend is online, you can connect with them by tapping on the contact name. The app supports push notifications. According to Zello's developer, Zello supports 2G, 4G-LTE, 3G, and WiFi network connectivity.
Also see: Best radio apps for Android
Two Way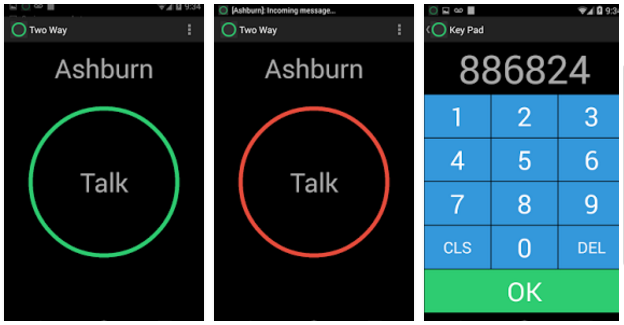 Two Way is an easy-to-use iOS/Android walkie-talkie app with a simple UI. Unlike Zello, Two Way doesn't ask users to create an account. The main interface of Two Way boasts a large round button. Tap the menu icon and select the keypad option to start a conversation. When you do so, you'll see a 6 digit channel number. Note down this number and share it with your friend. Your friend must now connect their phone to this channel. Finally, you and your friend must tap on the large round button. That's it! Two Way lets users talk with random users. It also allows you to engage in conversation with local people. TW is a lightweight application that runs on Android 4.0+ OS and iOS devices.
Must check: Best Android Police Scanner apps
HeyTell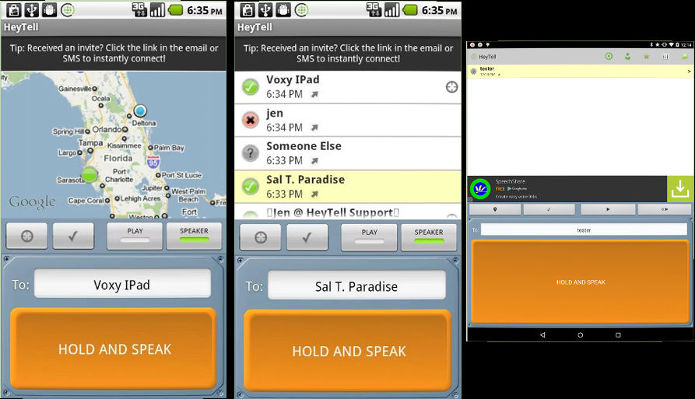 HeyTell is a cross-platform voice messaging/walkie-talkie app that allows you to record and send voice messages for free. Messages are transferred within 2 to 3 seconds of recording. When new users run HT, they're asked to enter their phone number, name, and email address. The information you enter will be displayed on your profile. HeyTell has a clean user interface. To use it as a walkie-talkie, you must select a contact by tapping on the contact option. Then, you must tap the large orange button.
If your friends are not using HeyTell, you can't send them messages. Once HeyTell transfers the message, it will display a push notification on the recipient's device. The clarity of messages recorded with this application is excellent. HeyTell ships with a voice changer tool. It lets you listen to previous voice messages. HeyTell enables you to invite friends via SMS or email. The invitation email and SMS include a link to download the app from the Play Store or iTunes. HT supports Windows, iOS, and Android OS.
Voxer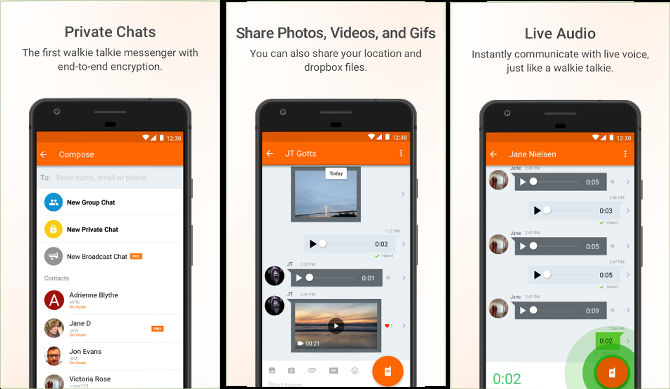 Voxer is a free walkie-talkie app for iPhone and Android OS with which you can exchange voice messages with friends in real-time. You can either listen to the message live or later with Voxer. Voxer offers a cool feature called private chat. When you enter a private chatroom, you can send emojis, GIFs, URLs, pictures, or videos to friends. Messages transferred during a private chat session are encrypted with a robust algorithm.
Voxer deletes the private messages when you leave the chatroom. The app lets you mark messages as read. It allows you to create and share notes. It includes a search utility. Voxer enables you to disable unwanted notifications. By default, it adds your location to the messages. You can disable location sharing from Voxer's settings interface.
Also read: Best apps to download free MP3 songs
TIKL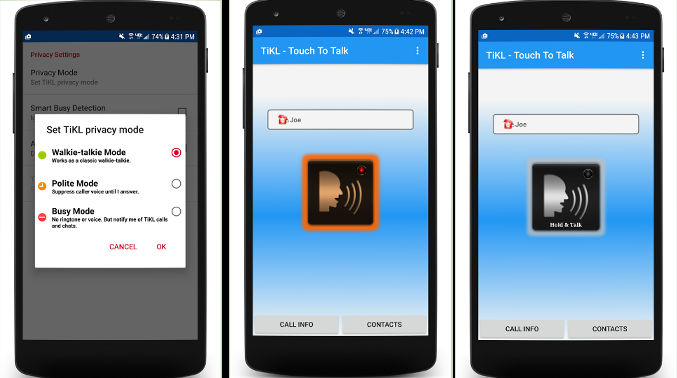 TIKL is a free Android walkie-talkie app that turns your phone into a powerful push-to-talk device. It supports group and 1-to-1 calls. TIKL displays a confirmation message when your message is delivered to the recipient. Voice messages recorded with this app are delivered instantly.
TIKL uses mobile data or WiFi connections on your phone for transmitting messages. It lets you create a home screen widget. To use it, you must verify the phone number. TIKL is easy to use. It supports three privacy modes – walkie-talkie, polite, and busy. Apart from contact numbers in your phone book, you can use TIKL to talk with Facebook friends.
Also read: Best Android notification apps
Intercom for Android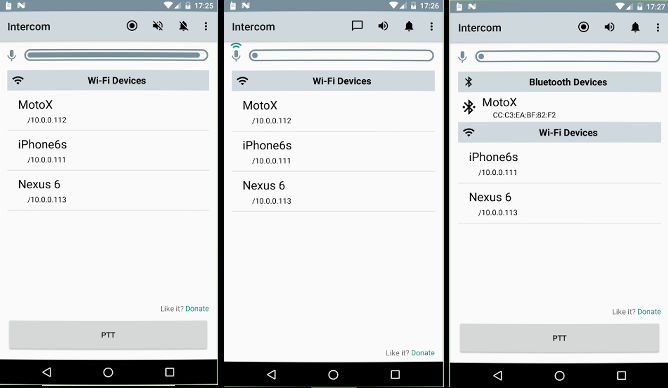 IFA is a great app to voice chat with friends or relatives staying within 105 feet radius of your proximity. Thirty-two meters, aka 105 ft, is a WiFi router's maximum range. The Bluetooth range is 33 feet. Your friends must be within 33 feet radius if you want to talk with them with Intercom For Android. Intercom for Android is powered by a robust PTT algorithm and it works in offline mode. Unlike other apps that use mobile data, it uses Bluetooth and WiFi technology to function as a walkie-talkie.
Intercom for Android doesn't require account registration. You don't have to provide your email address or phone number to use this app. To use IFA, you must pair two devices via Bluetooth or WiFi. IFA is one of the best walkie-talkie apps that work without an internet connection.