Selfies may have become a thing in the modern world, but do you know what our ancestors used to do in those good old days? People used to stand in a queue outside of a photo booth waiting for their turn. The photographer used to charge them a certain amount for capturing their photo. It was a fun and exciting experience. The camera used to cost 1000s of dollars in the 1990s. As new technologies evolved, the price of computing and imaging devices dropped dramatically. Now, most people in the world own a camera-equipped device. We love to click photos no matter how or what the situation is. It is one of the best ways for many of us to relive those moments lost with time in this ever-changing world. These days, when we think of clicking a photo, the first thought that pops up in the mind of many is a selfie – a photograph that we click of ourselves using the device's front camera.
We can't say the selfie revolution began in 2002. But yes, it was on September 13 of that year when the word first appeared in written form. The word was first used by a user named Hopey in a casual post on ABC Online Forum. Selfie was nothing more than a word back then. Thus, it spread at a slower pace. By 2012, the word selfie was trending on social media platforms. People were clicking and sharing their self-portraits on Twitter, Facebook, and Instagram like never before. With the growing popularity and frequent use of the word, Oxford Dictionary named selfie as word of the year in 2013.
This impact was so powerful that many came up with ideas to manufacture devices for people who love to take selfies. As a result, it gave rise to selfie sticks and selfie drones, which as of now have turned into a global business. There was also a significant rise in demand for smartphones offering the front-facing camera. Ever imagined a mobile phone to have a 25-megapixels camera in the front? Well, it is a reality now. Even app developers took the mobile photography experience to a new level. Whether it's Google Play or the App Store, you will come across a lot of apps that are specifically designed to help you click and edit your selfies on the go. Below, I've shared 3 great front camera applications for Android devices:
Best selfie apps for Android
Retrica (Best at filters)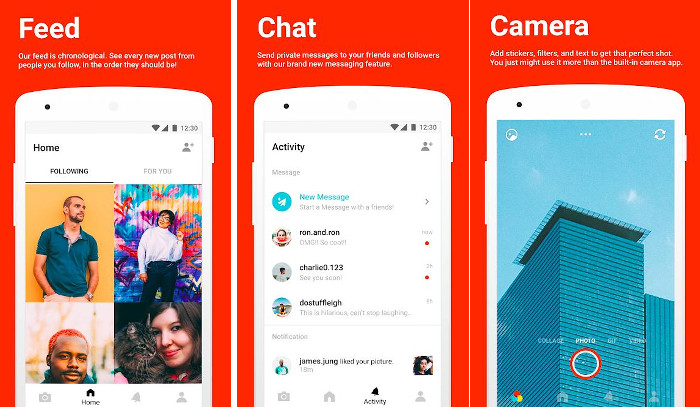 Retrica is one of the best third-party camera apps for clicking selfies. Despite being a free application, Retrica offers many powerful tools and features that will aid users in clicking beautiful and natural-looking photos. But, what exactly makes this app an outstanding one is its vast collection of photo filters.
How to use Retrica?
After installing the Retrica app, launch it. If your device runs on Android 6.0 (Marshmallow) or later, the app will ask you to grant it permissions for accessing your device's camera, microphone, location (optional), and storage. Tap the OK option and select your preferred mode. Retrica is by default set to click photos, but you can use it to create GIF, collage, or video.
Getting started with filters
Applying a filter to a photo has never been easier, especially on a mobile phone. At first, you have to click a photo or move an image from the camera or PC to the phone. Then, you must install a third-party photo editing app, configure its settings and import a picture into the app. From a handful of filters available in the application, select the one you find interesting and tap the apply option. If results are not as expected, you will have to repeat the entire process several times until you get a perfect image. And how can we forget all those open applications in the background? You will have to deal with them too. Switching back and forth from one app to another. A total mess. But, with Retrica, it is as simple as a flick.
No matter what mode you're in, a swipe from the right will switch to a new filter, and from the left, it will go back to the previous. Moreover, unlike other apps, Retrica will let you apply a filter to your photo in real-time. That means, you will be getting a sneak-peek/idea of how your picture will look, even before you click it. Apart from applying filters to photos, you can do more with your pictures on Retrica. Some of the best features of Retrica are as follows:
Add stickers to photos: Stickers are time savers. They are free, easy to find, and can bring fun into a conversation. These days, the use of stickers or emoticons is not limited to a conversation. You can use one or many of them to decorate your photos.
To decorate an image in Retrica, select a photo from the gallery or click a new one. Now, import the picture into the application and select the sticker option from the editing page. At first, you will notice a handful of emoji stickers, but as you swipe further, more stickers will appear on the screen. Select the sticker you like. When you do so, Retrica will place the sticker on the image. You can use the zoom option to change the sticker's size. You can also change the sticker's position in Retrica.
Add text to photos: Photo sharing has become a trend these days. No matter where you go, you will find people clicking and sharing their photos on sites like Facebook, Google Plus, Instagram, and Twitter.
Websites provide an option to add descriptions or captions to an image. But, what if you want to add a piece of text right on a photo? Well, there are a few websites that offer tools to help users personalize their photos online, but the process is a bit messy, and slow as well. Retrica allows users to add text to photos with ease. To use this feature, select the text 'Aa' option from the editing page. A caret will appear over the image, along with a color picker. Select a shade and type what you want. When done, tap the zoom option to increase or decrease the size of your text or drag it to change the position.
Add stamps on photos: Retrica offers a stamp tool through which you can imprint a pattern or watermark on your photos. To use this tool, tap the stamp icon which is located in the upper right-hand corner of the editing page. When you do so, a panel containing varieties of stamps and symbols will pop-up. Select the one you like and save the image.
Create a GIF: Why waste cellular data by downloading GIFs when you can create one of your own, right on your device. Today, rather than sending still images or text messages, many prefer using a GIF. GIFs are compelling and catchy. They're funny too.
Creating a GIF was not as easy as it is today. Before the smartphone revolution, a user had to spend hours on their computer with some high-end photo editing software to create a GIF. These days you can create it in a few seconds using an app like Retrica.
To generate a GIF, switch to the 'GIF' mode of Retrica. Pick a filter of your choice, or tap elsewhere to change focus or to adjust brightness levels. When you're done, tap the shutter button. Retrica will auto-click your photos in a series and convert the same to GIF.
Create a Photo Collage: With Retrica, you can create a photo collage with up to nine individual or consecutive shots. To create one, select the 'Collage' mode from the control bar. Retrica provides 15 different layouts. Pick the layout you like. Next, set a time interval between photos. The app is by default configured to use 1/8 time interval, but you can change to 1/2s, 2s, or manual.
Point to note: Setting shutter interval to 'manual' will prevent the app from auto-clicking photos for the collage.
Retrica enables users to convert their collage photos to GIF. This option is located in the upper left-hand corner of the screen. It is easy to use. Tap it once and wait for a few moments until the app turns your collage photos into GIF.
Verdict: There is no denying that Retrica is one of the best selfie apps on the market. If you're obsessed over clicking portraits or selfies of yourself, this app is a must-try. Retrica is light, easy-to-use, and ad-free. Developers are keen to provide time-to-time updates for bug fixes and new features. Retrica gives you access to a community where you can share your photos, make friends, chat or even send private messages.
If you do not want to click a new selfie, but want to use features of Retrica on an existing image, you can. But there's a catch. Apart from filters, blur, vignette, and rotation, you won't get access to other tools. Also, for using features like stickers, specific filters, and stamps, your device must have an active internet connection.
Availability and support:
Android – Requires Android 4.0 and up.
Size – Varies with device.
Price – Free
Ad-free – Yes
In-App Purchases – No
Content Rating – Everyone (3+)
Offered by – Retrica, Inc.
Also read: Best photo editing apps for Android and iPhone
Candy Camera – selfie, beauty camera, photo editor (Best at editing tools)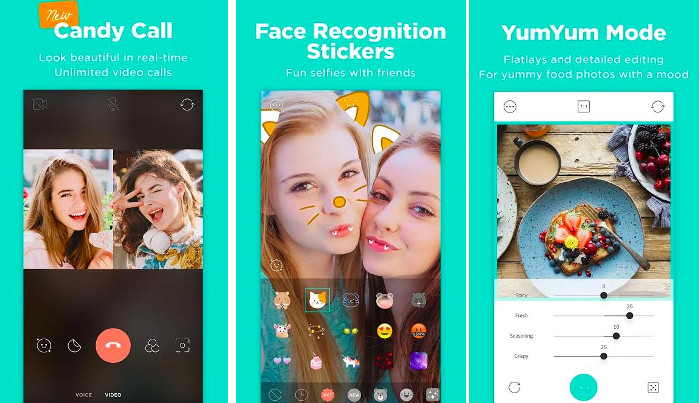 Users who are looking for an alternative to Retrica should consider the Candy Camera app. If we compare both apps side-by-side, most features of the two applications are the same. But, one cannot deny, Candy Camera provides some extra tools and refinements that will help you click and edit your photos in a better way.
Some of the best features of Candy Camera are as follows
Photo editor: Many times, before or after clicking a photo, we may spend a lot of time browsing the App Stores looking for a powerful image-editing application. Unfortunately, not all apps offer a complete set of photo-editing tools. Candy Camera is one of the few applications that have a robust photo editor.
To get started with Candy Camera, all you need is an image. You can either click a new picture or import one right into the app. If you wish to continue with your on-device images first, select the 'album' option. Pick an image from the library, and tap the 'Edit' option. From the set of tools, select whichever you think will help improve your image and its quality. To apply the effect, tap the save option.
Photo filters: LIke Retrica, Candy Camera offers a variety of photo filters that will make your selfies look better, no matter how or in what lighting conditions you click them.
To see the filters, swipe upwards when you're on the main screen of the app. Doing so will make the application display its hidden filters panel. Scroll to the end until you find the 'Add' button.
As in Retrica, you can apply a filter to your photo in real-time. It is easy to switch filters in the Candy Camera application.
Beauty Functions: While clicking a selfie, due to shaky hands, lack of OIS (Optical Image Stabilization), or wrong timing, the picture may appear a bit distorted, blurry, or even lack detail. These are some of the commons problems users face while trying to click a photo. But that doesn't mean you cannot fix them later.
On Candy Camera, there is an instant beauty feature that allows you to make changes/improvements to your face in real-time. To use it, select the filters option. Now, tap the smiley face button present in the lower left-hand corner of the screen. The app will place three tools above the shutter, each with a slider to adjust the effect. Adjust the slider as per your requirements.
Apart from this option, Candy Camera includes a bunch of other beauty functions you can use on images stored on your phone. CC provides options to liquefy, facelift, adjust smile, remove blemishes, whiten the teeth/skin, and so on.
Decorate photos with stickers: Candy Camera offers a huge collection of stickers that you can use to make your selfies look appealing and trendy. To use this feature of Candy Camera, tap the 'Sticker' option after taking a photo. There are a handful of sticker packs that come along with this app, but you can download more whenever you want. After adding a pack, you can flip your sticker, change its position, resize it to an extent, and also adjust the transparency effect.
Photo Collage: Most of the time, you will find people uploading/sharing a bunch of photos on social media or messaging apps one by one. Frankly speaking, this method of photo sharing is a waste of time. Photo collages are one of the best ways to share multiple images at a time. With CC, it is easy to create a collage.
Creating collages with Candy Camera
On the topmost bar of Candy Camera, you'll find four options. Tap the option with the title 'Full.' Now, a list with options to 'change the aspect ratio of your preferred camera' and 'to pick a frame for clicking photos in the form of a collage' will appear below. Select the 2nd item from the list. There are over 28 different collage frames in Candy Camera. Keep scrolling through the list until you find one that meets your requirements.
Verdict: Whether it is editing photos, applying filters, or recording short videos, Candy Camera makes complex things easier for the users. Ads can be 'really' annoying sometimes, but since the app is offering tons of features in a small package, advertisements shouldn't bother you much.
Getting used to Candy Camera is as easy as it is on any of its rival apps. In case of performance, you'll notice sudden lags and freezes on heavy usage. Candy Camera receives updates regularly.
Availability and support:
Android – Requires Android 4.0.3 and up.
Size – Varies with device.
Price – Free
Ad-free – No
In-App Purchases – No
Content Rating – Everyone (3+)
Offered by – JP Brothers, Inc.
Must check: Best meme maker apps for Android
YouCam Perfect – Selfie Photo Editor (Overall best)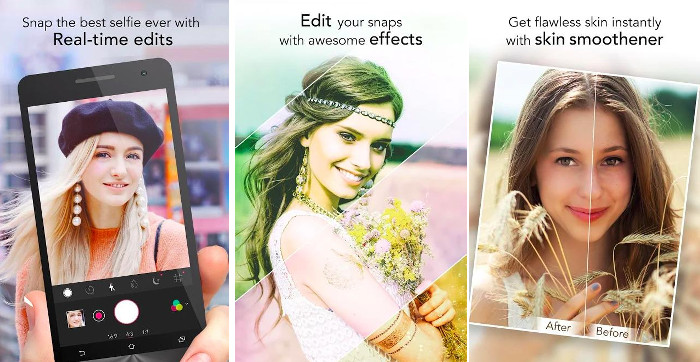 There is nothing more satisfying than using an app like YouCam Perfect to click selfies. YC has powerful editing tools, many filters, and options to personalize photos.
Here's the list of top features of YouCam
A collage maker: Unlike other apps where you have to figure out how to create a collage, YouCam Perfect lets you build one as soon as you launch the application. When the app starts, you'll find a list of shortcuts on its main screen. From the list, tap the 'Collage' option. A page displaying your image folders will pop-up, asking you to select 'one to six' photos. After adding pictures, tap the green check button which you'll find on the top right-hand side of the window. Now, wait for a few seconds as the app will build and display your collage.
Point to note: The app will use a random frame on your collage. You can change the frame later.
Powerful image editing tools: The YouCam Perfect app offers several image editing and enhancing tools with which you can transform your photos into some incredible looking portraits. These tools are easy to work with and can help you do stuff like adjusting a body shape, getting rid of facial blemishes, removing unwanted objects from the background, tune image colors, draw using a paintbrush, etc. To use these tools, select the 'Photo Edit' option and pick a photo you want to edit. Once the app loads the image, you'll find two options on the screen – beautify and edit.
If you want to enhance your facial or physical appearance in the selected image, tap the 'Beautify' option. If you want to make certain changes, corrections, or add elements to your photo, like cropping, tuning image colors, or adding overlays, tap the "Edit" option.
Personalize photos: Personalizing photos using stickers, frames, or by adding text messages over them has become quite common these days. You don't have to put in a lot of effort to find apps that support these features. YouCam Perfect is one of the best apps to personalize the images.
YC enables you to change the text font, color, etc. You can also add "Text Bubble" to the images with it. The application ships with many sticker packs. YouCam Perfect doesn't stop you from using its features on your existing images. You can do whatever you want with your photos, even if you did not click them using this app, which most apps don't allow.
Photo Filters: The ability to add a filter to a photo and that too in real-time has been one of the biggest highlights of apps like YouCam Perfect and Retrica. Not only does this feature saves time, but also makes it easier for the user to pick a filter and decide whether it will suit their image or not.
On YouCam Perfect, you can use any of the below-listed ways to apply a filter to your photo:
Using the Photo Edit option: This works for photos you click with or without using YouCam Perfect. To use it, tap the 'Photo Edit' option. Now, pick an image from the library to which you have to apply a filter. Hit the 'Edit' button, and from the list, select the 'Effects' tool. Choose a filter, apply the same to your photo, and save it.
While clicking a photo: This method is the same as what you may experience on Retrica, and Candy Camera. When you use the app to click a new selfie, swipe left or right to change the applied effect.
Verdict: If you are looking for a feature-rich app to click and edit your selfies, you can use YouCam. The app has a clean and beautiful UI. It is easy to use. Whether it is the main screen, filters panel, or tools, every option is right in front of you. Apart from features that you may find in other related apps, YouCam Perfect packs a few extra utilities. These include mosaic, HDR, image overlays, teeth whiteners, etc. There's also an option to add more features by paying money.
Pop-up ads are there to frustrate you almost everywhere in the app, but you can pay money to remove them. If you are a free user, you will have to deal with ads as YouCam Perfect requires an active data connection to download sticker packs, frames, etc. The update frequency of this app is excellent. You can expect surprises and bug fixes with every release.
Availability and support
Android – Requires Android 4.0 or later.
Size – Varies with device.
Price – Free
Ad-free – No. Charges to remove pop-up ads.
In-App Purchases – Yes. $0.99 to $99.99 per item
Content Rating – Everyone (3+)
Offered by – Perfect Corp.
Apps like YouCam Perfect, Candy Camera & Retrica
Also see: Best apps like MSQRD to swap face
That wraps up. I hope you like these apps and share your experiences with others as well.