Anime shows are popular not only in Japan or China. They are watched in every corner of the world. Animes series, movies, and shows are produced especially for children and teenagers. As their storyline is interesting, adults watch them too. A show you may have liked during childhood may have gone off the air, or the ruling government in your country may have blocked your favorite channel. If you're feeling nostalgic or your TV service provider doesn't air anime channels, you can use the following apps to watch anime online on your smartphone or tablet:
Best apps to watch anime for free on Android or iOS devices
YouTube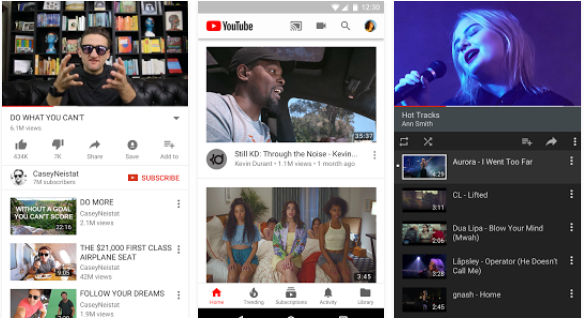 YouTube is a popular site. You'll find TV shows, movies, short clips, documentaries, trailers on YT. The app also gives you access to a massive collection of cartoon and anime videos. As YouTube is the most popular video streaming service, media companies upload the latest shows on YouTube immediately after airing them on the TV channel. Hence, you can use this video streaming application to watch anime shows you've missed on TV. Users can subscribe to their favorite channels on YouTube.
YouTube sends an alert email whenever a new video is uploaded to channels in the user's subscription list. The application detects your internet connection speed and sets video quality automatically. If the video is buffering, you can change the playback quality to improve your video watching experience. YT allows you to watch videos in landscape and portrait modes. In some countries, YouTube lets users save anime episodes for offline viewing. The anime app enables you to comment on the videos. You can like videos you've enjoyed watching and dislike the ones you've found boring. If YouTube is blocked in your country, install one of these VPN apps.
Anime and Manga Animo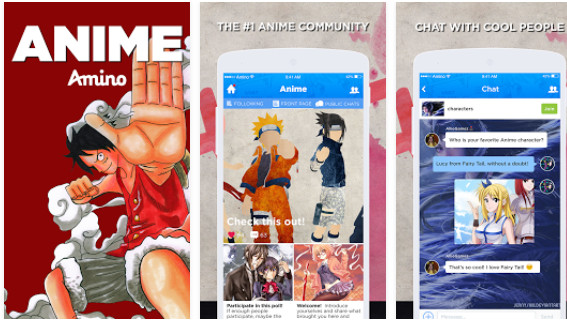 Anime and Manga Animo is a top-rated social networking app for anime lovers. It is the ultimate app to discover new anime and mangas. AMA lets you follow other users. It includes a Facebook-like feed. You must open this interface to learn what users you follow are up to. AMA enables you to create new polls, wiki entries, and quizzes. You can ask questions to other users and share video URLs or images on your wall in Animo. If you've enjoyed watching an anime show or you've just finished reading a cool manga, you can help other users discover new stuff by writing a blog post in this app.
Animo has the option to prevent other users from commenting on your wall. It has a special feature called Achievement Level. The Level of newbie users will be 1. To increase your reputation/level, participate in group discussions, chat with other users, share photos, links, etc. The highest achievement level in Animo is 20. Another cool feature of Animo is the shared folder that boasts a list of recently shared anime videos. AMA has a search option that helps users find new anime and friends. You can create and join groups in Animo.
Also see: Best apps like YouTube
Crunchyroll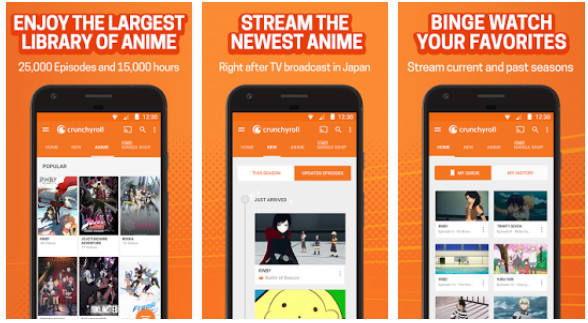 Crunchyroll is yet another popular app to watch anime on Android devices. It has a beautiful tabbed interface. As the app is easy to use, finding new anime is easy. Crunchyroll displays a list of shows in a grid interface. If you don't like the grid view, you can switch to the List view in Crunchyroll. Users must select an anime by tapping on its thumbnail to see the list of episodes. Once the list appears on the screen, tap on the episode you want to watch. Now, the app will switch the video view/layout to landscape mode, and it will load an advertisement. Once the ad stops playing, CrunchyRoll's inbuilt video player will begin playing the video.
The built-in anime player of Crunchyroll provides basic features. It lets you stream videos to other devices. It boasts a toggle option to enable the AutoPlay feature. Crunchyroll supports subtitles. You can bookmark your favorite anime to watch them again later in this app. Crunchyroll supports 9 languages. By default, it downloads and saves the thumbnails of anime shows to the phone's storage memory. The option to turn off this feature is present in the settings panel of Crunchyroll.
Aozora Tracker (Kitsu)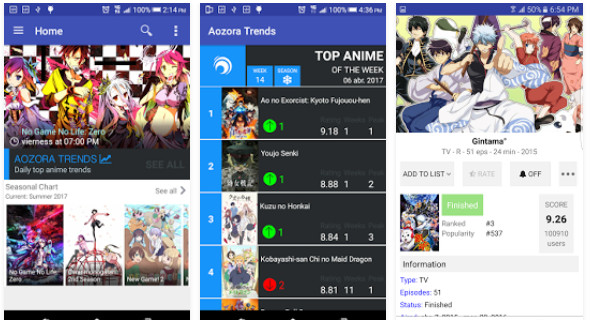 Aozora is a great app to discover new anime. Like Animo, it requires account registration. Aozora allows you to track the ratings and rankings of your favorite anime. You can watch trailers of upcoming anime series or movies in this app. Aozora enables users to create and manage 5 lists – watching, planning, on-hold, completed, and dropped. It lets you sync these lists with the MAL service (MyAnimeList).
If you come across a new anime show in this app, you can read its detailed review before watching it. The app allows you to filter anime by its genre, year, production studio, and classifications. Aozora enables users to join the official Auzora forum where anime-lovers worldwide discuss various things. You can follow other users and rate anime in it. Aozora uses this rating to compile the list of top Anime of the week.
Must read: Best Indian Live TV app
Netflix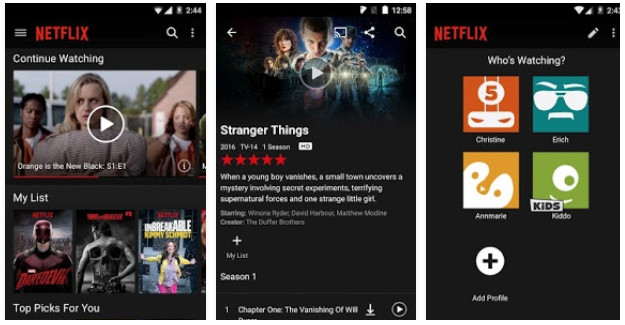 A premium video subscription service, Netflix lets you enjoy popular Japanese Anime shows and movies in HD and Ultra HD quality. Netflix has been beefing up its anime series collection since 2016. Initially, the video streaming service allowed users to watch just a handful of shows. Now, you can enjoy 30+ anime movies and series on Netflix.
Once you join Netflix, you can watch anime online on a smart TV or mobile phone. You can also download your favorite anime series episodes and watch them later. Netflix is a smart video streaming service. Videos you pause on TV can be resumed on the phone. The Netflix subscription plans start at $10. You can try the premium subscription for a month before buying the subscription.
Naruto Shippuden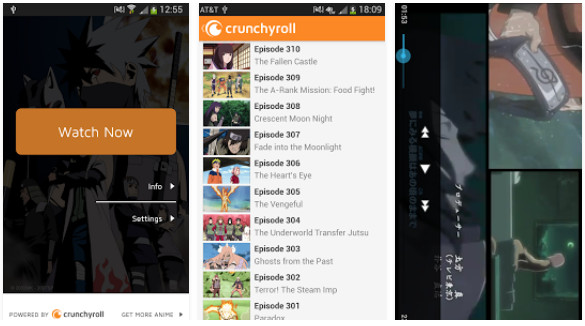 Naruto is one of the most-watched anime series on the planet. It has 500+ episodes. The best place to find and watch the full Naruto episodes is the Naruto Shippuden app. NS is an intuitive app powered by Crunchyroll. It doesn't require account registration. The app's main interface boasts a large button. Tap on this button to see the list of Naruto episodes. The episodes are sorted in descending order of their airing date.
Before playing the video, NS will load a page with information on the premium plan. If you want to enjoy Naruto in HD quality, tap on the signup button and pay the subscription fees. If you're happy with the SD quality, tap on the "No Thanks" button.
Also check: Best Android TV apps
Anistream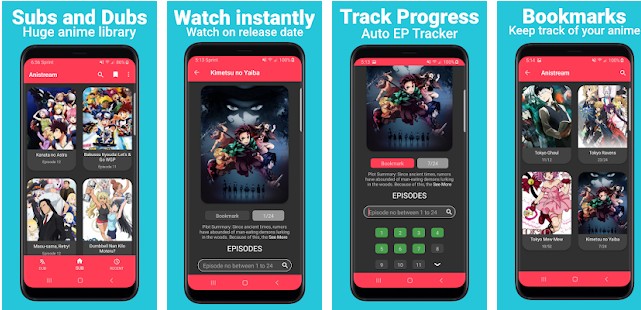 Anistream is yet another great app to watch anime series for free. It gives users access to 100s of anime of 18 different genres. The built-in video player of this app allows users to pause/resume the video streaming. Anistream includes a search utility. It also allows you to see the videos you've watched recently. If the video is Japanese, AS will display English subtitles.
You can bookmark videos, enable audio effects, and change the video streaming settings in this app. You can also change the video streaming quality in this application. Anistream lets you back up the bookmarks to the phone's storage memory. You can also restore the backups in it.
Similar anime apps:
Final thoughts: Install one of the 7 apps I've covered above to watch anime for free in English on mobile devices or smart TV legally.