The mobile industry is growing at a very fast rate. There was a time when a person had to log into the computer to use the internet. Now things have changed. People have started to spend more time on their phones than on computers because they can easily browse the internet by enabling a 4G, 3G or GPRS connection.
As mobile phones are being used by more than 50% people in the world, companies have started to accept payments from mobile phones with WiFi or NFC technology.
Smartphones with Android and IOS have killed many services which were widely used 10 years back when Nokia was the largest phone brand in the world. The services include SMS, MMS, GSM calls, etc.
Most of the revenue of telecom companies come from internet related services.
Bar code use has been stopped by many companies because of the growing popularity of QR codes. Both are old technologies, but QR codes have become more popular because of smartphones. In the coming years, it may completely replace bar codes.
There are several reasons why QR codes are better than bar codes. The major difference between the two is the character limit. QRC can hold around 100 characters where's BCs have a character limit of 48. The characters are arranged in a matrix (array) format and they can be easily read by a QR code reader app.
QR codes make our work easier. Many users find it confusing to copy or open website URL on mobile phones. If QR code has been added to the web page, the user can easily open the URL by scanning the code with a QR code reader application.
QR codes are now being used to verify identity. A good example of this is the desktop version of WhatsApp. When you use the official WhatsApp software on PC, you'll be asked to verify your account by scanning a QR code.
QRCs are widely used in two-factor authentication and password apps for PCs as well as mobile phones. Because of them, the user can log into a web service easily as the password will be generated on the fly.
Well, QRCs are being used everywhere. Thus, it's important to install a QR code reader. The below apps are the best QR code reader apps for Android:
QR Scanner
QRS from a company called Scan corp is one of the most popular QRC reader apps. It has 50 million active installations and around half a million ratings.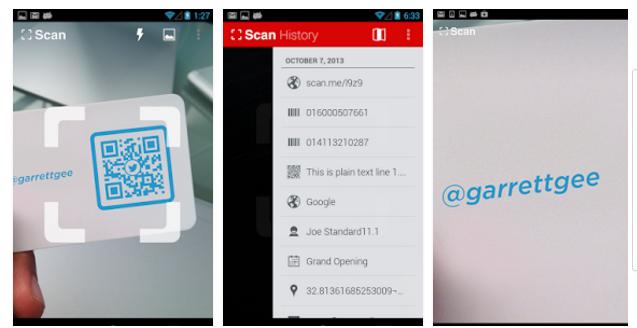 This app takes 11.4 MB space on storage memory. When you start it, QRS will open its inbuilt rear camera module which flaunts a rectangular focus area. To scan your code, hold your phone in such a way that the QRC is embedded in the focus area.
If you're in a dark room, tap on the flash icon to turn on the flash. QRS maintains a history of codes you've scanned with it. The app has settings section through which a user can disable vibration and sound. It is ad free and simple. If the QR code has been saved to your phone's storage in the form of a picture, this app will be able to read it. It doesn't require any permission.
Download QRS
Also see: BEST WIFI SIGNAL BOOSTER APPS FOR ANDROID TO IMPROVE NETWORK STRENGTH
QR Code Reader
Yet another top QR code reader for Android is this app from TWmobile. QRCR requires camera access permission to work. When you run it, QRCR will load an image which explains its functionality. Its features are same as found in the app from Scan corporation. Like the QRS, QRCR is an ad free app.
Download QRCR
QR Droid Scanner
This Android app requires the below 4 permissions to function:
Device and app history access.
Contact, photo/media file and camera access.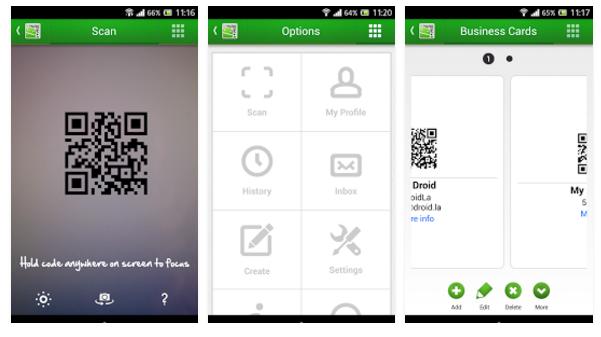 It has more advanced features that the above two applications. In QR droid scanner, you'll the below features:
Option to generate QR from the phone contacts, browser bookmarks, maps, etc.
Reads codes found on websites, magazines, books, etc.
Scans QR in an image file saved on internal or external storage media.
Blocks opening of USSD codes.
Widget support.
QR Droid is the large app. Its APK size itself is around 12 megabytes.
Download
Must read: BEST VOICE TO TEXT APPS FOR ANDROID WITH 100% ACCURACY
Conclusion: If you've encountered a QR code, the above apps will help you to scan it. The applications are free and they work well on most Android devices.