People sell their property for moving into a new house, starting a business or getting rid of debt and they buy property as an investment or for accommodating a large family.
In earlier days, you had to contact a broker for selling or buying real estate. Because of the rapid growth of the internet, you don't need a broker anymore. The Internet has gazillions of free property listing websites.
To make people in your country aware of your real estate, all you have to do is register a free account on the website and submit the details of your property. Of course, you'll need a PC or a mobile phone. Unfortunately, the real estate websites take ages to open on mobile phones. Large websites don't offer the best experience on the mobile device. Thus, using the real estate app will be a better option.
Google Play Store or iTunes has 100s of real estate apps. To help you in selling your property or buying a new property online, we've shortlisted the best applications among them for you. Here's our list:
Best Real Estate Apps for Android and iPhone
Realtor app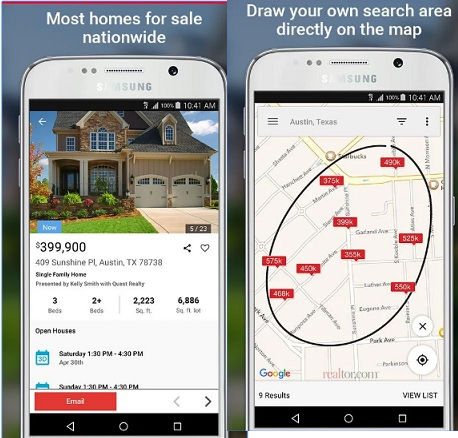 Realtor is a company which has been accoladed on several occasions for its top class services and excellent app that makes buying or selling properties easier for the people.
According to Realtor, the firm's app has the largest number of listings. Most listings submitted through this app are updated every half an hour. Realtor allows you to find real estates by its address, city, zip code, etc. You can check the property's opening time, taxes, price and history easily with the realtor app.
Once you've shortlisted a property, you can easily reach it by referring the directions suggested by Realtor.
The latest version of this applications supports Google Chromecast. Thus, you can easily stream the photos of the property on a television.
Trulia Real Estate and Rentals app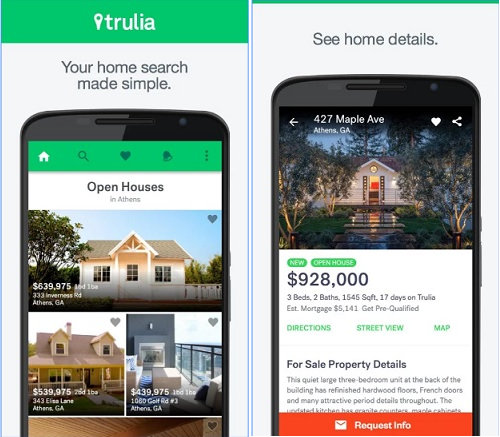 Trulia is a beautifully designed app that provides plenty of features to a person interesting in selling, buying or renting a property.
This app makes use of the GPS navigation technology to suggest you the best homes. It has filters to shortlist properties which have been recently added or sold online. To give you detailed information on an apartment, house, business premises, Trulia features an interactive slideshow module.
Trulia maintains ratings of nearby schools, stores, stations, hospitals, etc so that you can buy a property at the best location. It supports voice search feature and notifications. When there's a change in a property status, you'll be notified of it immediately. Trulia is fast and it is one of the best real estate apps in the world.
Zillow Real Estate and Rentals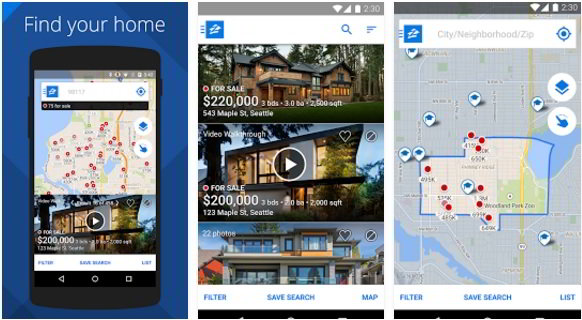 Zillow is powered by a huge database of over million homes spread across various locations in the country. In this app, you'll find properties for sale and rent. It uses Android notification system to keep up updated with the latest status and pricing of your favorite property.
Zillow app includes a powerful tool that helps you in deciding your budget. Once the app calculates your budget, you can contact the property manager or agent for further proceedings. Zillow has filters to shortlist real estates by value, location, the number of rooms, type (apartments, single house, townhomes, etc).
Zillow supports 4 types of search operations, voice, manual, GPS, and maps. It allows you to create custom filters to find a relevant listing. Zillow real estate app lets you sign in with your Google account. It comes with inbuilt mortgage and loan calculator.
Redfin app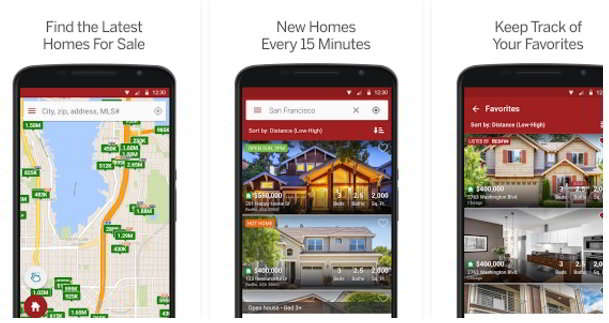 Finding a property is a piece of cake with this app. This app displays pictures of properties in the selected location. If you're interested in the property, you can get its free home tour. The tour will be organized by Redfin agent.
This app claims to offer the most accurate real estate data to its users. It has powerful filters to make navigation easier. Redfin allows users to save their favorite homes/apartments so that they can access it later. You can share details on your favorite listings easily through Redfin.
Redfin makes you aware of last sale prices, nearby facilities and many other important details of a real estate. It doesn't cover listing from the entire country, but the app covers every important detail of the property listed on it. Thus, you should try out the redfin real estate app.
Note: While buying a house, people spend a great deal of time in checking nearby locations, the interiors, built, taxes, etc. Thus, if you're selling a property, make sure that you submit the property's every important detail.
The above-mentioned apps are the best real estate apps for Android and iPhone. Make sure that you submit your property details with them. If you want to buy a home, download and start using the apps. So what are you waiting for?