Although humans have an extraordinary brain, they can forget things quickly. For example, sometimes, we may fail to pay the pending school fees on the due date or take a pill prescribed by a doctor. Although you can write pending tasks in a book, what if you forget to check the book? Android smartphones/tablets have a sophisticated push notification system. They're always on unless the battery discharges or the phone is damaged. Thus, you can use Android reminder apps instead of writing the tasks on paper. Here are the 5 great apps you can use to set various types of reminders for free:
Best reminder apps for Android
Google Assistant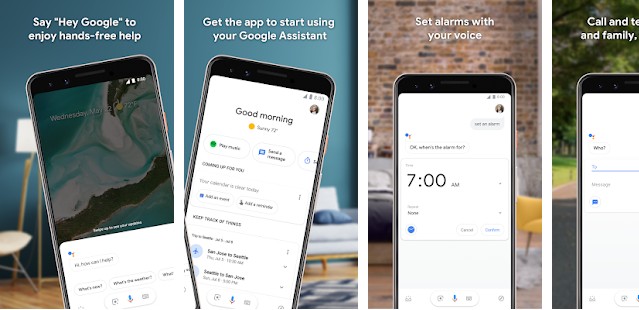 Google Assistant is the best personal assistant app for Android. It can answer your question, get weather updates for a city of your choice, solve math problems, etc. It can also remind you to do something. As GA is built in the Android OS and supports the iOS operating system, you should use it first before switching to another application.
Setting reminders with Assistant
If you're using the stock Android OS, you should turn on the mobile data or WiFi connection and long-press the phone's home button to activate Google Assistant. If you aren't using the stock Android operating system, install the application from the Google Play Store. When GA appears on the screen, you should say "remind me". GA will now ask you to enter the name for the reminder and the date/time on which it should show the reminder. Google Assistant also displays an option to repeat the reminder. Fill in the reminder form displayed on the screen and tap the "Save" button. Google Assistant is one of the best reminder apps for Android phones and tablets.

Tasks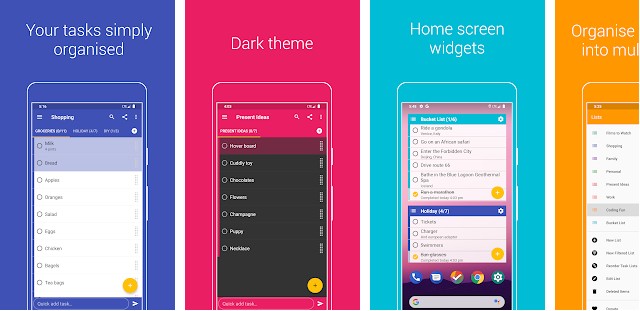 Tasks is a small offline to-do/reminder app for Android that leverages the push notification technology of Android to remind you of the task in your to-do list. Before creating a task, you'll have to create a list. While creating a list, the application asks you to choose a theme color for the list. Once your list is ready, you can add as many tasks as you want to the list.
The application enables you to create sub-tasks, set due date/priority/reminder for the task. It lets you import data from WunderList and export the lists you've made to a CSV file. You can back up your lists to a file and configure Tasks to blink the phone's LED light or activate the vibrator when a reminder is displayed.

Must read: Best water drinking reminder apps
Google Tasks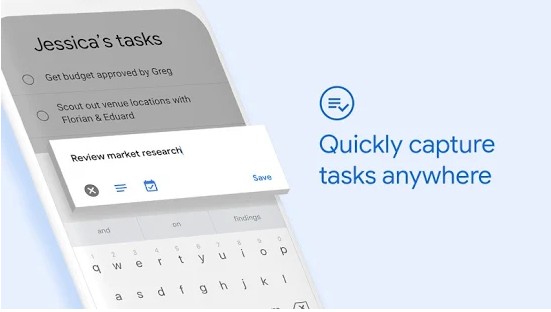 This reminder app is for you if you use the Google Mail service. GTasks syncs your list to your Google account. As your lists will be synced, you can access them on a PC or other devices. GT lets users add details and sub-tasks to a task. It also enables you to set a due date/time for the task. The application won't make your phone play sound. It will simply display a notification and vibrate your phone for a second. The notification displays the "Mark Complete" text. You should tap this text if you've finished the task. Google Tasks doesn't have many options, but it is beautiful, simple, and effective.

TickTick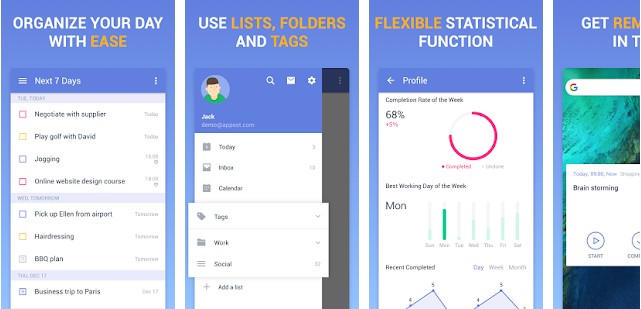 TickTick is a two in one reminder app for Android. It has a well-designed reminder system and a calendar. TickTick requires account registration. The application stores all your tasks in an archive/folder called "inbox". It allows you to add tags to the list entries. It can play a sound when a reminder alert is triggered. TickTick enables users to choose what reminders they want to see on the menu. By default, it shows the "Today" option. If you tap this option, you'll see a list of tasks due for the day. You can add "Tomorrow", "Next 7 Days", etc to the menu from the Smart Lists interface. TickTick ships with 8 color themes. It allows you to change the text font size and edit several tasks at a time.

To Do List (Splendo)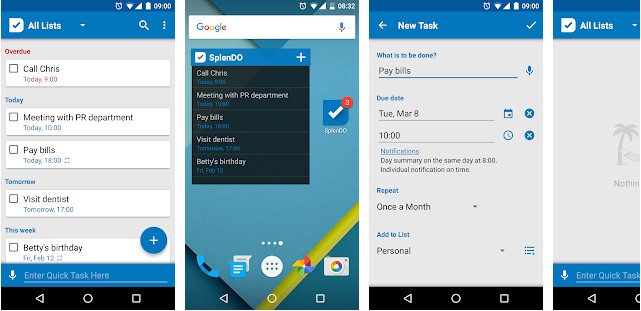 TDL allows you to create several tasks at once. As in other Android reminder apps I've shared here, the tasks are a part of the list. You can move tasks from one list to another. To-Do List allows you to link your Google Account with the application. You can use the application's syncing feature if you connect an account. TDL enables you to create new tasks with your voice. You configure the To-Do List app to show reminders 5/15/30 minutes or 1/2/3 hours before the alert is triggered.

In addition to the above applications, you can also use the phone's built-in alarm. When you set the alarm, the app will play an audio file or your phone's default ringtone repeatedly or after particular time intervals. The tool also displays the "clock" icon beside the network signal strength icon.
Also see: Best alarm clock apps for Android
Why have I shared only 5 Android reminder apps? Well, most of the reminder applications on the Google Play Store have the same features as TickTick, GTasks. Tasks, and Splendo, but their name is different. The above applications have an excellent rating, and they don't have ads. They're monetized by in-app purchases.