The human body constitutes 70% of water. Water is formed by two elements i.e. Hydrogen and Oxygen. We cannot live without Oxygen. When the levels of H2O fall below an average level, our brain may not get enough O2, and we may suffer from various health-related issues. If you have fallen sick recently and the doctor has said that you suffer from constipation or high blood pressure, you need to intake more water to reduce the pain. H2O helps in forming sweat, and sweat contains harmful bacteria, salts, etc. You can't live without water. By this time, you may have learned that it is important to keep yourself hydrated by drinking water at regular intervals.
Despite being available free of cost, people don't drink the right quantity of water, due to which they don't have a healthy body. People keep their phones with them for most time of the day. Hence, a good method of keeping oneself hydrated is to download and use a top-rated water tracking app for Android. The Google Play Store has 100s of such applications. I've mentioned the list of best apps among the lot below.
Best water reminder apps for Android
Water Drink Reminder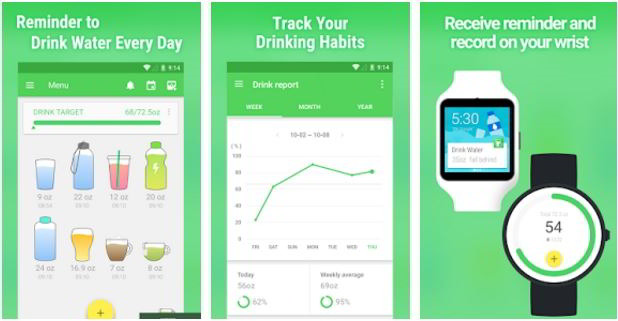 WDR is my favorite app on this list. It is also one of the few apps that I use regularly. It is lightweight and intuitive. WDR asks users to enter the following details before they start using its reminder feature:
Your weight.
Wake and sleep time.
Once you enter the requested information, the Water Drink Reminder app opens a new interface that flaunts a progress bar that shows the quantity of water you must intake. To update the progress bar, tap on the plus icon, and select the amount of water you've drunk.
The Water Drink Reminder app maintains a log of your activities. It has a beautiful reporting interface that allows you to see your statistics for the day, month, year. The app lets you save your weight for a given date. If you're thriving hard to lose weight, this feature may be helpful for you. WDR supports customization. It is compatible with the Samsung S Health and Google Fit services. The app supports widgets and has a backup/restore function.
Also read: Best meditation apps
Water Time Pro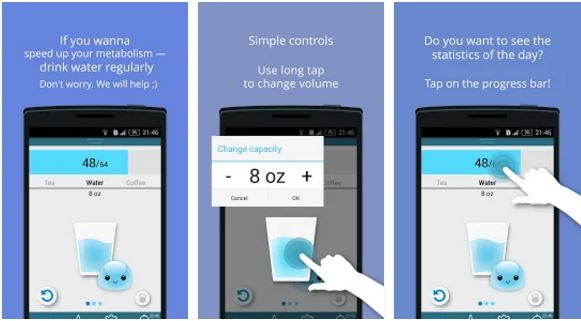 WTP is another top-rated app for setting water reminders. It has a large user base and has registered over 1 million downloads on the Google Play Store. WTP is a powerful app that features beautiful fonts and cute graphics. The app calculates the amount of H2O you should intake daily. This value is calculated by the app automatically. To calculate the levels (target) manually, you must set your gender and weight in the settings panel.
WTP lets you set the volume of water you must drink at a given time. It also allows you to set reminders that prompt you to drink water at regular intervals. To prevent WTP from displaying notifications or playing alert sounds, you must enter the start and finish time in the reminders panel. WTP maintains a history of your water drinking activity. It has the option to disable advertisements and widgets. Apart from water, WTP lets users track the intake of coffee, milk, tea, and juice.
APK size: Below 5 MB.
Must read: Best yoga apps for Android
Hydro Coach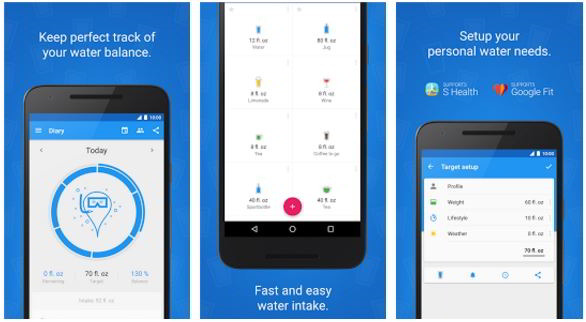 Hydro-C shows the option to log in with your Google account or skip to the main interface when you run it for the first time. If you don't want to synchronize your settings and data online, select the 1st option, else choose the 2nd option. Once you log in/open the main UI, you'll see the "daily target" in liter format. Hydro-C calculates the target automatically. It can also calculate the target manually when you enter your name, sex, age, and weight.
Once you enter the above details, HC prompts you to select your workout routine. Then, it asks you to enter your waking/sleeping time and the capacity of the glass which you are using to intake water. The app tracks your water drinking habit each day. It generates reports for the same. Hydro Coach is the most intuitive app on our list. It is also the best water reminder app for Android.
APK: 22 megabytes.
Must see: Best sleeping apps for Android
Aqualert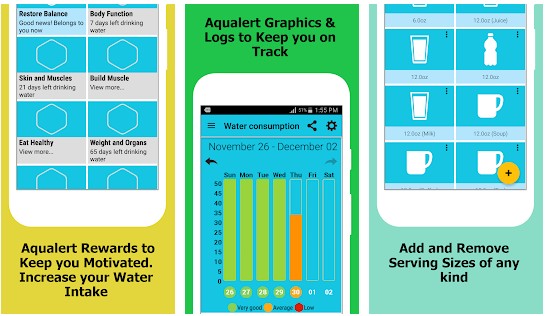 Aqualert asks you to select the following things when you run it:
Weight, weight unit.
Gender.
Aqualert has special options for females that are pregnant and mothers who are breastfeeding. Once you enter the required details, it will calculate the amount of water you should drink.
Aqualert lets you change the interface theme. It has a hydration graph utility and the option to change the interface language. You can configure Aqualert to remind you to intake water every 15/30 minutes or 1, 2, 3, or 4 hours within the start/end time specified by you. This water tracking app can sync your hydration data with Google Fit.
APK Size: 7.6 megabytes.
Other top-rated water reminder apps with similar features:
Final thoughts: The water reminder apps for Android mentioned above keep millions of users hydrated every day. They have a superb user interface and a module to backup or restore the tracked information. Are you using them? If not, then what are you waiting for?