Whether it's a hotel, restaurant, motel, theater, or shopping mall, people are always searching for a free hotspot. Companies set up hotspots in public places to promote their services or provide free internet for a limited time. Reliance JIO has begun its operations in India. Before launching its services, the firm had installed several routers across the country.
The free JIO hotspots provide fantastic download speeds of up to 40 Mbps. So, if you use a video streaming app such as HotStar, you can connect your mobile to the hotspot and download the movies/TV shows within a few minutes for watching them later. To help you find a Reliance Jio Hotspot in metro cities such as Pune, Bangalore, Ahmedabad, Surat, Mumbai, Kolkatta, you should download and use the free JioNet app for Android.
How to find JioNet hotspots on mobile or PC?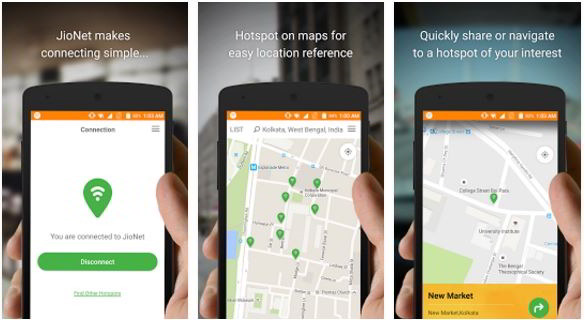 Step 1: Install the JioNet app from the Play Store (link). Open it, and the app will ask you to:
Log in with your JIO ID.
Confirm your email address.
If you own a JIO SIM card, Reliance may have shared with you a unique ID called JIO-ID. Enter the ID to open the main interface. If you choose the 2nd option of signing in, enter the correct phone number to receive the verification code via SMS.
Must read: Best WiFi signal booster apps
Step 2: Turn on GPS on your phone and wait for the app to recognize it. The app may ask you to let it access the GPS (location module). Tap on the yes button.
Step 3: Don't turn off the WiFi or data connection yet. The JioNet app for Android will show a Google Map of the earth. Tap on the zoom-in icon and locate your city on the map. Once you find your city, you'll see JioNet hotspots available in your town.
The app highlights JioNet WiFi hotspots with green icons. It also displays its distance in kilometers from your current location. Apart from the maps interface, the WiFi hotspot finder app from Reliance JIO also shows a list of free hotspots. To access the list, tap on the list option on the top menu bar.
Also check: WiFi Master Key app: Free internet hotspot finder
How to download the JioNet app for PC?
The answer to the question is straightforward. To use the JioNet app on Windows, you must have a phone beside you. You must also install the Bluestacks emulator. Download and install the emulator. Open the Play Store app in Bluestacks and install the JioNet app on your computer through it.