Smoking leads to various life-threatening diseases & conditions in human beings. For example, many people who suffer from cancer, stroke, heart attack, etc have one hobby in common i.e they smoke. Lung cancer is one of the leading causes of death in the United States, India, Europe, and many other countries. People who smoke excessively can suffer from this disease. According to the CDC, the dangerous chemicals present in tobacco smoke can make healthy cells of the body cancerous. Once physicians find that you have lung cancer, they advise you to undergo chemotherapy, radiation therapy, or surgery. You become thin, and your immune system degrades each day.
If the condition is left untreated, cells that cause cancer may spread to other parts of the body. It can be difficult for doctors to treat the later stages of cancer. The patient may die within a few weeks or months if he/she is suffering from a terminal/last stage of cancer. My intention was to make you aware of what smoking can do to your healthy body. If you're searching for a technique that will help you quit smoking, download the apps I've shared below.
Best apps for quitting smoking
Quit Now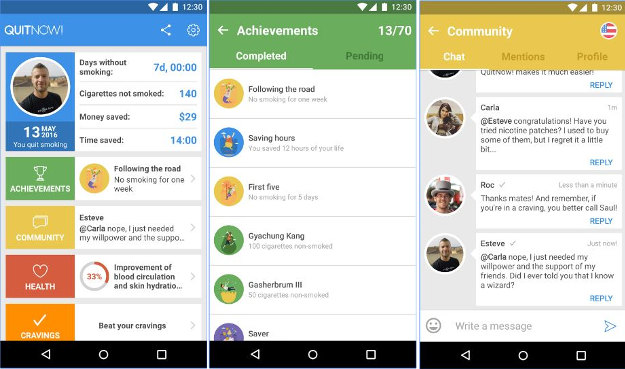 QN is a widely used app. It has helped 1000s of smartphone users quit smoking. The app greets users with a sweet welcome message when they run it. To get started with QN, tap the right arrow button, and enter the following details:
The number of cigarettes you smoke every day.
The price of the pack and the number of cigarettes it has.
Now, tap the arrow icon to save the details and enter the date you decided to quit cigarettes. This Quit Smoking app for iPhone and Android will now run in the phone's background along with other applications. QS will show the below details on its main UI:
No of days passed by as a non-smoker.
Money and time saved.
The total number of cigarettes you've avoided.
The QuitNow app displays vital information about your health. As I've mentioned earlier, smoking degrades your fitness. As you've quit smoking, your health and fitness will improve as time passes by. Over a million people across the world use the QN app. For inspiration, the developers have added a community feature to the app. If you join the community, you can interact with other people who have decided to quit smoking. You can also view their statistics.
Also see: Best medical apps for doctors and patients
Quit Smoking Slowly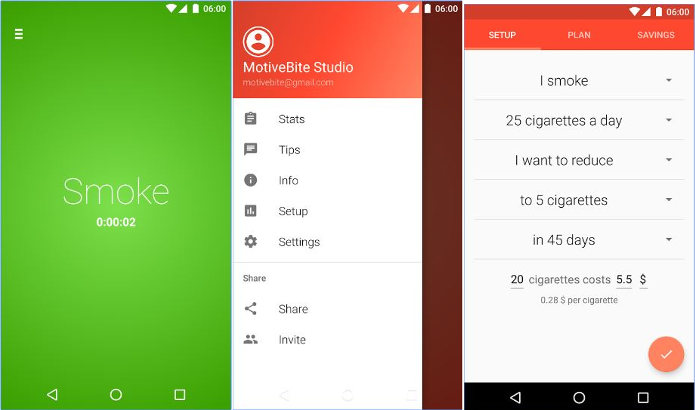 A person can decide to stop smoking in a day, but it takes some time to get rid of cigarettes altogether. Keeping this thing in mind, developers at MotiveBite published its QSS app on the Google Play Store. After you install and run this app, you'll see a red color interface with an option to:
Learn how the app works.
Log in for saving data online on cloud servers.
Begin a new session to quit smoking.
Select the last option and fill in the below details:
Total cigarettes you smoke/used to smoke in a day.
What do you want to do? Quit or reduce smoking?
Target days.
The cost of the cigarette pack.
Once you enter the details mentioned above, you'll see two graphs i.e. plan and savings. The 1st graph shows a program you should follow. The 2nd graph displays money you can save by avoiding cigarettes. Apart from the charts, this quit smoking app lets you go through helpful eye-opening tips and resources which smokers will find useful.
Must Read: Best goal setting apps
Smoke-Free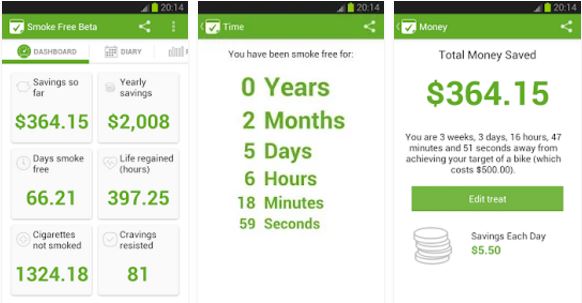 With half a million downloads and an excellent rating of 4.6, Smoke-Free is one of the best quit smoking apps on the Play Store. Its APK size is 29.3 megabytes. Smoke-Free allows users to see:
The money a person has saved by preventing cigarettes.
The person's fitness level before and after quitting smoking.
The application detects your location and sets currency accordingly. It has a calendar interface in which you must select the quitting date. It shows yearly, daily savings, the time you've been smoke-free (carbon mono oxide, nicotine-free). Smoke-Free includes a diary module where you can enter the things you did to avoid cigarettes on a particular day. It offers the below four progress reports:
Time, money.
Health, cravings.
The quit smoking app awards you special badges when you make good progress as a non-smoker.
Also read: Best sleeping apps for Android
Quit Tracker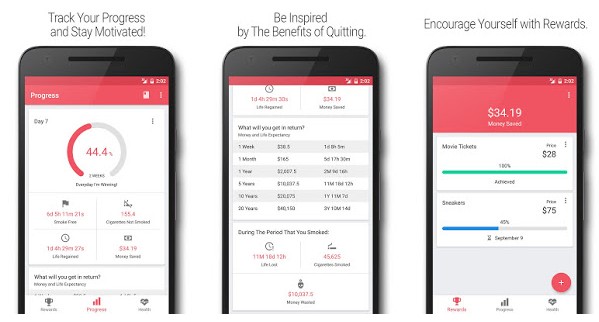 Quit Tracker helps you quit smoking by making you aware of the money you've saved by giving up cigarettes. It prompts you to enter your age, the number of cigarettes your favorite pack has, the number of years you've been smoking, the date on which you've quit smoking, and the price of the pack. Once you enter these five details, you should choose your preferred currency. QT will display the time you've been smoke-free, the money you've saved, etc. It gives you access you valuable tips and inspirational quotes. QT supports dark/light color themes, pin locks, etc.
EasyQuit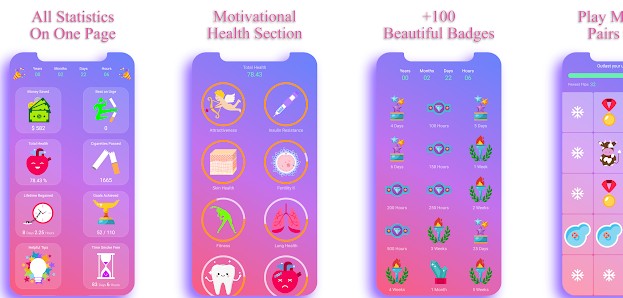 EasyQuit is an excellent alternative to the above applications. It ships with over 98 badges. You'll be rewarded with a new badge for each milestone you reach. You can reach a milestone in EasyQuit by remaining smoke-free for N days/weeks/months. Like other applications I've shared here, EasyQuit calculates the sum of money you've saved by not purchasing cigarettes. This quit smoking app for Android, iPhone, and iPad also has a countdown timer utility that motivates you by showing the improvement in health parameters.
Similar quit smoking apps:
Final thoughts: Quitting cigarettes is one of the best decisions you have made so far. To help you achieve your goal, download one of the apps I've covered above and use it daily. Within a few months, you'll make tremendous progress in fitness. Your family will be happy to have you back as a non-smoker.