Diabetes is a medical condition wherein the blood sugar level is above normal levels. Although the disease is life-threatening, if you take proper care of your health, control blood sugar, and visit a doctor for a checkup regularly, you can control it. According to WHO, over 100 million people live with diabetes. Diabetic patients should take care of their diet else the condition will worsen. You can ask your loved one to remind you about medicines. But this won't help you. You may unknowingly eat sugar-rich food items. Medicine will only reduce the glucose level. To keep the blood sugar level at the lowest possible levels, you should track the blood sugar levels often, eat carb-sugar food, monitor your weight, etc. Here are the best apps for managing diabetes in the smartest possible way:
Best diabetes apps for Android and iPhone
mYSugr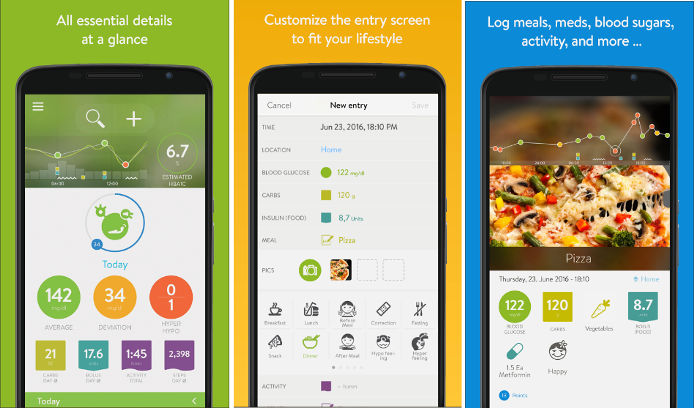 To get started with mYSugr, you must enter your email address. After entering your email ID in the text box, tap on the Next button. Now, enter a password in the text box and select the OK option. Now, the MySugr app will prompt you to choose the diabetes type, the type of insulin therapy you undergo, and the medicine you intake. Then, it asks you to select your preferred BG level and carbs count format. The app will now open its main interface, where you'll find a graph and options to add breakfast, lunch, and dinner details. It will also display options to add the "mood" and health conditions such as headaches, pain, menstruation, etc. The mYSugr app allows you to go through your health report, and it provides an option to export the same to a PDF, CSV, or MS Excel document. The app can import your fitness data from the Google Fit service.
Also see: Top free Apps for Teenage Girls and Women
Diabetes: M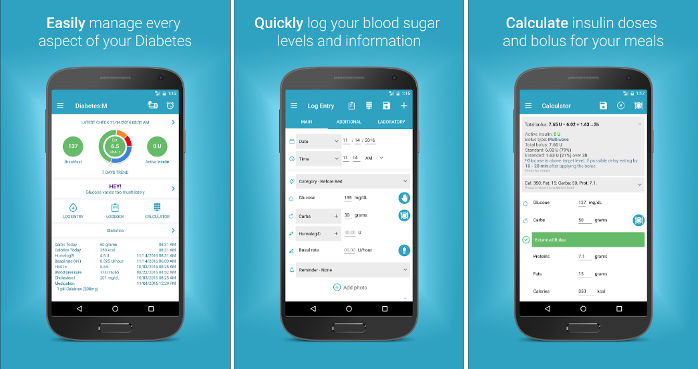 DM is an app that allows users to manage their diabetes condition with the help of an Android or iOS device. The app is easy to use. First-time users of DM are prompted to accept the terms and conditions. To use the application, you don't have to register an account. Users who create an online account with this app enjoy more features. Diabetes: M app asks users to enter weight, height, birthdate. You can ignore this step and head over to the main interface. The diabetes application lets users track their BG levels. It features a calculator tool that accepts the glucose level and carbs as input and generates the total insulin and bolus in your bloodstream. The diabetes app has a logbook utility through which you can record your activities for a given time of the day. If you've undergone lipid, microalbumin tests, you can enter the test results through this interface.
Glucose Buddy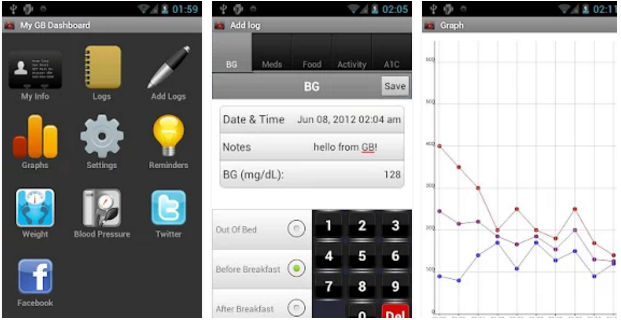 GB is a simple app with several interesting features. Furthermore, it doesn't require registration. You can use Glucose Buddy without turning on the WiFi or mobile data connection. The Glucose buddy diabetes app displays the following options on its main window:
App info: This interface allows users to enter their personal details i.e. weight, age, email address, gender, insulin tools you use.
Logs: To enter the medicine prescription, blood glucose level, the food you've intaken recently, activities for the day, A1C test results, open the Logs utility.
Graphs: This module generates a useful graph of the data you've submitted with the above two functions.
Settings: Here, you'll find an option to sync the data with glucosebuddy.com, export logs, change the default BG target range, blood glucose, weight tracking units.
Reminders: With this function of the Blood Glucose app, you can set events or time reminders.
Glucose Buddy is one of the best diabetes apps for mobile devices running on Android or iOS operating systems.
Must Read: Best note-taking Apps for Android
Blood Glucose Tracker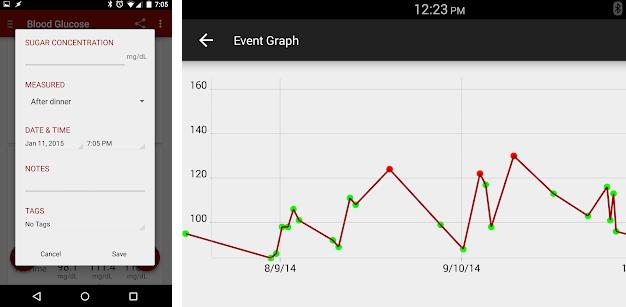 Tracking blood glucose and taking medicine on time is one of the best ways to keep diabetes in control. BGT lets users enter their blood glucose/sugar level in mg/dL format and the time/date on which they've undergone the test or have tested their blood. If you're taking medicines, you can log them too with this application. Diabetic people may suffer from obesity and high blood sugar levels. BGT enables users to track their weight as well as blood pressure. If you want to track only the blood sugar level, you can disable the weight/blood pressure/etc trackers of BGT. This diabetes app for Android lets users set reminders.
Beat Diabetes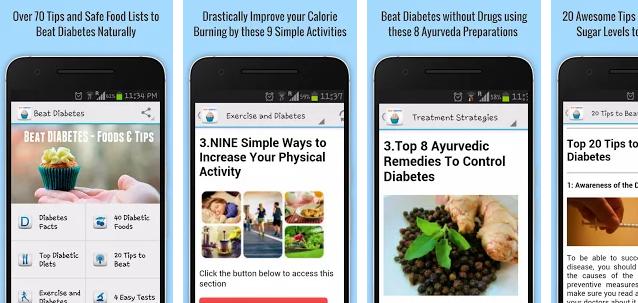 This application is different from mySugr, Diabetes: M, and BGT. It gives you access to a collection of diabetes related articles & tips. For example, BD shows the following articles when you install and run it:
Things you need to know about diabetes.
40 diabetic foods.
Diet tips, and more.
You should tap on the article name to open it and read its content. This application's article collection may be updated in the future. If you've read each article/tip, you can enable the push notification or sound alert for new tips/articles with BD.
Also check: Best video player apps for Android and iOS
Diabetes Journal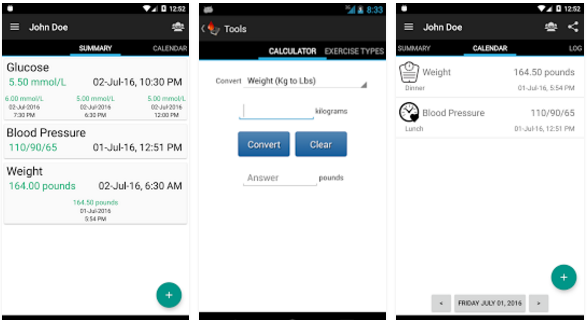 The Diabetes Journal app has a tabbed UI. It features an option to add glucose level, blood pressure, weight, HbA1c, carbohydrate count, exercise type/duration, and the medicine you've taken. Diabetes Journal will process the information you've entered. Then, it will generate a summary of the data. The app can create graphs of your BP, weight, insulin, etc. It has a reminder function that can remind you to take medicine, exercise, check weight, etc.
OnTrack Diabetes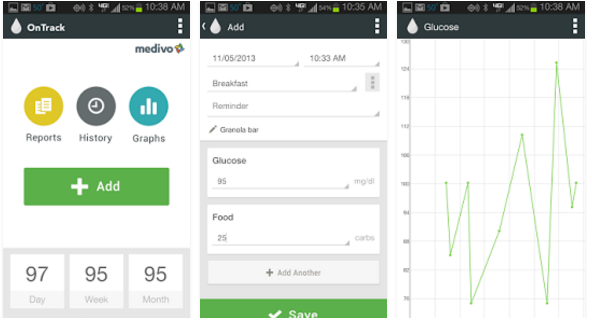 The OnTrack app has the same number of users as MySugar. It features a three-step wizard tool that asks users to provide the following details:
Glucose, hBA1c, weight.
Low and high C6H12O6 level.
The wizard also has an option to turn on the multi-entry utility through which users can enter multiple details at a time. The app can generate the following types of graphs:
Blood pressure.
Glucose range, level by the time of day.
Medications, HbA1c levels by time.
Daily carbs, pulse, and weight by time.
The OnTrack diabetes app has a powerful history tool that enables you to filter data by the category of food, date, etc. It displays the daily, weekly, and monthly glucose levels on the main interface. The app lets users set reminders. It supports US and SI units.
Similar apps:
Final thoughts: High BS levels can impact the functioning of other organs in your body. Hence, take care of your health. If you use the best diabetes apps mentioned above often, you'll have the details of the sugar levels, weight, food you intake in hand. The applications I have shared above allow you to compare data.
If you want to stay fit, download one of these best health apps on your mobile device. According to studies, Yoga can improve the condition of a diabetic patient. If you can't run or go out for a long walk, learn and practice Yoga.