The performance of an Android phone may deteriorate at anytime. Once the mobile becomes slow, you won't be able to enjoy your favorite games. The phone may not respond in severe cases, or other apps won't start. To get rid of the performance-related issues, we must use special apps. Today, we've shared a review of the free Turbo Cleaner app. This application has 50 million Android phone users. Its number of users is growing each day.
Review and features
Turbo Cleaner cleans RAM and ROM on your phone. It is an unbelievably small app (APK size 4.5 Megabytes) that works great on low-end and high-end mobile phones. The app adds a shortcut to the home screen so that you can boost the performance of your Android device when it has become slow or unresponsive. Turbo Cleaner for Android will kill dormant apps that are running in the background and consuming RAM. Before it kills the applications, you'll be given the option to add them to the ignore list. To manage the ignore list, open the app's main screen, and tap on the checkmark icon that you see on the top left corner.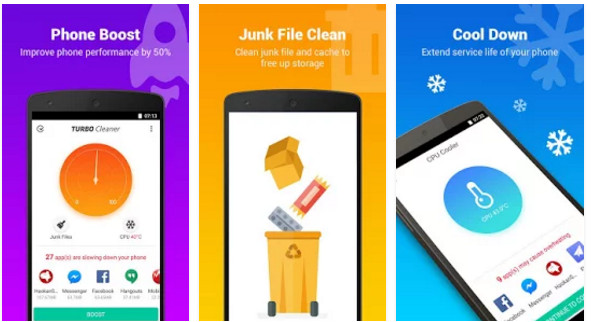 The Turbo Cleaner app shows major issues responsible for your Android device's poor performance in the phone's notification center. It shows the percentage of RAM used on your device on a clock-like interface. It also displays the current temperature of the processor and an option to run the junk file cleaner utility.
If you find that the processor's temperature has increased, tap on the round icon above the temperature to access the phone cooler tool. This utility will terminate background apps to ensure that the processor is handling only the important tasks and processes. The application recognizes the following type of useless files and lets you remove them:
Cache files.
Obsolete APKs.
Memory cache.
Gallery thumbnails.
Once Turbo Cleaner finds the useless files, it will group them into the above four categories. The Turbo Cleaner app for Android comes with a smart password-protected app lock tool. It has a notification box feature that groups multiple notifications. This feature makes the notification center less cluttered.
How good is the Turbo Cleaner Android app?
My phone has the Xiaomi MIUI Security app. Turbo Cleaner found 260 megabytes of junk files. The MIUI application detected only 70 MB of unwanted files on my phone. The Turbo Cleaner application found plenty of undetected junk data and helped me remove it. Its file cleaner tool is smart, and the RAM booster utility is robust.