Cheetah Mobiles had launched a new version of its superfast CM launcher app for Android on the Play Store in the form of CM Launcher 3D. A new 3D engine powers CML3D. Is the new app as efficient, stylish, and lightweight as its predecessor? Let's find it out!
Review
CM Launcher 3D APK is available exclusively on the Google Play Store. To get started with CML3D, install the application on your Android phone and run it. The launcher will open a window with a circular button with a label start and a link to open the app's terms and conditions page. Click the button.
CM Launcher 3D will ask you to keep the current wallpaper or change it to the one suggested by it when you do so. Once you've selected the preferred wallpaper, CML3D will try to replace your default launcher with itself. The Android OS will display an option to keep the previous launcher or use CM Launcher 3D.
The new Cheetah Mobiles launcher app boasts several 3D transition effects. It also adds two attractive weather widgets to your device. The app drawer of CML3D resembles the NOX launcher of CyanogenMod OS. The drawer flaunts a list of apps installed on your device.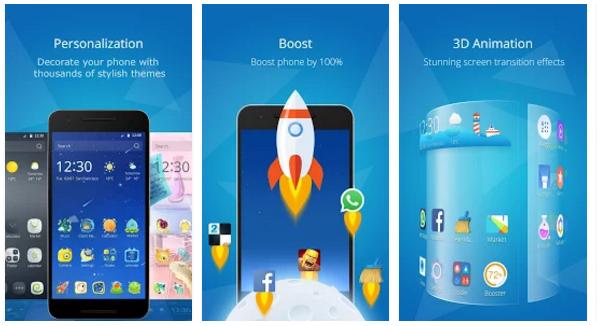 Apps are grouped by the initial letter of their name (i.e. alphabetically). The right side of the drawer flaunts an alphabet-based index so that you can quickly find the desired app. The drawer includes a search box and an option to sort the apps. To the right of the search box, the user will find the CM app store. Cheetah's app store is an alternative to the Play Store. It allows you to download new themes and tools.
To change the looks and effects, long press on the empty section of the home screen. If you do so, you'll be able to access the below functions:
Theme suggestion: CM 3D Launcher will recommend new themes every day. You can enable the new theme if you wish. CML3D will download and apply the theme for you.
Effect: CM Launcher 3D supports effect customization. You can easily change the folder and screen and apply new unfolding effects. CML3D offers more than ten effects to choose from.
Screen Manager: With this option, the user can quickly delete a screen or change its position. Users can also add a new screen with this tool.
Widget: Open this utility if you want to add new widgets to the home screen. CM Launcher 3D ships with the below set of useful widgets:
Booster.
Time and weather
Search
Recent activity.
All apps.
Power saver.
Themely.
Upgrade.
Lockscreen.
Apps sorter.
Effects manager.
Themes and wallpapers.
3D Clock.
YoYo and lucky jar.
To check widgets of other apps installed on your phone, tap on the more button. CM Launcher 3D comes with a settings tool. You can use this tool to:
Remove ads (App Promotions) from CML3D.
Hide/Show more app's icon.
Enable/Disable auto-sorting feature, notifications, app labels.
Modify search, weather, app badge, effects.
CM Launcher 3D allows you to hide apps on Android phones. To hide an app, long press on its icon on the home screen and drag it to the hide icon. To manage hidden apps, visit CM Launcher 3D settings.
Final thoughts
Cheetah Mobiles has done a great job in developing the Launcher 3D. Even though the app boasts nice effects, it is RAM-friendly. The launcher's UI is very smooth. It uses about 33 MB of internal storage space and requires camera, contact, location SMS, storage, and telephone access permissions.
Also see: Best Android 3D launchers