Some of your relatives and friends might be interested to know more about your personal life. They give excuses to put their hands on your phone/tablet. The first thing that such people do is open WhatsApp, Snapchat, or any other app you have installed for reading your personal messages.
Here are the two good examples:
You have installed a dating app (Ex. Tinder) and have exchanged hot messages with your date. If your parents come across these messages, they will cancel the internet connection or will take your phone away.
Your female/male friend has shared a personal picture with you. One bad day, you forget to carry the mobile. Your mother knows the pattern lock/password. She unlocks the device and finds the shared image.
You can prevent above things/incidents by installing the best app lock for Android.
Best Android App Lockers – 2017 Edition
AppLock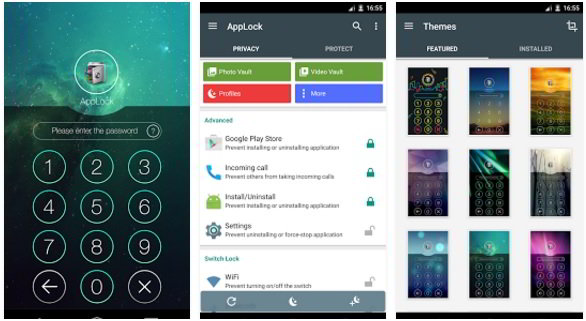 AppLock is my favorite application. I am using it since 2015 and I can confirm that it works like a charm. I'm not the only fan of this application. AL is trusted by 100 million Android users. It runs on tablet, phones, and has small size APK (2.5 MB).
How to use this AppLock tool?
On startup, AppLock prompts its user to draw an unlock pattern. Make sure that you keep the pattern different from the one you have set in Android settings. Once the user draws his desired pattern, AppLock requests him/her to enter a valid email address. The app will unlock other cool features once you verify your email ID.
After entering your email address, tap the save option. Now, you will see a small window which shows the features that the current version of AppLock offers. Click the OK button to dismiss the changelog window. Now, you can password protect your personal folders, gallery (pictures/videos), and apps.
Apart from ensuring that no one excluding you can open the protected apps, AppLock lets you:
Block others from installing games and apps from the Google Play Store without your permission.
Prevent other users from killing or blocking apps.
Block users from turning on the WiFi, Bluetooth, and Auto-sync.
AppLock is a user-friendly Android app. It has power saving mode, advanced protection module, and option to change the security settings i.e. Pattern and email ID.
The latest version of AppLock provides fingerprint lock feature. You can use it in over 20 international languages.
Install from Play Store
Check: Best app to add text to photo
Smart AppLock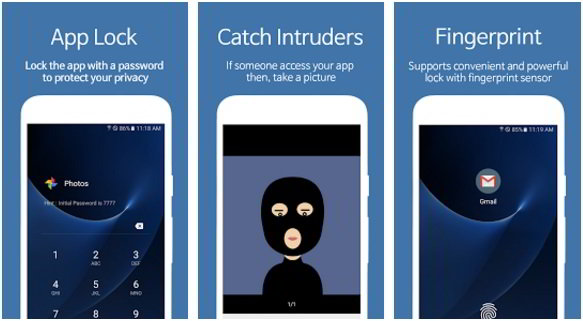 Smart App Lock is yet another popular app for locking folder, WhatsApp, images, Snapchat, videos, etc. SAL was earlier known as Smart App Protector. Developers have changed the name for some unknown reason.
SmartApp Lock works in the same manner as the above app. It asks users to enter a numeric password. The initial password is set to 7777. Enter this number in the text field and you will see the main interface of Smart App lock for Android.
On the UI, you will see a green colored add button with plus sign and several tabs. Tap on the button. Now, SAL will show a list of installed apps in your Android mobile and toggle buttons to enable/disable password protection for them.
Use the toggle button to enable AppLock protection. By default, Smart App Protector hides selected apps. The app includes an option to prevent Android from turning off or rotating the screen when you're using a specific app.
Smart App AppLock includes a settings panel which allows you to control its cool features. It is compatible with a fingerprint sensor. It supports remote locking, multiple passwords, etc.
Download from Play Store
You may like: Best Real Estate Apps for Selling or Buying Property online
AppLock by LoveKara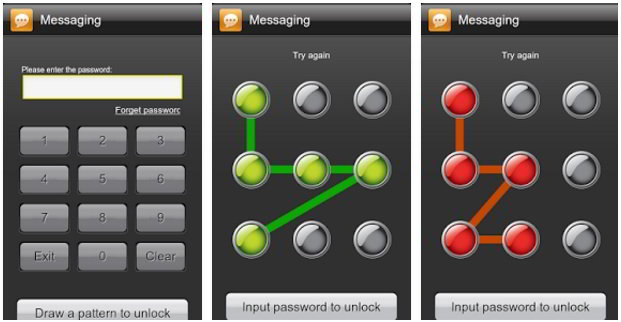 Lovekara's App Lock for Android is tiny and lightweight. It doesn't have complex options. Hence, ABL is easy to use. To get started, enter a numeric PIN and confirm the same. Once verification completes, ABL asks you to enter a security question, answer, and a password hint. After this, you must set an unlock pattern on a 3 x 3 matrix.
AppLock will now show a list of apps along with a toggle option to deny direct access to them. It lets you set a lock timeout and change the current dark skin to light gray or wood. The LoveKara App Lock for Android doesn't have in-app purchases. It has advertisements.
Install from Google Play Store
Conclusion: One of the best measures that you can take for preventing others from accessing your messaging apps, interests, videos, and images would be installing one of the best app locks for Android. If someone in your family knows your PIN/pattern for unlocking the handset, make sure that you start using the top Android AppLockers we have shared above.
Other top app lockers for Android: