Before mobile phones become popular, people used to read newspapers or watch television for getting local news or learn about the latest happenings in the world. Smart folks used computers to surf news websites.
Because of the excellent features offered by two of the most widely used operating systems i.e. IOS and Android, it's now possible to get news on any topic from any part of the world on our phones.
Android is owned by Google and Apple is the owner of IOS OS. Both companies have launched an app store where you'll find tons of news apps. Today, we've shortlisted the best apps among the plethora of news apps in this article.
The applications we've shortlisted use the internet connection on your phone to get news from major news websites. They use RSS (really simple syndication) technology. Without RSS, most of them will vanish from the play store or iTunes.
The best news apps we've shared below will deliver news to your phone in real time. When there's a breaking story, simply refresh the UI and the app will show its magic.
Best news apps for Android and iPhone
Flipboard app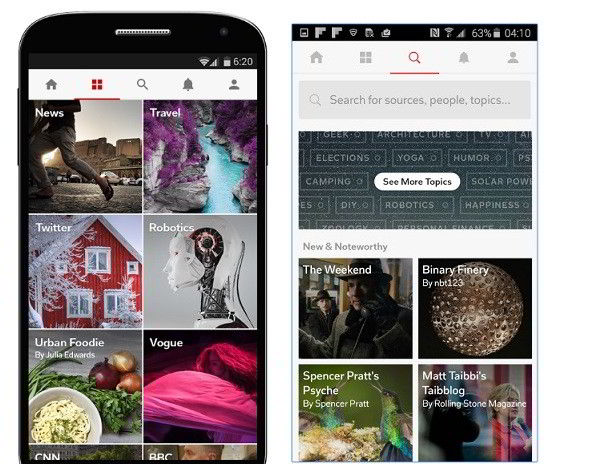 FB is a free magazine app which is being used daily by 1000s of news readers. To get latest updates on your mobile device, you should first choose the topics of your interest and then you must select the websites you'd like to follow.
When you do so, Flipboard will create a beautiful magazine from the publications/topics you've followed. With this app, you can create as many magazines as you want.
Flipboard has a search option through which you can find news on any person or place. This app comes with an option to save news stories as a bookmark so that you can easily go through it later
Publications in Flipboard application are added after a Flipboard employee personally reviews them. Hence, you'll find only top-notch news portals in this app.
This application allows you to go through local news in 20+ countries. It includes a widget module. When it comes to the best news app, Flipboard is the first choice of many.
Recommended: BEST IPHONE LAUNCHER APPS FOR ANDROID TO HAVE IOS-LIKE HOME SCREEN
InShorts app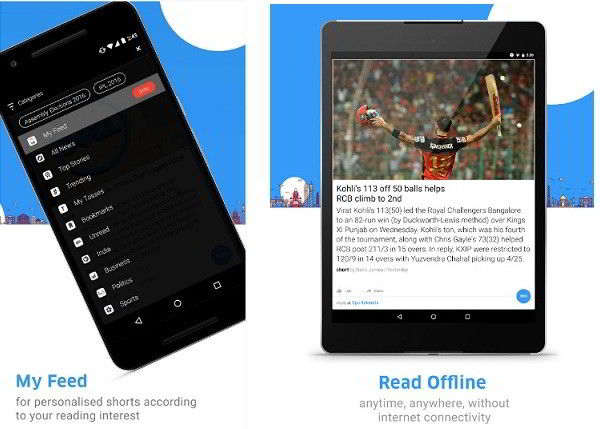 Sometimes, the editor or the publisher adds personal opinions to the news to make it look more compelling. If you hate reading personal opinions, then InShorts app is for you.
This application will present news stories in just 60 words. It makes you aware of the latest and most interesting politics, business, startup, tech, sports stories from India and in the world.
Like Flipboard, InShorts delivers news to your phone only from top publications. Stories which you like can be easily shared with others. The app adds a new widget to your phone. Place this widget on your phone's home screen to get the latest headlines.
InShorts app has a very beautiful interface. Once news has been synced to your mobile device, you can read it offline.
Google News and weather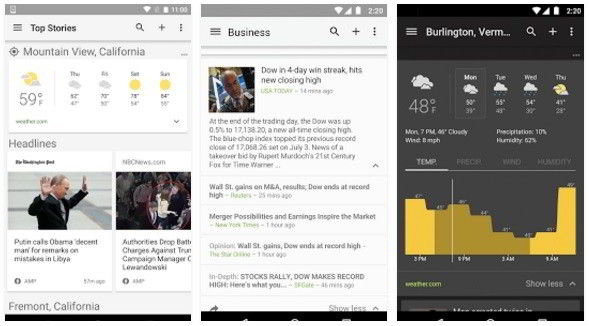 Google news is one of the most trusted sources for news. This app covers stories from around 75K major publications from all over the world.
This app has a special carousel feature that allows a user to go through their favorite or any other interesting news by swiping to the left or right direction on the screen. Pages powered by Google AMP will open within a few millisecond on your phone.
Google News app is easy to use. It makes users aware of local weather. It supports two themes, dark and light.
Must read: BEST ANDROID FIREWALL APPS THAT WORK WITHOUT ROOT ACCESS
BBC News app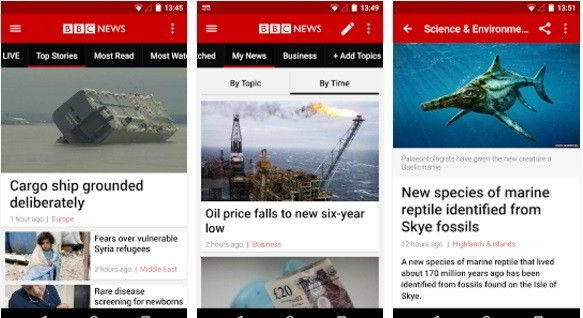 Unlike the above applications, BBC is not a news aggregation service. It is one of the largest and most respected broadcasting companies in the world. It has been there since the year 1920. BBC's news app is quite popular in English speaking nations.
The content you'll discover in this app is published by top quality journalists. BBC news app will prompt you to select your favorite topics so that it can recommend news stories of your interest. This app has a robust and smart news recommendation engine which suggests stories related to the one you've recently read.
Times of India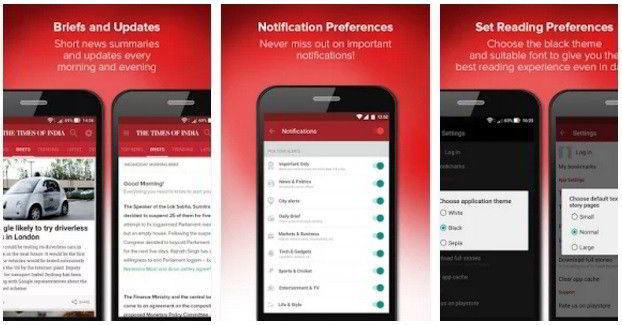 TOI news app has been published by the Times group, the company behind the popular local newspaper in India, the TOI. The app has some cool features because of which I have added it to our list of the best news app.
TOI app has the option to read news in brief. It has a live TV feature where you'll find video coverage of a breaking story. TOI supports bookmarking of articles and offline reading. You can control what notifications you would like to see.
The official Times of India app supports night reading mode. It supports downloading of images, sharing news story and many more features.
Fox news app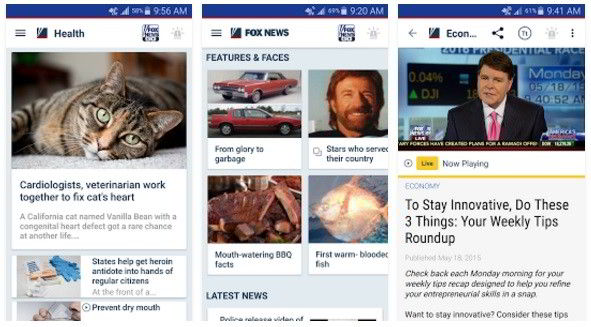 Fox news is one of the most watched TV channels in the world. In case you want to get news from Fox TV, then download and run the fox news app.
This application supports live streaming of news videos. It lets you watch video news and read the latest stories at the same time. The video player can be resized by the user by switching the phone to landscape or portrait mode. If you are a fan of a Fox new journalist or a TV show, you can follow and get updates from them through the app.
Conclusion: The above news apps are top rated and used by millions of people. Try them out!