Craigslist is one of the largest e-classified sites in the United States. Millions of people use it to sell various services, old and new products, pets, old cars, and other various stuff online.
As it is a classified site, you must list your product on sites and apps like Craigslist so as to increase the chances of getting your product or service sold at a great price.
The app stores give you access to over 1000 free classified apps, the only applications which may help you sell service or old stuff at the best price are as follows:
Why use the app?
CS is a large portal. It has 1000s of listings. Hence, managing your free listing on a site becomes difficult if you are accessing the site on the desktop. Android and iPhone applications are fast.
Craigslist Alternatives apps
Close5 app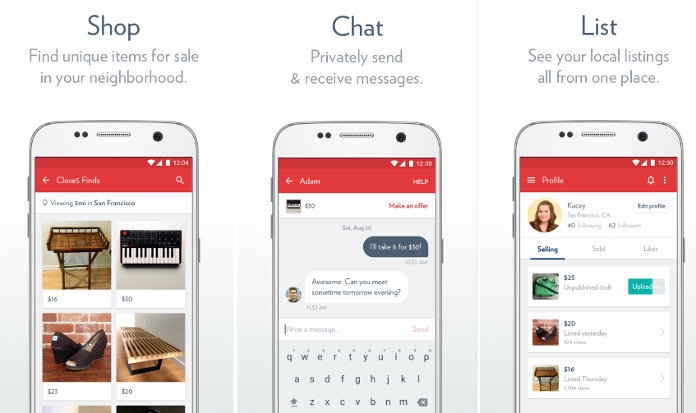 eBay rebranded its classified service as Close5 and launched apps for the same on the Google Play Store and iTunes. Close5 enables users to search and buy old or new products available in their city in a matter of seconds. The app provides a function to find products within a specific range.
Close5 app accepts listings on fashion, baby, electronics, household, etc. It supports free listing without making the user enter long product descriptions. Like Craigslist app, you must sign in with your account to create new listings and manage them. Close5 has private message feature, which you can use wisely to negotiate on the pricing and fix the deal before someone else does it.
Close5 offers material design and is user-friendly.
LetGo : Apps similar to Craigslist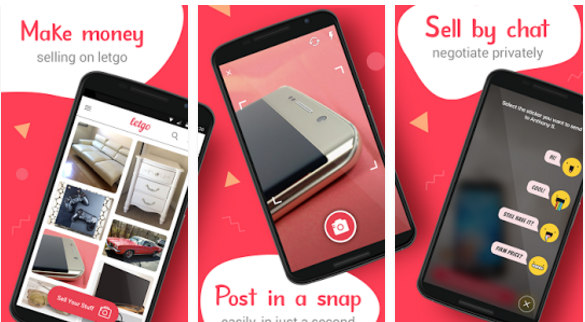 Yet another excellent application to sell old products online or buy second-hand items for a great price, LetGo has over million users. This app allows users to list items into one of its several categories.
LetGo app is fast and responsive. You can create a listing in few seconds. After the listing goes live, wait for a few days. You'll get an offer from a person residing in your neighborhood.
The app uses a powerful algorithm which detects your image category automatically and suggests title and item category. In other words, you can say that LetGo app saves your time. It has a special tool called LetGo customize which allows you to give your ad a professional look.
Must read: BEST REAL ESTATE APPS FOR SELLING OR BUYING PROPERTY ONLINE
OfferUp : Craigslist alternative app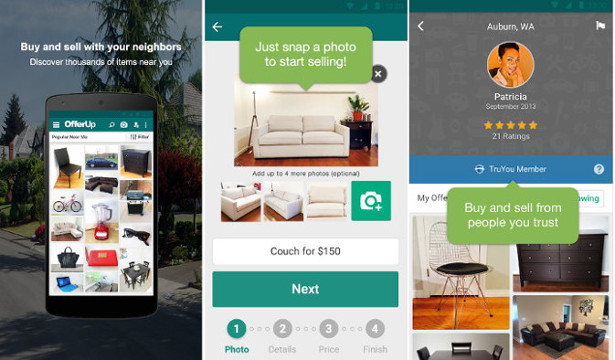 OU is one of the largest marketplaces for online buyers and sellers looking forward to buying/selling old or new goods and services.
OfferUp is an intuitive application that lets you put your item on sale within 31 seconds. It has reputation feature, with which you find the character of the person with whom you're negotiating.
The app gets updated with 1000s of new listings daily. It has a module to send text messages to the buyer or seller. It enables users to upload photos of items, create a seller profile, explore over 50 categories of products for free. The developers of OfferUP application claims that you can sell any items on their platform.
OfferUP is a smart and secure app available for Android tablet/phone and iPhone users.
Also see: BEST INDIAN RAILWAY PNR STATUS CHECKING APP FOR ANDROID
5miles app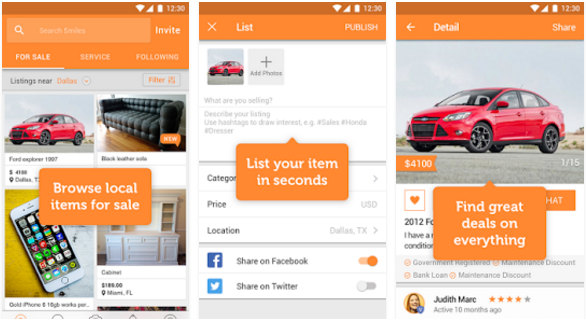 5miles is yet another Android and iPhone classified listing app with over million users. It is the only application on our list that enables users to record and upload voice descriptions.
5miles allows users to find neighborhood listings use the phone or tablet GPS module or ZIP code. It supports Facebook mail and lets you share listings on social networks such as Twitter, Facebook, LinkedIn, and more.
With this amazing app, you can easily send messages to the seller or the consumer. 5miles app provides a beautiful interface and it is safe.
Check: BEST APP LOCKS FOR ANDROID TO PROTECT YOUR SMS, IMAGES AND MORE
VarageSale: Apps like Craigslist
VS is a beautifully designed app, which claims to offer products to buyers at deep discounts. VarageSale allows you to follow sellers of their so that you can get best deals from them on time.
Like other applications covered here, VarageSale users must create an account, after which they must join a community (state). The app can suggest communities closest to your proximity if you turn on GPS before running VarageSale.
Becuase of the simple UI of VS, finding or buying products is a piece of cake and pleasant experience for the buyer. The app supports real-time notifications. It provides the option to mark items as pending, available, or sold.
Conclusion: The best apps like Craiglist we've listed in this article are 100% free. They have a large user base. Hence, your service will get a good exposure. If you're trying to sell your old item, you'll be successful the above apps.