Craigslist is one of the largest e-classified sites in the United States. Millions of people use it to sell various services, old and new products, pets, old cars, and other various stuff online.
As it is a classified site, you must list your product on sites and apps like Craigslist so as to increase the chances of getting your product or service sold at a great price.
Although the app stores give you access to over 1000 free classified apps, the only applications which may help you sell service or old stuff at the best price are as follows:
Why use the app?
CS is a large portal. It has 1000s of listings. Hence, managing your free listing on a site becomes difficult if you are accessing the site on the desktop. Android and iPhone applications are fast.
Craigslist Alternatives apps
Facebook Marketplace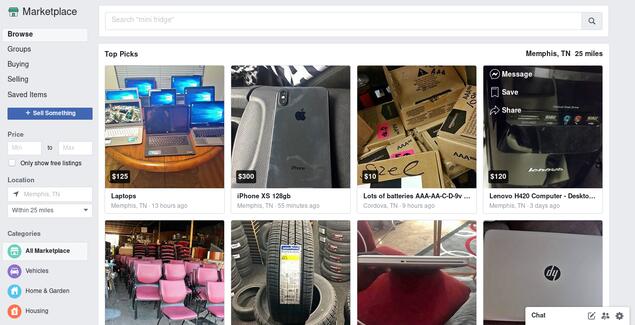 Facebook, the world's largest social networking website now allows you to buy or sell products online. The marketplace section is integrated with other features of Facebook. Hence, you can chat with the buyer/seller in real-time.
FB enables you to see the profile of the seller. Thus, you can easily spot and report online scammers or trolls. FB allows you to rate sellers and buyers. You can list as many items as you want in the 10+ categories of the FB marketplace for free. Facebook gives buyers and sellers access to powerful filters. It has over a billion active users.
LetGo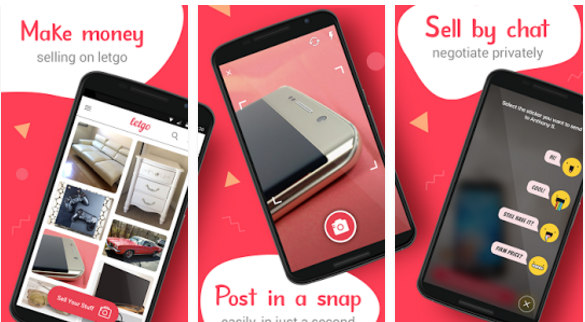 LetGo is a free, fast and responsive app that has over a million users and several categories. It is yet another excellent application to sell old products online or buy second-hand items at a great price.
As the interface of the app is easy to use, it takes a few seconds to create a listing on LetGo. When the listing goes live, wait for a few days. You'll get an offer from a person residing in your neighborhood.
The app uses a powerful algorithm which detects your image category automatically and suggests the title and item category. In other words, you can say that LetGo app saves your time. It has a special tool called LetGo customize which allows you to give your ad a professional look.
Must read: Best real estate apps
OfferUp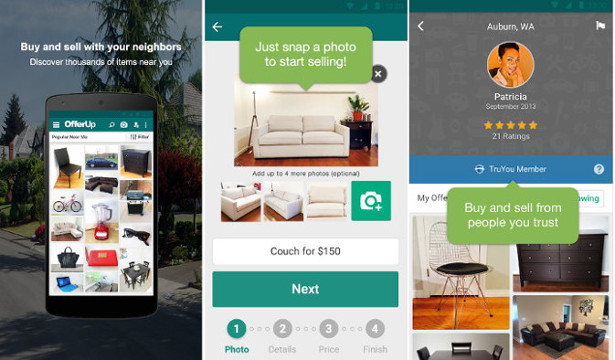 OfferUp is one of the largest marketplaces for online buyers and sellers. It is an intuitive application with which you can put your item on sale within 31 seconds. The app has a reputation feature that lets users see the character of the seller/buyer before beginning the negotiation.
The app gets updated with 1000s of new listings daily. It has a messenger module that allows you to send text messages to the buyer or seller. It enables users to upload photos of items, create a seller profile, explore over 50 categories of products for free. The developers of OfferUP application claims that you can sell any items on their platform. OfferUP supports Android and IOS operating systems.
5miles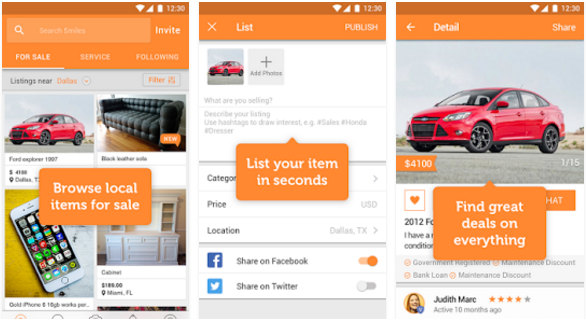 5miles is yet another Android and iPhone classified listing app with over a million users. It is the only application on our list that enables users to record and upload voice descriptions.
5miles allows users to find neighborhood listings use the phone or tablet GPS module or ZIP code. It supports Facebook mail. The app lets you share listings on social networks such as Twitter, Facebook, LinkedIn, and more.
With this amazing app, you can easily send messages to the seller or the consumer. 5miles app provides a beautiful interface and it is safe.
Check: Best Android app locks
VarageSale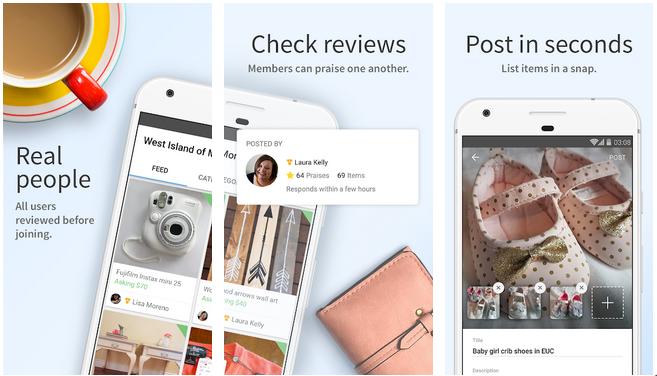 VS is a beautifully designed app which claims to offer products to buyers at deep discounts. VarageSale allows you to follow sellers so that you can get the best deals from them on time.
As in other applications covered here, VarageSale users must create an account. Then, they must join a community (state). The app can suggest communities closest to your proximity if you turn on GPS before running VarageSale.
Because of the simple UI of VS, finding or buying products is a piece of cake and a pleasant experience for the buyer. The app supports real-time notifications. It provides the option to mark items as pending, available, or sold.
OLX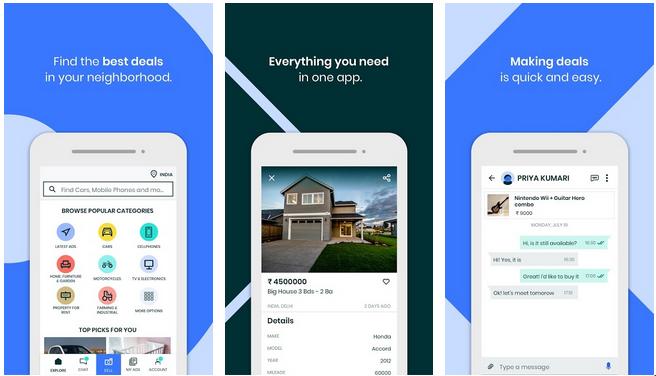 OLX is one of the leading classified sites in the world. Its official app for IOS and Android is available for download in several countries. Like Craigslist, OLX has a huge number of categories. The app lets users post 2/3 ads in the same category every month.
Users can browse listings without logging in to the app. But to create an ad, they should log or register a new account. To create an ad on OLX, users must enter the product/service description, price, and upload photos.
OLX gives its users complete control over their ads. Users are allowed to specify an expiry time for the ad. They can also modify or delete the ads they've published.
The app ships with a messaging tool with which buyers and sellers can chat with each other. It enables users to find products by their name and price. Users can also find ads that were published between the two dates they specify.
Must see: Best WhatsApp Alternatives
Conclusion: Olx, LetGo, 5Miles, VarageSale, OfferUp, and Facebook are the best apps like Craiglist. They are 100% free. They have a large user base. Hence, if you use one or all of these six applications, your service or product will get a good exposure.