360 Security 2017 is a free all-in-one Android application that protects your mobile phone from viruses. It improves the performance of slow Android mobiles and removes useless files from it.
360S 2017 is easy to use. It has 100+ million users. It has been recently updated with new features. Below is a review that explains various new functions of the free 360 Security 2017 app.
Review
The main UI of 360 Security 2017 features the following three tabs:
1) Boost
In this interface, the user will find a large circular button called boost and two square buttons. If you tap on the boost button, the 360 Security 2017 app will identify performance issues on your mobile phone and it will fix them.
Before optimizing your mobile, 360S 2017 lets you go through the list of applications that are slowing down your Android mobile device.
The 1st square button allows users to see RAM usage of all active apps. The 2nd button will make you aware of all idle applications that are draining the battery.
2) Clean
As mentioned earlier, the app has the function to clean unwanted files from the external and internal storage memory of the phone. The application offers the following 4 junk cleaner tools.
3) Antivirus
While browsing the internet, you may have accidentally downloaded a malicious file or app. The spiteful application will record your activities and transfer the same to the hacker's email address. To remove the virus before it does the damage, scan your phone storage hardware with the antivirus tool.
The application will find and remove viruses from your phone. Furthermore, it provides an app lock tool that prevents others from checking your messages or personal photos. The app includes a web protection utility that blocks access to malicious websites.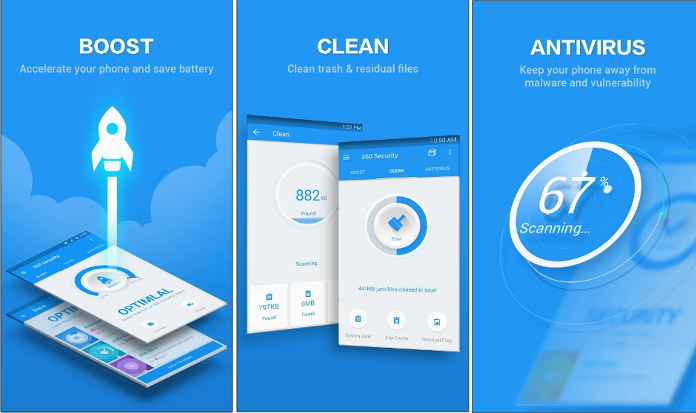 Other features of 360 security 2017 app
Smart lock: This function of 360S 2017 frees system memory by turning off unresponsive and inactive apps. It keeps an eye on the phone's battery and provides tips to optimize it.
When the Smart lock feature of 360 Security 2017 is active, the app will display an alert message to indicate that the battery has been changed.
Data monitor: With this tool, you can set a data plan limit so as to avoid being charged by the telecom operator for data usage post FUP.
Call and SMS filter: Want to block telemarketing calls and unwanted messages from marketing agencies? Use this tool.
Phone finder: 360 Security 2017 edition offers a phone finder tool that enables users to locate their lost phone on Google Maps. When this function is active, the Android app will alert the user when someone changes their SIM card. The function lets users delete phone data and block access to the phone's home screen from a remote location.
Phone cooler: If your phone has become hot, you can cool it down with this feature of the free 360S 2017 app.
Game Booster: This function of the 360S app allows you to improve the performance of selected or all games installed on your device. Here, you'll find a button to add a game that you want to optimize. You can add as many games as you want. Once you run the game, 360 Security 2017 will kill unattended apps in the background to free up RAM and reduce processor usage.